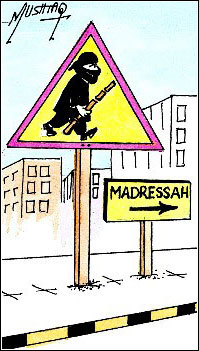 ISLAMABAD, April 5: Hard-line religious leaders established on Thursday a Qazi court in Lal Masjid, a parallel judicial system in the federal capital, challenging the writ of the government for the fourth time over the past 45 days.
According to an announcement from Lal Masjid, the court comprising 10 Muftis will decide disputes and give their verdict in accordance with 'Islamic injunctions'.
When contacted, the deputy in-charge of Lal Masjid and its Madressah Hafsa, Maulana Ghazi Abdul Rasheed said the court had been set up but its formation would be formally announced on Friday with the commencement of a three-day Nifaz Shariat-o-Azmat Jihad Conference to be held in Lal Masjid.
He said the court was not a new thing because there was a general practice that Muftis often sat in the mosque to issue decrees (Fatwas) to resolve different kinds of disputes in the light of what he called 'Shariat'. "But this time it would become a regular feature of Lal Masjid as Muftis will sit on a regular basis," he said.
A similar system of parallel judiciary had been set up in Malakand Agency and adjoining areas by pro-Taliban leader Mufti Muhammad. But it is for the first time that such a system is being enforced in the heart of the federal capital. Before the setting up of the Qazi court, the management of Lal Masjid had challenged the writ of the government three times in a short span of time — first they occupied government's Children Library located next to Madressah Hafsa on January 21, then they kidnapped two security officials and three women and thirdly, they gave a seven-day deadline to the government for enforcing Shariat and started threatening video CDs and shops, setting a deadline for them to close their business.
Lal Masjid also became a hub of pro-Taliban and anti-military activities at the time when a military operation was launched in Waziristan in 2003-2004. At that time a similar Qazi court comprising some Muftis was set up which issued a decree that 'all military personnel killed in the operation were not martyrs and they did not deserve religious funeral'.
Maulana Abdul Rasheed said: "We will ask people involved in petty disputes to come to the mosque and get them settled by the arbitration court."
Interior Minister Aftab Ahmed Khan Sherpao talking to media personnel declined to comment on the issue of the Qazi court. However, a senior security official who did not want to be named said the establishment of a parallel court would never be allowed in the capital and the government would use force to stop enforcement of its decision and verdicts.
It is learnt that people from different parts of the country have reached Islamabad to attend the three-day conference in Lal Masjid to be held from 8am to 5pm.
At the conference, Ulema and Muftis will deliver lectures on different topics. A three-day
Aitkaf will also be held in the mosque during the conference.
The administration of Lal Masjid has asked the intending participants to come with beddings, money for their expenses and books on topics relating to jihad and rewards for good deeds.
It said that any group or person stopped by people from coming to the conference could stay in a nearby mosque for meditation and prepare the people of that area for jihad.