Earlier, police said that PTM leader Ali Wazir had also been arrested but later denied taking him into custody.
The prime minister might want to absorb the gravity of the situation in Punjab and come up with specific solutions.
JUST when it needed to lend support, the Higher Education Commission has instead vocalised its opposition to the...
TO say that the Pakistani media is going through a grave crisis would be an understatement. The drop in revenues and...

Arif Lohar also lends his vocals to the track, giving it the jazba it needs.
The actor recently made a note to all cyber bullies, letting them know she is who she is and nothing will change that.
The hunt is still on for the third lead.

Women face greater risks from rape and domestic abuse than from malaria, cancer, war and traffic accidents collectively.
Faiz Ahmed Faiz is revered and reviled in equal parts in the Indo-Pak subcontinent.
As NAB's powers are restricted, it is important that institutional capacities of FBR and other tax agencies be enhanced.
Plan warmly welcomed by Israel's prime minister, who called it a "historic day" for the Jewish state.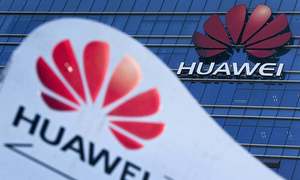 Decision sets up diplomatic clash with US, which claims Huawei could give the Chinese government access to UK's data.
"We don't have relations with Israel, Israeli passport holders cannot visit the kingdom," says Prince Faisal bin Farhan.

'I told my daughter that she did not grow inside mummy's tummy but she grows in her heart'
The people of Thar revere the Karoonjhar range as sacred and culturally important. But it is under threat from...
The Video Assistant Referee may be a necessity in a soccer game, but the system can do with some improvement...

A decade into her career, actress Mehwish Hayat is older, wiser and arguably the most successful actress of her
Spike Lee will be the first black president of the Cannes Film Festival jury
This can only be called a sorry state of affairs. On January 17, Sarmad Khoosat, director of Zindagi Tamasha — which is