Filmmaker Karan Johar congratulated the couple on Twitter — and confirmed that the nuptials have taken place.
The film's director talks about taking on the challenging role of a cannibal and the struggles he faced
His expulsion from the trade union could spell the end of his career, says the Indian press
Another 35 people are said to be missing, search continues for them, says militia leader Ibrahim Liman.
Majority of the 225-member assembly supported a no-confidence motion against appointed government of Mahinda Rajapakse.
The boy will remain the responsibility of the state juvenile detention system until he is 18, judge rules.
Tharis are subjected to acute precarity, all in the name of motherland.
The private sector has no real interest in building low-cost housing.
Fun is an important means to challenge moral codes and bring a change in power structures.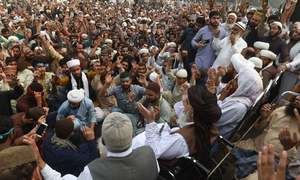 The recent buckling down of the state to mobs of the radical right is not the first time it has done so.
For TLP activists, if the party now faces an operation at the hands of the state, it is because of Pir Afzal Qadri.
Aside from its beautiful beaches, spectacular volcanoes and preserved architecture, Indonesia's diversity is its

Saif Samejo has made a name for himself not only as a musician but as the force behind the well-respected Lahooti Melo
Famous actors like Liam Neeson enjoy reminiscing about the quality time spent with their horse co-stars
It takes a great deal of courage to tell the world that you're suffering from a life-threatening disease.