Nope, we haven't forgotten Snoopy's ice cream, or the deliciously good Baked Alaska from Copper Kettle.
With her new movie releasing, Mansha Pasha has really upped her sartorial game with some help from the right stylists
The intelligent writer that Maqsood is, he could have exploited the plot to the hilt. But he decided not to.

Devalourising the other in gender hierarchies often takes place through feminisation.
Securing Pakistan's economy is the key to securing its borders.
Selected and translated by Rakhshanda Jalil.
Opposition leader Mayawati not to contest in order to focus more on giving a hard time to Prime Minister Narendra Modi.
"We do still see the militaries on alert," says US official.
Rights group said it has been able to document 14 civilians killed in investigations of five air strikes out of 110.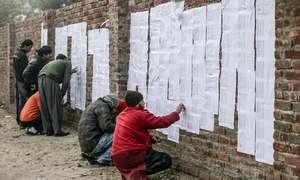 Pakistan's political and economic futures will depend, in large part, on whether we can provide decent jobs.
Who is behind the viral Instagram account 'Swinery'? And what does its popularity tell us about ourselves?
The mother of 10-year-old Amal Umer, killed by a policeman's bullet last August, appeals for a resolution.

The audience has high hopes from director Kamal Khan's debut feature Laal Kabootar, lined up for release on March 22.
Captain Marvel is Marvel Studios' first female-driven superhero film and while it may not be spectacular, for the most
In 2005, the Cinefondation's Atelier was created at the Cannes Film Festival to 'encourage the emergence of a new