'Shaheen-E-Pakistan' is Atif Aslam's way of celebrating March 23
And lots and lots of tweets, of course.
The cast, including OKB, Ali Kazmi and Amna Ilyas, perform the national anthem.

Perhaps even the prime minister, when he's paying attention, struggles to remember.
The bravery of our soldiers overshadows the difficulties their families go through while they're away.
Devalourising the other in gender hierarchies often takes place through feminisation.
"Baghouz is free and the military victory against Daesh has been achieved," says an SDF spokesman.
PM Khan welcomes Modi's message, stresses need for comprehensive dialogue on all outstanding issues.
Four soldiers have been killed so far this year in the landlocked country.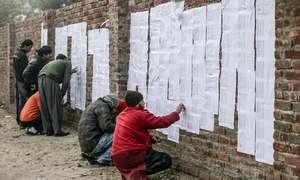 Pakistan's political and economic futures will depend, in large part, on whether we can provide decent jobs.
Who is behind the viral Instagram account 'Swinery'? And what does its popularity tell us about ourselves?
The mother of 10-year-old Amal Umer, killed by a policeman's bullet last August, appeals for a resolution.

The audience has high hopes from director Kamal Khan's debut feature Laal Kabootar, lined up for release on March 22.
Captain Marvel is Marvel Studios' first female-driven superhero film and while it may not be spectacular, for the most
In 2005, the Cinefondation's Atelier was created at the Cannes Film Festival to 'encourage the emergence of a new