Police say they opened fire on suspects in "self-defence"; additional police surgeon decides to re-examine bodies.
AT a recent press conference, the prime minister's special assistant on petroleum, Nadeem Babar, gave the...
The approach of the UAE has been disappointing and discriminatory.
WHILE history will decide who can lay claim to the title of greatest footballer ever, for sure Diego Armando ...

Samiya Hassan shared a photo of her baby bump on Instagram announcing the good news.
Singer offers her support for furthering government's green initiatives through her organisation "Free the Wild".
The bride-to-be did not wear green as per the rumour mill.

He's a name that isn't dying anytime soon.
"The air has a metallic smell, the skin feels itchy and there is a gritty feeling of dust settling upon us."
In Pakistan, consumer rights are protected by law but question marks hang over the efficacy of these protections on the ground.
Fakhrizadeh is thought to have masterminded what the UN and US agencies believed was a covert atomic bomb programme.
The US president claims that, despite the results, this may not be his last Thanksgiving at the White House.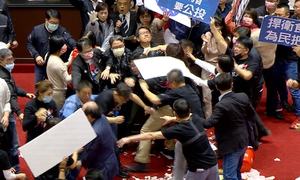 New policy allows import of pork, with acceptable residues of ractopamine, from the US; decision has met with fierce opposition.

Womanhood in Pakistan is being born with ashes in your fist.
Oppression and tyranny require our consent. Justice Waqar Ahmad Seth, who passed away November 12, exemplified courage and...
Why does the state give the impression of entertaining an incendiary extremist party such as the TLP at all?...

He's been the bad, arrogant young boy of Pakistani rock. He's been a control freak. He's been an overthinker. So why has the
'Tis the season for tributes to the legendary Nusrat Fateh Ali Khan. The latest is an original qawwali paean to the master
On Nov 11, singer Sajjad Ali celebrated his wedding anniversary (we don't exactly know how long he's been married — nonetheless