Filmmaker Karan Johar congratulated the couple on Twitter — and confirmed that the nuptials have taken place.
US blogger Cynthia Ritchie was snapped riding a bike in Peshawar and Pakistanis on Twitter were quick to hail her a hero
The song itself is catchy and dangerously easy to sing along to.
Brexit hardliners see deal as conceding too much to Brussels, while EU supporters are calling for a second referendum.
The attacks have been so relentless that authorities no longer regularly provide casualty figures.
Many on a Bangladesh repatriation list of 2,260 people have gone into hiding, community leaders say.
Women are wrought to personify notions of territory, nation and identity.
Tharis are subjected to acute precarity, all in the name of motherland.
The private sector has no real interest in building low-cost housing.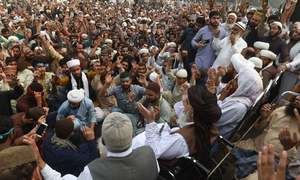 The recent buckling down of the state to mobs of the radical right is not the first time it has done so.
For TLP activists, if the party now faces an operation at the hands of the state, it is because of Pir Afzal Qadri.
Aside from its beautiful beaches, spectacular volcanoes and preserved architecture, Indonesia's diversity is its

Saif Samejo has made a name for himself not only as a musician but as the force behind the well-respected Lahooti Melo
Famous actors like Liam Neeson enjoy reminiscing about the quality time spent with their horse co-stars
It takes a great deal of courage to tell the world that you're suffering from a life-threatening disease.