Armed forces shift injured and bodies of the deceased to CMH Gilgit, says ISPR.
WHEN a law is passed surreptitiously, even if it is through a provincial ordinance that can only be in force for a...
The climate march is a cry for help from experts, civil society, and the public to take action.
BOXER Muhammad Waseem returned home to deafening silence at the airport. With three swift punches, Waseem had ...

From New York, to Tokyo, to Berlin to London, the world celebrates Batman Day
The film will have over 50 screens across the country
The two-day festival ends today.

The new youth climate movements represent a new phase in the struggle against climate breakdown.
People all across the country are instinctively aware of climate change.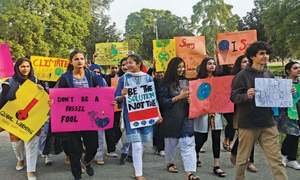 I believe what is broken can be put together again.
Rail station was closed to passengers after it was vandalised by protesters.
Tweet, which has been deleted, took aim at UFO fans and curiosity seekers who poured into the Nevada desert this week.
Indian army spokesman terms the allegations as 'baseless'.

Unhealthy lifestyles and dietary habits are pushing youngsters towards non-communicable diseases
Thirty years on from the fall of a wall that divided people, what lessons does the event have for us?
The metropolis' donkey-cart races are said to be as old as the city itself. The city and the sport may have evolved

He feels he was literally raised to do something for the film industry. He's already been a producer, composer,
It Chapter Two is simply not as good as the first film, but that's because it hews too close to the original Stephen
It's been quite a while since the effervescent Saba Qamar was seen on the silver screen. By that we mean the last time