Live
Sindh reports most number of infections among provinces at 1,402, followed by Punjab with 654.
AT a recent press conference, the prime minister's special assistant on petroleum, Nadeem Babar, gave the...
The approach of the UAE has been disappointing and discriminatory.
WHILE history will decide who can lay claim to the title of greatest footballer ever, for sure Diego Armando ...

Sahar Habib Ghazi's Instagram focuses on issue-based storytelling about feminism and toxic desi culture all while making you laugh
The project, dubbed "Guardians of Sleep", will look to collect the dreams in the form of oral histories.
Depp, who had earlier begun production on the third movie in the franchise, said he was asked to leave by Warner Bros

He's a name that isn't dying anytime soon.
"The air has a metallic smell, the skin feels itchy and there is a gritty feeling of dust settling upon us."
In Pakistan, consumer rights are protected by law but question marks hang over the efficacy of these protections on the ground.
The US president claims that, despite the results, this may not be his last Thanksgiving at the White House.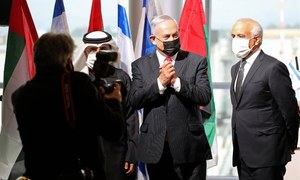 The Dubai carrier will fly the route twice daily.
The move is the highest profile pardon Trump has granted since he took office.

Womanhood in Pakistan is being born with ashes in your fist.
Oppression and tyranny require our consent. Justice Waqar Ahmad Seth, who passed away November 12, exemplified courage and...
Why does the state give the impression of entertaining an incendiary extremist party such as the TLP at all?...

He's been the bad, arrogant young boy of Pakistani rock. He's been a control freak. He's been an overthinker. So why has the
'Tis the season for tributes to the legendary Nusrat Fateh Ali Khan. The latest is an original qawwali paean to the master
On Nov 11, singer Sajjad Ali celebrated his wedding anniversary (we don't exactly know how long he's been married — nonetheless