21-year-old Kashif met Maria Helena, a 41-year-old reiki master from California, online a year ago.
The couple released official photos Thursday evening but fans are complaining, requesting... even begging for more
The two appear to reunite after a childhood spent together in the teaser
Speaker Jayasuriya says he will reconvene parliament on Monday for routine business.
About 500 refugees crowded into a mosque for prayers in Unchiprang, one of the camps near the city of Cox's Bazar.
Brexit hardliners see deal as conceding too much to Brussels, while EU supporters are calling for a second referendum.
KMC would do well by constituting a rehabilitation committee to examine the scale of the loss and devise solutions.
Women are wrought to personify notions of territory, nation and identity.
Tharis are subjected to acute precarity, all in the name of motherland.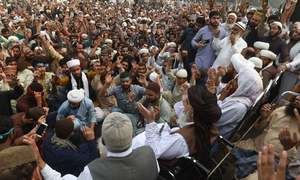 The recent buckling down of the state to mobs of the radical right is not the first time it has done so.
For TLP activists, if the party now faces an operation at the hands of the state, it is because of Pir Afzal Qadri.
Aside from its beautiful beaches, spectacular volcanoes and preserved architecture, Indonesia's diversity is its

Saif Samejo has made a name for himself not only as a musician but as the force behind the well-respected Lahooti Melo
Famous actors like Liam Neeson enjoy reminiscing about the quality time spent with their horse co-stars
It takes a great deal of courage to tell the world that you're suffering from a life-threatening disease.