But it looks like he's not taking it.
The celebrity couple have been served a legal notice for publicly shaming him.
...and save you cooking time in the kitchen!
These are still partial results and the outcome could yet change drastically.
Criticism against women driving has largely been muted since King Salman announced lifting the ban last year.
Immigrant advocates insist there are other alternatives to ensure children and their parents attend court hearings.
However, it seems like both India and Pakistan are more interested in pulling the other nation down.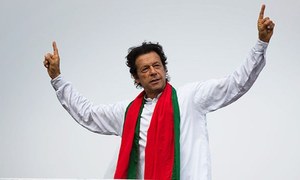 I do have a vote. And, you best believe it is not about to be wasted on primetime sexism.
If human beings are plants, our memories are our roots, the things that ground us, give us a sense of continuity.

The shortage of water and the government's helplessness to provide solutions hints at a larger malaise — there is no
Weather patterns have gone awry in northern Pakistan, sparking great anxiety and worry
Lush, tropical havens on Sri Lanka's west coast

7 Din Mohabbat In is a smartly paced, urban fairytale that is remarkably well-structured as a story. And despite some
Ocean's Eight believes it can charm you into submission, when it is dumb as a doorknob
Let's hand it to Komal Rizvi for regularly churning out stuff as an artist. It's been quite a while since she joined