NA speaker convenes meeting on November 28 to elect a successor.

The list includes Lizzo, Billy Porter and Zendaya as well.
The space is intended to "address an important need for a private place of retreat for contemplation and prayer."
He says it's a talk by men for men. But any discourse about feminism without including women is a sham.

Having been a fugitive from British forces for three months, the Rani of Jhansi, made a desperate last stand.
Needs of marginalised populations should be addressed at all times, pre-crisis, during crisis and post-crisis.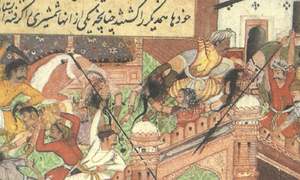 Complex life stories of men like him illuminate historical processes in ways that are missed by conventional accounts.
"The kingdom has suffered from the policies and practices of the Iranian regime and its proxies," says King Salman.
The reason for the move is the lenient application of law and punishment handed down to drug smugglers in Pakistan.
Mahinda, a two-term president himself, will be sworn in as premier today.

'Smog' is not only limited to Lahore; in fact, all of Pakistan is at serious risk from high levels of air pollution
Party headquarters are as good as homes for their partisans. Is anyone looking after these emblems of political history?
Why did the two much-hyped exhibition matches organised by World Soccer Stars fail to gather any crowds in a football

Why is infidelity in marriage the theme du jour on television screens? Are unhappy, spiteful women with malicious intent
Director Roland Emmerich's expensive Midway suffers from the same problems his previous blockbusters did: action at the
It is hard to imagine the Dabangg franchise starring Salman Khan without a Rahat Fateh Ali Khan song — Tere mast mast do