The film will comfort its local audience by confirming our biases about Pakistan and India in light of recent events.
The director was diagnosed with spinal cord stenosis, a condition which involves the degeneration of the spinal cord.
After a tongue-in-cheek billboard was put up by the ride-hailing service, Careem was hit by criticism and fake news

Devalourising the other in gender hierarchies often takes place through feminisation.
Securing Pakistan's economy is the key to securing its borders.
Selected and translated by Rakhshanda Jalil.
British Home Secretary Sajid Javid warns hateful behaviour "will never be accepted".
According to rights group JKCCS, 20 Indian armed forces personnel killed themselves in 2018, the most in a decade.
Suspect Gokmen Tanis is to appear before an investigating judge on Friday.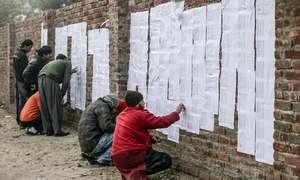 Pakistan's political and economic futures will depend, in large part, on whether we can provide decent jobs.
Who is behind the viral Instagram account 'Swinery'? And what does its popularity tell us about ourselves?
The mother of 10-year-old Amal Umer, killed by a policeman's bullet last August, appeals for a resolution.

The audience has high hopes from director Kamal Khan's debut feature Laal Kabootar, lined up for release on March 22.
Captain Marvel is Marvel Studios' first female-driven superhero film and while it may not be spectacular, for the most
In 2005, the Cinefondation's Atelier was created at the Cannes Film Festival to 'encourage the emergence of a new