"I apologise to anyone who felt uncomfortable or disrespected — that was never my intent."
The Seinfield actor will be the 21st recipient of the prize
We're not new to the club, nor are you, we have all witnessed what happens during buffets in Ramazan and it's not pretty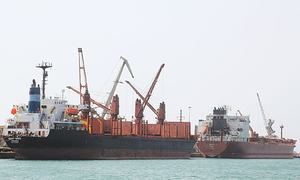 Hodeida port has been a point of contention in Yemen's war since KSA and its allies intervened in 2015.
Trump's letter comes a day after North Korea attacked US Vice President Mike Pence as "ignorant and stupid".
The Central Asian nation is building the pipeline to diversify its gas exports, which have mostly gone to China.
While Lahore needs more transit infrastructure, its construction and finances should be made transparent to the public.
In a time when women's poetry centred around spirituality, she brought romantic lyricism to Kashmir.
Your death has inverted the lens through which Americans view Pakistan and shown a reality many are unwilling to admit.

Ahead of the announcement of a new tourism policy in Gilgit-Baltistan, Eos explores the roadblocks that have prevented
In my quest to discover the origins of the exquisite tiles in my aunt's home in Karachi's old settlement Amil...
Jean-Baptiste Camille Corot rejected fame and wealth, but deeply inspired the Impressionists

Naumaan Ijaz is controversial to the core. The actor and producer openly snubs awards ceremonies, bashes TV channels
For a comedy, Life of the Party is not as funny as it should be
Last week, social media was deluged with images of the beautiful Mahira Khan at her first appearance at the Cannes...