The woman's got a point; 'na Partition hoti, na hum zaleel hotay' is pure gold.
The actor opens up about what makes him lose his cool and how he's always the one who makes up when the two fight!
Veena Malik found a way to blame Sania Mirza for the Pakistani cricket team's performance.

Having an only child gives us a chance to have the best of both worlds.
Waris Shah and his tomb are for those who want to be enchanted, not awed.
The low value-added nature of exports is due to the limited focus on structural issues.
"Following clues in the [US] intelligence services, we recently found new recruits hired and dismantled a new network."
Johnson, the face of the official Brexit campaign in the 2016 referendum, won 126 of 313 votes; next round on Wednesday.
The inspector had been in charge of an area where the bombing mastermind was based before he went underground.

After serving years in prison, even those eventually acquitted step back into a society unwilling to reintegrate them.
Urbanisation, development and hordes of domestic tourists are fast changing the landscape of our Northern Areas,
Wheelchair tennis, which has recently been introduced in the country by the Pakistan Tennis Federation, has managed to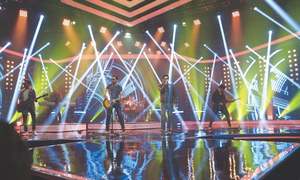 As it revamps its look and format in its fourth season, Pepsi Battle of the Bands claims to have revived music band
X-Men: Dark Phoenix has the feel of a film from a studio that's exhausted its creative juices
There are a couple of theories doing the rounds regarding why director Yasir Nawaz didn't have a premiere for his film