Permission will be subject to Sharif family submitting an indemnity bond "to the tune of Rs7-7.5bn", says minister.
Rarely has so much been said in so few words.
WHEN it comes to neighbours, states have little choice but to try and interact amicably, even though this can prove...
AN important new law is waiting to be approved by the Khyber Pakhtunkhwa cabinet. Drafted by the education...

"A really good thing has been initiated by both sides," added the actor.
Fans of the hit series can rejoice over this new development!
"The story is about a father son relationship," shared the actor about Fatman.

The Indian court has deprived Muslims of the disputed plot because they couldn't show exclusive possession before 1857.
To be a Muslim today is to live with your eyes lowered and voice muffled lest someone calls you anti-national.
Rumours had swirled about a Durga idol being damaged by a stone hurled from a mosque. Zainul Ansari paid the price.
Trump says the inquiry is "corrupt" and "illegal" and maintains he did nothing wrong.
Israeli military claims more than 250 rockets have been fired at Israeli communities after an Israeli airstrike in Gaza.
Marwa al-Khuzaim will helm Aramco Asia Singapore from December, taking over from Nader al-Arfaj.

In conversations surrounding the 'forced conversions' of Hindu girls, the voices of the girls are missing
The used car industry is changing. Is it time for salesmen and agents to change with it?
It is not easy for any batsman in the world to open the batting on Australia's bouncy and pacy tracks. Pakistani

For Pakistani celebrities hoping to fight off stereotypes or waiting for that one role that will finally prove their
Naseer and Shahab's latest track Kaghaz Ki Kashti is a moody take on our more darker emotions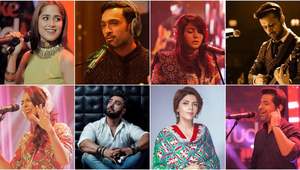 Season 12 of Coke Studio continues to impress us for more reasons than one. The producers of the show were to release