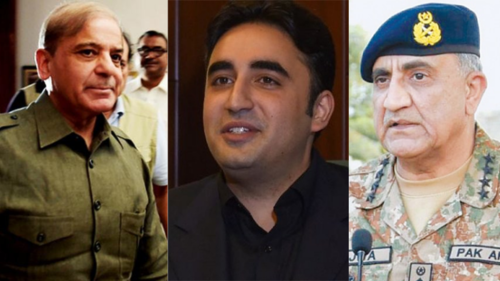 The September 16 meeting was attended by about 15 opposition figures as well members of the government.

Ex-wife Kalki Koechlin released a statement in support, hailing him a champion of women, both on screen and in real life.
Shahid was irked by the government's decision to restore ancestral homes of legendary actors Raj Kapoor and Dilip Kumar in KPK
Little Master promotes fighting together against the coronavirus, not amongst each other

There are sufficient laws to tackle the offences of rape, gang rape and child sexual abuse but they are not being implemented.
Venus is a compelling exploration target, with tantalising evidence that the planet once had oceans.
In order to get back on their feet, these communities need more and sincere support in the coming months and perhaps even years.
Contact Group met to discuss worsening rights situation in held Kashmir.
Outgoing Chinese ambassador says Pakistan's strategy of "smart lockdown" could be followed as a model by others.
Taliban fighters' overnight assault inflicted a heavy toll that has left Afghan troops vulnerable to being overrun.

Our cities don't just need to be recast for public safety — they need to reckon with the way they hold women back
Women instinctively recognised the CCPO Lahore from his statements
With reported incidents of sexual abuse in Pakistan on the rise, can the establishment of a sex offenders' registry help...

Unprecedented rains in Karachi at the end of August threw the whole city into a tailspin. But among those worst affected were
Abdullah Siddiqui's collaboration with Meesha Shafi, Magenta Cyan, isn't a quick listen, it needs time and attention
Bollywood star Shahid Kapoor's wife Mira Rajput does not have a filmi background, but she does know how to remain relevant in the