Justice Minallah warns "banning criticism in the 21st century will lead to damage".

The father of modern linguistics, according to The New York Times, is arguably the most important intellectual alive.
Did someone say dragons are coming?
The power couple posed in Zara Shahjahan's recently launched luxury bridal collection, titled Ghazal.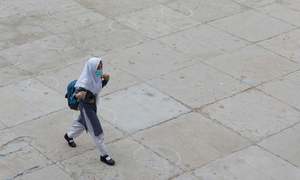 The way ahead for Pakistan to give increased attention towards implementing evidence-based safety protocols in schools.
The next challenge for us is to lower the pressure required to form the diamonds.
He's a name that isn't dying anytime soon.
Saudi Arabia says "significant progress" in ending row has been made; Iran welcomes development.
Indian foreign ministry says comments on "Indian farmers constitute an unacceptable interference in our internal affairs".
Nigeria has been battling yellow fever outbreaks since 2017; the latest outbreak was detected in November, says WHO spokesman.

'A river doesn't just carry water, it carries life.' The Kunhar River, which runs all the way from the upper Kaghan Valley to
An ordinary-looking, cramped tandoor in Lahore boasts a business history spanning nearly two centuries, and a secret...
In the largely male-dominated field of sports journalism, a pioneering young woman from Balochistan is doggedly making her...

Icon presents an exclusive preview of the upcoming Coke Studio Season 2020, through the words and thoughts of its maestro Rohail
"It feels nice to finally be showcased because I've been showcasing artists my whole life, so it feels nice to have the tables
Here's another feather in the already richly decorated cap of Zeb Bangash. The mellifluous singer has come up, on this Iqbal Day