Quentin Tarantino's ninth movie shows the glitz and glamour of Hollywood.
"We are with you, we want you to feel at home on your own streets, we love, support and respect you," said one woman.
Why do only artists carry the responsibility of bringing honour or shame to the country, she asks

The bravery of our soldiers overshadows the difficulties their families go through while they're away.
Devalourising the other in gender hierarchies often takes place through feminisation.
Securing Pakistan's economy is the key to securing its borders.
Eight Pakistanis among those laid to rest; "New Zealand mourns with you. We are one," says Prime Minister Ardern.
More than 600 people are receiving medical treatment following Thursday afternoon's blast at the industrial park.
Neither the Lion Air aircraft which crashed in Indonesia, nor the Ethiopian Airlines jet, had the feature.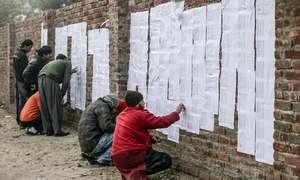 Pakistan's political and economic futures will depend, in large part, on whether we can provide decent jobs.
Who is behind the viral Instagram account 'Swinery'? And what does its popularity tell us about ourselves?
The mother of 10-year-old Amal Umer, killed by a policeman's bullet last August, appeals for a resolution.

The audience has high hopes from director Kamal Khan's debut feature Laal Kabootar, lined up for release on March 22.
Captain Marvel is Marvel Studios' first female-driven superhero film and while it may not be spectacular, for the most
In 2005, the Cinefondation's Atelier was created at the Cannes Film Festival to 'encourage the emergence of a new