Staying attentive during class will earn you good grades in your quizzes, assignments and in examinations. However, staying focused in class does not necessarily mean a good result card. Most of the time students are attentive but they also need career and academic counselling once the class has ended. Some students develop and maintain a positive reputation with their teachers.
There are some who hesitate in opening up to their teachers. This could be because of the sheer respect the students have for their teachers or it may be out of fear, which is normally evident in student-teacher relationships.
This article looks at how you, a student, can break the glass ceiling between your teachers and produce a win-win situation where you are able to connect and understand your teacher and their teaching, while the teacher enjoys teaching you.
Ask questions
Students need to know the course and the details being taught inside out. The teacher may assume whatever is being taught in class is comprehendible by students, but you must ask relevant questions, no matter how many times you ask in the class until you understand what is being taught.
However, these questions must be relevant to the course and should make sense. When you ask a question, the teacher will respond directly to you. This will also help you to overcome your fear of speaking in public and will also bring you closer to your teacher.
Engage in after-class discussions
Teachers have to teach many students in a class, therefore, cannot remember each student's name. If you manage to make the teacher or multiple teachers remember your name, you will overcome much of the gap that is between teachers and students.
One way of doing this is meeting your teacher in the staff room or library after class. One-on-one discussions are always needed by each student to not only understand the concepts taught in class, but also to maintain a positive relationship with the teacher. While after class discussions about the lecture are important, there is more to these discussions than just talking about studies.
To understand your teachers and their teaching style, you must be more interactive in the class and discuss what problems you are having and what topics you have understood.
You can also engage in discussions of general knowledge as this will help them understand your personality and identify your strength and weaknesses, and then teach you in a way that you learn better. There needs to be trust between you and your teacher and you will also overcome the fear that lies in talking to your teacher.
Sit in the front rows
Where you sit in the class also affects your performance. Backbenchers have an average or a below average performance in studies for they cannot concentrate in class and also because teachers do not know what these students are up to at the back of the class.
On the other hand, students who sit in the front row or in the first three rows naturally develop the tendency and an inclination to stay attentive in class. When students show interest in the lecture, the teacher too remains motivated to give one. This creates a student-teacher bond that remains intact throughout the academic session.
Keep good company
It is evident that you are defined by the company you keep. Even if you are studious and have a good standing in the class, if you are seen sitting in class or playing in the school ground with students who are not in the teacher's good books, you too will be considered one of them.
Therefore, to keep a positive image of yourself, you should spend time with students who are like-minded and those who encourage self-learning. If you befriend students who are good in studies and are in teachers' good books, you will eventually be liked as a student by your teachers.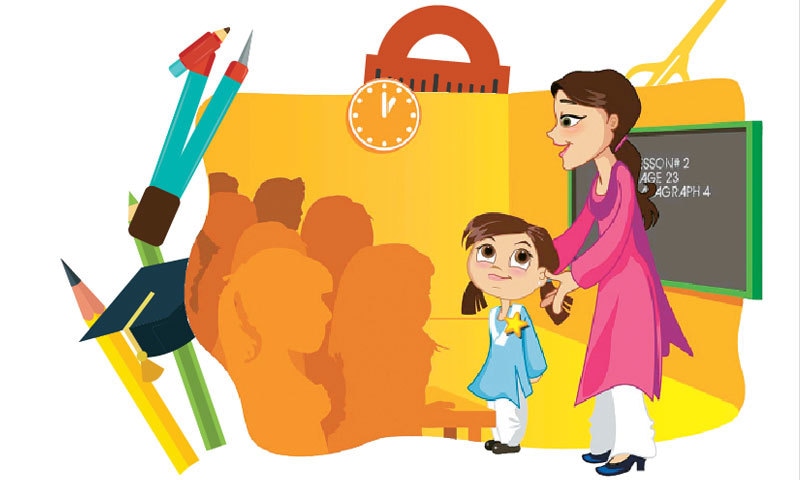 Join class activities
At times, teachers ask students to participate in class activities, such as writing an essay and reading it in class, preparing a poster, working on a project, solving a question on the blackboard and so on.
Whatever the class activity, you must be the first to raise your hand to indicate that you want to join that activity. Teachers naturally like students who are first to take an initiative and those who own an activity done in class or which is given as a homework.
When students participate in class in a positive way — by asking questions, giving answers or having a discussion — it shows to the teacher that the students are paying attention to what is being taught and they take then enjoy teaching.
So the more active you are in class, the easier it will be for you to interact with your teacher.
Published in Dawn, Young World, September 8th, 2018