It is not easy these days for an Indian to say good things about Pakistan and, most likely, vice versa. Whenever I write something good about Pakistan on social media, I get a barrage of brickbats from ultra-nationalist Indians telling me, "Go and settle in Pakistan. We don't need you here."
Anyone engaged in peace activism should genuinely have goodwill for the other side, and a mind open to seeing and acknowledging all things admirable about the other side. When India and Pakistan adopt this approach, it will surely create mutual trust and better understanding — both of which are essential for durable peace.
My participation in the recent Islamabad Literature Festival (April 15 to 17) gave me an opportunity to get a glimpse of the best of Pakistan — its rich cultural and spiritual heritage, so lovingly showcased by Lok Virsa, the sprawling arts and cultural complex which was the venue of ILF.
Its many achievements on the development front (the motorway between Wagah Border and Islamabad via Lahore is far superior to any that India has built so far).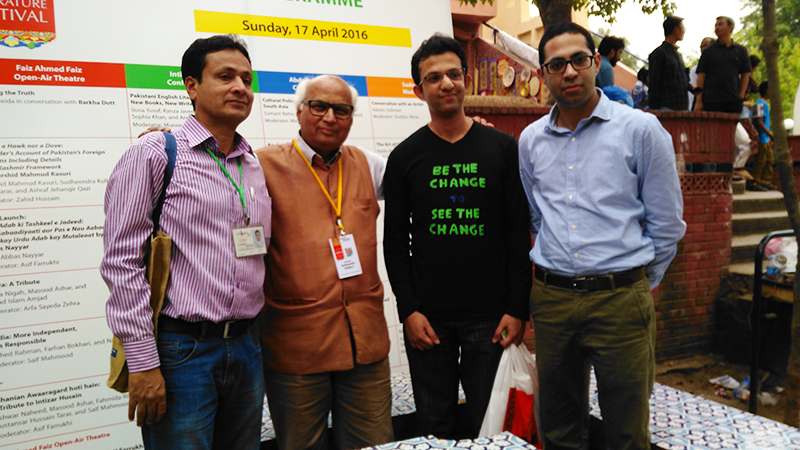 The friendly voices of its knowledge-hungry youth. The amazing erudition of Pakistani writers and the creativity of its artistes; and, above all, the healthy air of candour, self-criticism and positivity that pervaded the festival.
Frank voices on issues that matter
Indo-Pak dialogue cannot be genuine or fruitful unless three issues are squarely addressed:
The unresolved dispute over Kashmir

India's ire over terrorist acts committed in India by groups operating from Pakistani soil

Pakistan's anger over subversive activities in Balochistan supported by India.
On the last point, I categorically stated:
"India should not play any role, overt or covert, in Balochistan. India should respect Pakistan's unity and territorial integrity, just as Pakistan should respect India's unity and territorial integrity."
On terrorism and religious extremism, many Pakistani voices at the festival frankly acknowledged that this is mostly a "self-created" menace, and poses an "existential threat" to the country.
Take a look: Pakistanis seem to love Indians. Do Indians feel the same way?
Sadly, most Indians do not know that Pakistan has lost nearly 50,000 people in terrorist attacks in the past 15 years — more than the number of terror victims in India. The Indian media does not focus much on the Pakistan Army's massive anti-terror operations, which it is determined to win.
"We are engaged in an active war," said Hina Rabbani Khar, Pakistan's articulate former foreign minister, in her keynote address at ILF. "But we're on the right track now. Though belatedly, we're correcting a wrong."
Highlighting the gravity of the problem, she mentioned that there was only one case of suicide bombing in Pakistan before 9/11. Since then, the number has crossed three digits.
I was surprised at the hand-clapping that greeted Khar when she said Pakistan should develop friendly relations with all its neighbours, including India. But, later I heard many such introspective voices at ILF.
Kashmir is indeed the core issue
India's political establishment, by and large, does not recognise the centrality of the Kashmir dispute in Indo-Pak relations. This dismays me.
Therefore, speaking as a panelist in the session devoted to the launch of Khurshid Mehmood Kasuri's widely praised book, "Neither a Hawk Nor a Dove", I stated:
"Kashmir is indeed the core issue between India and Pakistan. Our two countries have accepted in the Shimla Pact of 1972 that 'a final settlement of Jammu and Kashmir' is yet to be reached. Experience has shown that war — be it a conventional war or war by other means (terrorism) — cannot yield a solution to the Kashmir problem."
Read: Why go to war with India?
To emphasise this point, I quoted Indian poet Sahir Ludhianvi's rousing words:
Jang to khud hi masla hai, jang kya maslon ka hal degi
War is in itself a problem. How can it produce a solution to any problem?
(In my speech at ILF, I had wrongly attributed these lines to Faiz Ahmed Faiz. My apologies.)
I added that India and Pakistan should show a sense of urgency in arriving at a just and mutually acceptable solution to the Kashmir problem, which would also be acceptable to a majority of Kashmiris.
Partition cannot be undone, but its follies must be
ILF gave me another occasion to make a strong case for peace and reconciliation between India and Pakistan.
This was during a session titled '1947: The Parting of Ways', in which two books were discussed. The first was Professor Ishtiaq Ahmed's award-winning book, "The Punjab Bloodied, Partitioned and Cleansed: Unravelling the 1947".
The second was my own new book, "August Voices: What they said on 14-15 August 1947", and its relevance for India-Pakistan rapprochement.
I disagreed with the formulation of the topic for the session:
"1947 does not mark the parting of ways between India and Pakistan. Rather, as my book unequivocally shows, the real message of 1947 is for India and Pakistan to come together in a new relationship of peace, cooperation and good-neighbourliness."
My book features Partition-time reflections of eight great historical personalities — Mahatma Gandhi, Quaid-i-Azam Mohammed Ali Jinnah, Jawaharlal Nehru, Maulana Abul Kalam Azad, Maharshi, Aurobindo, Faiz Ahmed Faiz, Swami Ranganathananda and Ananda Coomaraswamy.
I have shown that none of the main protagonists of the freedom movement wanted the post-1947 India-Pakistan relations to become what they have become — full of hostility and mistrust.
My book also shows how the seeds of Indo-Pak reconciliation can be found in our common anti-colonial movement itself.
Surprisingly, the Pakistani audience broadly endorsed my arguments.
There was applause when I quoted Gandhiji's audacious statement:
Both India and Pakistan are my countries. I am not going to take out a passport to go to Pakistan."
I was even more astonished when people put their hands together to greet my references showing that Jinnah wanted India-Pakistan relations to be akin to USA-Canada relations, and, unbelievably, that he wanted to go back to Bombay and live in the house he had built for himself on Malabar hill.
I asked:
If the fathers of our nations did not envisage India and Pakistan to be separated by an impregnable wall, why have we erected such a wall?
Why do our two governments deny visas even to relatives in divided families wishing to have family reunions?
Why are we so nasty, instead of being nice, to each other?
I clarified that my argument was not for undoing Partition itself. Rather, it was for undoing the follies and tragedies of Partition. One major folly was that the Muslim League based its demand for Pakistan on the spurious 'Two-Nation' theory, which claimed that Hindus and Muslims constitute two separate nations that cannot coexist.
History has proved its falsity. Bangladesh seceded from Pakistan in 1971. Also, nearly 200 million Muslims (equal to the population of Pakistan) continue to live in post-1947 India. They surely do not constitute a "Muslim nation" within India.
The other folly: both the Congress and the Muslim League left the task of India's division to the very colonial masters from whom they were seeking freedom.
As Professor Ishtiaq Ahmed's book proves with elaborate documentation, the British performed this task with criminal insensitivity. India's partition led to the wholly avoidable holocaust — over 500,000 people (Hindu, Muslim, Sikh) killed and 14 million people rendered refugees — the largest episode of transborder migration in human history. Punjab was the worst victim of this tragedy.
For me, the pain of Punjab became all the more acute since I had been reading this book as I travelled on road from Amritsar to Lahore via Wagah border.
The Indo-Pak checkpost at Wagah provides a visible proof of the folly as well as well as the tragedy of the kind of unnatural Partition our two peoples have inherited.
'This is the Pakistan that will survive — and triumph!'
The last session at ILF — that was devoted to Sufi spiritual music — proved how Pakistan's culture and civilisation is inseparably linked to India's. I have listened to a lot of Sufi music in India, but never have I been as enraptured as I was when Shyama Saiyid presented a kathak dance in praise of Kanhaiya (Krishna, a revered Hindu deity).
If Shyama's dance was a tribute to religious harmony, so were the songs of Bulleh Shah rendered by Qurban Ali Niazi, son of the legendary Sufi singer, Tufail Niazi.
In the immortal poetry of this 17th century patron saint of the undivided Punjab's plural (Muslim-Hindu-Sikh), culture we find the strongest refutation of the kind of bloody religious divide that took place in 1947.
Qurban Ali did not sing alone. He had come with his three highly-gifted grandsons, all less than ten years in age. It is said about these boys that they started singing even before they started speaking. When they sang and danced, the hall reverberated with the demand: "Once more, once more".
After three eventful days, the mesmerising effect of ILF's sounds and sights on me was now reaching its climax.
The climax ultimately came when both the grandfather and the grandsons sang the iconic Sufi song 'Damadam Mast Qalandar' — originally written by Hazrat Nizamuddin and modified by Bulleh Shah.
How can there be 'Damadam Mast Qalandar' without the audience joining the singers for a bout of Punjabi bhangra?
When Qurban Niazi signed off with a full-throated 'Pakistan Zindabad!', a voice arose within me, a voice from my heart that said, 'Long Live Pakistan!'
It was a reiteration of what I had said at the Litfest:
Neither Pakistan is India's enemy, nor India is Pakistan's enemy. People like me in India would like to see that Pakistan remains united, and becomes more stable, more democratic, more prosperous, more harmonious and more at peace with itself."
I was sitting next to erudite author-columnist F.S. Aijazuddin and his scholar-wife Shehnaz. He was the moderator of the session on my book.
When I shared my heart's affirmation with him, he said, with enormous pride and conviction, "This is the Pakistan that will survive."
Examine: Pakistan-India peace: A good idea that nobody wants
I later went up to co-founder of the Karachi and Islamabad Literature Festivals, Ameena Saiyid and confessed that ILF made me say to myself: 'Pakistan Zindabad!'
She gave me a spontaneous hug.
This is the Pakistan that will one day triumph — soul-searching, self-correcting and trying to find its true self in a friendly relationship with a similarly self-reforming India.
— Photos provided by author
A shorter version of this article was earlier published on The Indian Express.