I studied in one of the most international campuses in the USA. Apart from getting a great education, I was able to interact and forge lasting friendships with a number of Pakistani students — an opportunity that would have never been afforded to me had I remained in India.
At Mount Holyoke College (my alma mater), there were no glaring differences between Pakistanis and Indians — we were all simply desis.
Through our conversations, we realised that the issues we held dear were often the same. For instance, students from both sides of the border were concerned about socio-economic and political inclusivity of minorities in the mainstream (or lack thereof), issues of women's safety, rights and male privilege, and religious extremism extending into public life.
Also read: Why Pakistani students need to stand in solidarity with JNU
Over the next four years in college, the novelty of having more Pakistani friends than of other nationalities put together wore off — conversations revolving Partition slowly became stale.
People I spoke to on either side of the border — both on-and off-campus — would emphasise that 'we're all just the same … living apart because of our governments … this wouldn't have happened hadn't it been for Gandhi/Nehru/Jinnah/insert other historical figures here'.
I would disregard this talk, or be irked by it. It was repeated too often and had lost its significance, I thought. What was the point?
Thinking that we are one, therefore longing for people-to-people contact, cultural exchanges…what good does it do?
India's foreign policy towards Pakistan — and Pakistan's foreign policy towards India — is shaped by factors much bigger and more complex than the bonds between people — a minuscule percentage of whom actually get to meet each other — and that too, ironically, in campuses abroad.
The borders are still as solid as ever, hostile propaganda spread by state and non-state actors in both countries is still widely covered, believed and repeated, and conversations revolving around peace and amity do not receive a fraction of the attention and seriousness that they deserve.
What then is the tangible outcome of a wishful, 'but aren't we the same' chorus by a small minority?
There is a crippling sense of helplessness that accompanies people's comments. The assertion that we're all the same is somehow an unrealisable yearning to connect with the neighbour, since physical connect is rendered nearly impossible.
Furthermore, looking at the stagnant state of India-Pakistan official talks, there is intense skepticism regarding large-scale people-to-people contact happening anytime soon.
Also read: Pakistanis seem to love Indians. Do Indians feel the same way?
I consider myself extremely fortunate to have defied the odds of a long, bureaucratic visa procedure and visited Pakistan twice in two years.
During my last visit, I spent over a month in Karachi on account of the wedding of a dear Pakistani friend from Mount Holyoke.
I had first-hand experience of people's homes and their ways of life. Subtle and not-so-subtle influences that Mumbai had on Karachi became apparent.
I experienced the enormous extent to which Bollywood had influenced the wedding culture of the country. Or that the craze for Indian jewellery in Pakistan had inspired store owners to name their shops Tanishq or PC Jewelers.
More importantly, I had the opportunity to make new friends, interact and forge connections with people from different socio-economic backgrounds, and all ages and stages in life.
As I reflect on my time there, I am compelled to consider the question beyond the (narrow) realm of political developments and foreign policy changes.
My own experience in Pakistan was extremely positive — a refutation of the official and non-official hostile Indian propaganda about its neighbour.
Except for four days spent in a hotel in Lahore, I lived with my closest friends and their families, who all went out of their way to make me feel comfortable and loved.
Our conversations were rarely about politics. For the most part, we were eager to gain a sense of the characteristics and idiosyncrasies of each other's homes, families, friends and cities.
Of mobility and movement
We spoke about the transport systems, food, art and culture — comparing and contrasting what we found convenient and what we thought was concerning. Our conversations amalgamated into putting public spaces on both sides of the border into perspective.
On the face of it, Karachi and Mumbai don't resemble each other as much as I had imagined.
During the first few days of my stay in Karachi, I tried to come to grips with the fact that my mobility was extremely restricted.
As a resident of Mumbai, I rely on the city's excellent public transportation system to get around. The inter-city trains reach almost every part of the city. This service was established in colonial India in 1853, and has been expanding and improving its services since.
Take a look: What Pakistan can learn from India's Metro buses
Given Mumbai's ever increasing workforce, the suburban railway network is overburdened, and struggling to keep up with international standards. Nevertheless, trains are considered the lifeline of the city. As a result, I've never found the absence of a car and driver to be any sort of hindrance.
Hence, I didn't know what to expect coming into Karachi. Karachi Circular Railway, I learned, began operations in 1969, and was sadly defunct by 1999.
This left the vast population of Karachi to rely instead on the grossly-inadequate bus service and on private cars. The large number of car owners leads to traffic snarls and a frustrating rise in travel time.
Karachiites, amazingly, seemed to have internalised this phenomenon as normal. At the same time, my accounts of Mumbai's local trains and buses seemed to interest nearly everyone, often ending with "we must experience that when we come over to visit".
The paradoxical juxtaposition of what fascinated and confounded us — people from either side of the border — did nothing to lessen the respect we had for each other, but served to spur our interest in each other's societies.
Being a woman in Karachi and Mumbai
The issue of inadequate public transportation also ties into women's mobility within Indian and Pakistani cities. Once I suggested to my friend that we take an autorickshaw to go out, and she seemed less than thrilled about the idea. She pointed out to me that taking rickshaws wasn't a safe option, particularly since we didn't know the directions well enough.
Often car windows would have blinds in order to avoid unwanted attention. To me, 'protecting' myself in this manner was a new and unwelcome intrusion. I took some pride in the fact that 'we' didn't have to do so. Not in Mumbai. Yes, catcalling exists, but surely, in my opinion, we were better off. 'Our' women didn't need to be shut away.
Shortly, I realised I was wrong when a Karachi-based group, 'Girls at Dhabas' started an initiative called #WhyLoiter to encourage women to occupy public spaces based on a book by the same name written by a group of Mumbai-based feminists.
Read: #GirlsAtDhabas reclaiming public spaces for women
Upon coming back to Mumbai, I began observing the lack of women in public spaces. For instance, the line for women to enter the highly Kala Ghoda Art Festival was less than one-fourth the size of the men's line.
Men form an overwhelming majority in fitness centers and parks here. Streets have an extremely skewed gender ratio. Furthermore, there is a lack of political and social will to change this reality.
Safety and ease of access to public spaces for women is poor. Sexism, both overt and covert, is rampant.
Also read: Public misogyny: Chronicles of a boy on Karachi's streets
This sorry state of affairs made me recall a conversation I had with veteran Pakistani journalist and writer, Asif Noorani, who kindly hosted me for a few days at his home in Karachi.
He quoted Pakistani poet, Fahmida Riaz, who wrote about her visit to India,
"Tum bilkul hum jaisey nikley, ab tak kahan chupe the bhai?"
Although this poem is largely about the rise of Hindu fundamentalism in India, the translation can be cross-applied to a number of scenarios, including the common problems women face in both countries.
Increasing women's participation in public spaces is a reality that both cities struggle to change.
Our streets of change
An unlikely area of overlap between Karachi and Mumbai's public spaces is street art. Karachi's public spaces, not unlike Mumbai's, seemed to have degraded due to years of poor usage and management.
Hence, while I was in Karachi, it was especially heartening to see that the walls on several streets had been painted with images showcasing Karachi's artistic side. The walls were brightly colored, covered in both traditional and modern designs.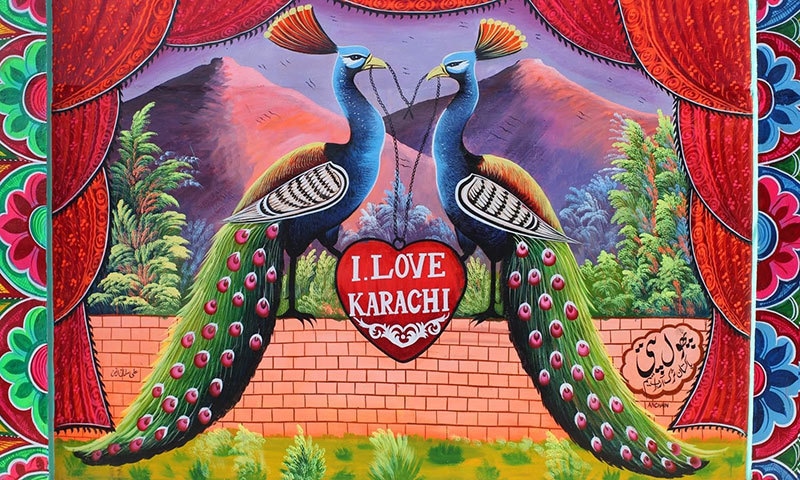 I was told that this was the result of an initiative undertaken by Munawar Ali Syed, a teacher at the Indus Valley School of Art and Architecture. The bright, positive works of art, created by over 200 artists, served to revitalise the streets.
In Mumbai, too, individual and government-backed efforts to encourage street art have grown over the last few years.
Examine: In Karachi: When hate on the wall disappears
The results have been walls, buildings, and more recently, the walls and stairways of railway stations covered in murals and paintings as opposed to spit-stains and bills.
While street art is common in a number of countries, what makes it unique in Karachi and Mumbai is that it is a conscious and purposeful attempt at the beautification of the city; an act to counter the abuse the city has faced.
More than shared histories
The tribulations and victories (however minor) regarding public transportation and public spaces in Mumbai and Karachi made the question "aren't we all the same?" more nuanced.
Karachi and Mumbai are in no way uniform. However, they are bound together, not just by a common past, but also by common concerns and shared aspirations, and the ways in which these impact the everyday lives of residents.
As a result, I feel compelled to look beyond the narrow realm of political developments to judge the effectiveness of people-to-people contact.
Regardless of whether or not any tangible political outcomes arise out of our connections, we have sparked interests in each other's lives and seek to draw comparisons based on more than shared histories.
That, in itself, is progress.
This is testified by friends' (in both countries) increased desire to visit the other side of the border.
If and when their dreams come true, they too, will be able to draw parallels for themselves and experience that we are all the same, separated by a border and a recent history of animosity that is just waiting to be changed.