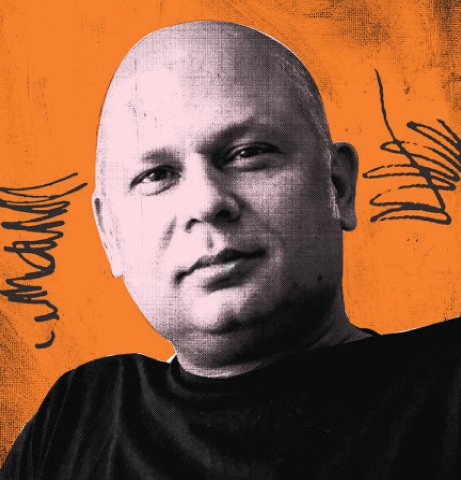 One of Punjab's most revered folktales, the love story of Heer and Ranjha, turned into a great epic when, in the 18th century, the master poet Waris Shah decided to retell it in verse.
Although the story has been told over centuries in Punjabi, Persian, Sindhi, Hindi and Urdu by many poets and prose writers, such as Hari Das Harya, Gang Bhatt, Damodar Das and Ahmad Yar Khan Yakta among others, it is Waris Shah's Heer that remains incomparable.
Like all such tales from the pre-printing press era, many verses continued to be included in the main text by poets and singers who would read and recite the long poem. Eminent scholar Sharif Sabir is credited with the latest and most authentic version of Heer Waris Shah, made available to us as recently as 1986.
Poet Syed Waris Shah (1722-1798) spiritually subscribed to the Chishti order of Sufism and was a student of Makhdoom Hafiz Ghulam Murtaza in Kasur. He rendered the tale of Heer Ranjha in his own unique way, where he used the story to define the feelings of separation and belonging, love and longing, pathos and ecstasy and satisfaction and guilt.
Full of drama, loaded dialogue, insightful depictions of the human psyche and inherent social behaviour towards each other in a community, Heer Waris Shah presents the social history of the tumultuous 18th century agrarian Punjab.
Through his characters, Shah time and again challenges the hypocrisy and fake religiosity of the mullah [cleric] and qazi [judge]. His depiction of the two lovers, Heer and Ranjha, celebrates nonconformity and purity of heart. All his other characters, such as Kaidu, Sehti, Ajju Khehra, etc are somewhat universal characters in human society.
Poet Najm Hossein Syed once wrote: "Written commentaries on Heer are rare, and critical introductions rarer. It does not form part of any regular curricula. But despite these disadvantages — perhaps because of them — Waris Shah's long poetic drama is certain of its audiences for generations."
Sarwat Mohiuddin has applied her command over both Punjabi and English languages to give us select stanzas of Heer Waris Shah in English, published under the Literary Heritage Series of the Oxford University Press, Pakistan.
In order to attract a younger readership, the language of the translation is simplified to some extent. The volume, illustrated with watercolour paintings depicting the tale's main characters and also Punjab's rural 18th century landscape, has just come out and was launched at the 14th Karachi Literature Festival, held earlier this month.
Just last year, 2022, was Waris Shah's 300th birth anniversary. How unfortunate that an event such as that could not be befittingly marked beyond an urs [celebratory death anniversary] at his birth place, Jandiala Sher Khan, and a couple of seminars. It should have been a year-long celebration across cities and towns in Punjab and beyond.
The translation of Heer Waris Shah in English that I was familiar with before, was done by Sant Singh Sekhon in the 1970s. It was published from Ludhiana, Indian Punjab. It is an almost word-to-word translation of considerable merit, with annotations and meanings appended to the translated text.
Fiction writer and playwright Sekhon was both an academic and a political activist. He was born in 1907 in Lyallpur (now Faisalabad), but moved to his grandfather's village in Ludhiana after Partition.
Of Marxist persuasion, Sekhon fought for elections in India on a number of occasions, but continued with his literary work all along. He had started writing in English, but later on switched to Punjabi. However, he remained a professor of English literature at the Punjabi University, Patiala. Sekhon, suitably decorated by the Indian state for his phenomenal literary career, passed away in 1997.
Mohiuddin has attempted to do a translation in metre, though I am not sure if metres are translatable. But there is an inherent rhyme she tries to create in English which does come close to our own rhyming patterns and she has done that quite successfully.
Mohiuddin is a person of many talents. She has made a name for herself as a poet in Punjabi and Urdu with multiple collections of verse behind her. She has also been a serious translator of literature from different languages into Punjabi and Urdu, including something as inaccessible to Pakistani readers as poems from Hungary.
In this particular translation of Heer, Mohiuddin's desire to pass her passion on to the next generation is ostensible — passion for her language, her land and her literary tradition. She has dedicated the book to the coming generations who, in her words, are the natural heirs to our rich heritage.
Let me share a few stanzas about the time when Dhido Ranjha seeks jog [asceticism] and faqr [indigence] from Guru Balnath. "At Tillan Jogian Ranjha pleaded 'Oh please/ Accept me great Guru Balnath/ I come from far, have nowhere to go/ I beg you to show me the path."
"Accomplished and able are you my 'Murshid'/ Allow me to be your disciple/ In earnest faith and trust in you/ I humbly ask for your guidance."
Later on, after Guru Balnath has unsuccessfully tried to dissuade Ranjha, Waris Shah writes: "Guru gently asked him to come sit close/ Commencing the ritual of 'Jog'/ Picked razor himself, started shaving his head/ Shedding lineage and pride with it."
"Then pierced his ears, put earrings in them/ Covered body with soot all around/ Identity buried in ashes so that/ No traces would ever be found."
Reading and imbibing from our classics — from Heer Waris Shah to Mirza Sahiban by Hafiz Barkhurdar, to Saiful Mulook by Mian Muhammad Bakhsh, to the works of Shah Abdul Latif Bhitai, Rehman Baba, Mast Tawakkuli and Khawaja Fareed among others — can turn us into a more inclusive, insightful, forgiving and tolerant society.
Even Heer Waris Shah begins with: "All praise be to Allah, Who/ Ordained love as core of life."
The columnist is a poet and essayist. He has recently edited Pakistan Here and Now: Insights into Society, Culture, Identity and Diaspora.
His latest collection of verse is Hairaan Sar-i-Bazaar
Published in Dawn, Books & Authors, March 12th, 2023