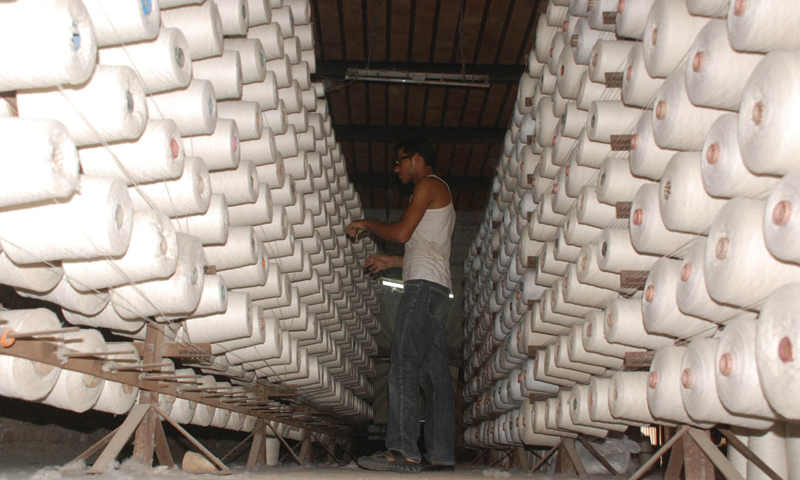 KARACHI: As the value-added textile sector anticipates the resumption of duty-free yarn imports from India, spinners are strongly against the idea maintaining that the item is being imported from 59 countries.
While the value-added sector terms the situation a crisis, spinners insist a false picture is being presented.
"As per Customs data, yarn is already being imported from 59 countries," Chairman of the All Pakistan Textile Mills Association (Aptma) Sindh-Balochistan Asif Inam said.
"India's hostile attitude towards Pakistani products is worrying," the Aptma representative said.
"The data is strangely fabricated to portray a doom and gloom scenario. There was a slight decline in exports when comparing exports of 28 days of Feb 2021 with 29 days in the same month last year (2020 was a leap year)," he added.
The seven-month data (7MFY21) shows that Pakistan has already imported cotton worth $1.336 billion. The massive imports highlight cotton shortage in the country, with production at its record lowest level.
Mr Inam said the government should not allow imports of cotton yarn or cotton from India until the "country goes for trade normalisation with Pakistan".
"The value-added garment and home-textile industries are facing jeopardy in the wake of unavailability of cotton yarn and abrupt decrease in the value of rupee against dollar," said Pakistan Apparel Forum Chairman Jawed Bilwani.
"During the past three months, cotton yarn 30/1 prices have been increased by 15pc while it is not available in the market," he said.
In the last six months, the dollar has also depreciated against the Pak rupee by 5.58pc — down from Rs166.5 to Rs157.2. Exporters previously had negotiated and finalised their export orders at dollar rate of Rs166.5, Mr Bilwani said.
The fortnightly report of the Pakistan Cotton Ginners Association shows that 72,000 bales of cotton were sold to exporters.
"Cotton prices are high in the market while arrival for this year is almost over. There is need to import more cotton but more important there is a need for a policy to improve cotton growth with high quality seeds and increased cultivation area," said Karachi Cotton Brokers Forum Chairman Nasim Usman.
Published in Dawn, March 10th, 2021
Now you can follow Dawn Business on Twitter, LinkedIn, Instagram and Facebook for insights on business, finance and tech from Pakistan and across the world.