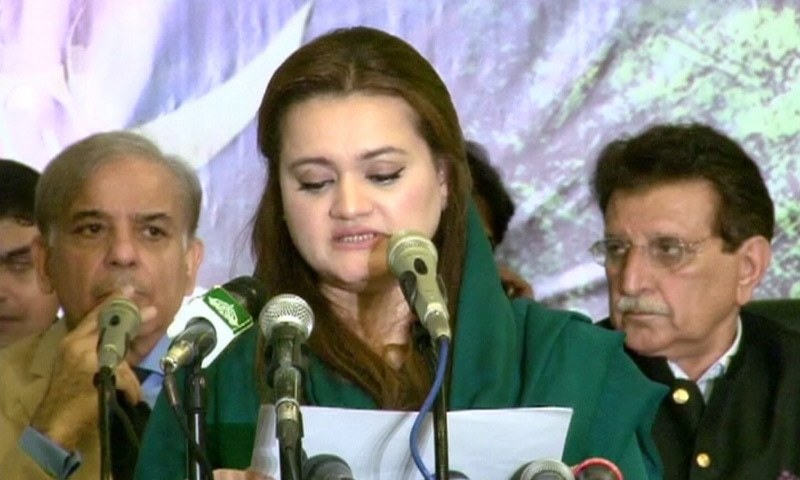 Senior PML-N leaders on Thursday presented the party's manifesto ahead of the July 25 general elections at a ceremony in Lahore.
Former state minister Marriyum Aurangzeb began by reading out a message from former prime minister and PML-N supreme leader Nawaz Sharif, who regretted the "political conspiracies" his government was allegedly subjected to after coming into power in 2013.
The fact that Chinese President Xi Jinping's trip to Pakistan in connection with CPEC-related investment had to be postponed proved "how harmful dharnas (sit-ins) were for the national interest", he was quoted as saying.
---
See PML-N's complete manifesto for 2018 elections here.
---
Sharif also criticised the "unprecedented" court decisions that led to his ouster as prime minister and removal as party head.
Examine: The PML-N made bold claims in its 2013 manifesto. How many of those promises did it keep?
It is incumbent upon the PML-N to ensure the progress of democracy, political harmony, protection of rights of minorities, respect for women and supremacy of the Constitution in Pakistan, he said.
PML-N president Shahbaz Sharif in his address claimed that the PML-N had introduced 11,000MW electricity to the national grid in its recently-concluded five-year tenure. Shahbaz, whose speech was briefly interrupted by a heckler, said his party had brought peace to the entire country, especially Karachi, through military operations.
"The [PML-N] manifesto is a roadmap to include Pakistan among the top 25 world economies," said party leader and former interior minister Ahsan Iqbal. The policy statement envisages the introduction of an "agricultural industrial revolution" in Pakistan, he added.
In its manifesto, headlined with the slogan "Vote ko izzat do — khidmat ko vote do" [Honour the vote — vote for performance], the party has, among other elaborate promises, pledged to:
Aspire for economic transformation by raising the GDP growth rate to over 7 per cent
Expand scope of investments
Minimise losses in state-owned enterprises
Eliminate poverty by 2030 through welfare programmes
Enable enterprise creation and employment
Impart technical training among people
Continue tax reforms to raise the tax-to-GDP ratio from 13pc to 16pc
Create at least 100,000-200,000 jobs
Expedite completion of long-term CPEC plan
Promote value addition in agriculture and increase productivity
Assist farmers with a farmer support package
Increase the size of the IT industry from $3.1 billion to $10bn
Expand e-governance and citizen-centric services
Bridge the digital divide by doubling the access to affordable broadband
Scale up free public Wi-Fi hotspots to all major cities
Increase representation of youth in democratic forums
Open Pakistan to the world
Improve Pakistan's ranking to the top 50 on tourism and competitive index
Add 15,000MW of power by 2025, including 5,000-7,000MW through Thar coal and hydroelectricity
Provide energy coupons to the poor and require other segments to pay commercial rates
Ensure speedy implementation of National Water Policy
Create a world-class railway system
Achieve universal primary enrollment by 2023
Increase education spending to 4pc of GDP and funding for higher education to 0.5pc of GDP
Ensure universal access to preventive and primary health care
Undertake proper registration of madressahs through a system agreed by all stakeholders
Launch special welfare programmes for the uplift of minorities
Increase maternity leave duration up to six months, with a minimum leave period of three months
Establish community-level "Awami Adalat" [public courts] in easily accessible locations
Reimagine the national narrative to foster tolerance, dialogue and diversity
Rehabilitate and mainstream recruits of extremist organisations through social welfare programmes
Hold dialogue with India to reduce tensions on an equal and strictly reciprocal basis for regional peace
Strengthen inter-institutional dialogue to develop a shared vision of strategic issues
Fortify ties with China even further, develop relations with Russia
Make administrative and regulatory changes to ensure freedom of speech and expression
What is a manifesto?
A manifesto is known as a "published verbal declaration" through which parties express their "intentions, views and vision" about national issues and also make public their "motives" and "targets" which they plan to achieve after assuming power.
Political experts believe that a manifesto is actually a pledge a political party makes with people before elections and later it acts as a gauge to measure its performance.