Existentialism, once a radical ideology, has long since lost its edge. However, Sarah Bakewell, the author of At the Existentialist Cafe: Freedom, Being & Apricot Cocktails, is of the opinion that the ideas that inspired existentialists have become so ingrained in our culture today that we don't even pause to think about them. Concepts such as freedom, anxiety, bad faith and authenticity are just as important in the terrorism-infested world today as they were in post-WWI and WWII Europe. We might not use the same terminologies as the existentialists, but we still wonder about the same basic question regarding existence and what it means. Moreover, the increasingly surveilled state of affairs these days makes questions of right to privacy and subsequently of individual freedom more relevant than ever. If you have ever felt anxious because of our increasing dependence on technology and the entrapment of consumerist culture, you are, to use the existentialist term, worried about bad faith.
Bakewell, in her book, argues that we need a humanist philosophy, like existentialism, more than ever today. She isn't claiming that existentialists have the answers to all our problems. Instead, they offer us a fascinating discourse on some very important issues disparaged by postmodernists and scientists alike. This is not your typical introduction-to-philosophy or traditional biography (a subject which Jean-Paul Sartre found quite intriguing). At the Existentialist Cafe is the story of existentialism as experienced by some of the most significant existentialists.
---
A book that gives insight into the lives of the members of the existentialist school of thought
---
It all started with Edmund Husserl's insistence on "to the things themselves" which was the first time that a philosopher gave more importance to the way we perceive things rather than bringing forth an ontological discussion on metaphysics. Martin Heidegger further helped reconcile philosophy with the "normal, lived experience". The young Sartre found this methodology of philosophy personal and exciting, and decided to go to Germany to study phenomenology. This method suited Sartre because he was a philosopher fascinated by lived experience and wrote in a style akin to novelists: "The connection between description and liberation fascinated Sartre. A writer is a person who describes, and thus is a person who is free — for a person who can exactly describe what he or she experiences can also exert some control over these events." Moreover, he had a special talent for "combining personal gut responses with philosophical reasoning".
The relationship between Sartre and Simone de Beauvoir was a "philosophical demonstration of existentialism in practice, defined by the two principles of freedom and companionship". It was essentially a relationship between two writers who developed most of their ideas together. Nevertheless, it would be wrong to believe that their philosophies are essentially the same. To appreciate the difference between Sartre and Beauvoir's philosophy one needs to understand the differences between their novels, reasons Bakewell. Sartre can't always make his fiction 'sparkle', but Beauvoir was more natural at fiction; he "took more care over plot and language, and she subordinated raw ideas to the play of character and event more carefully". Moreover, "Sartre's work was an epic exploration of freedom, in which the love affair takes its place among other threads; Beauvoir's interest was in the power lines of desire, observation, jealousy and control that connect people".
Sartre had developed most of his philosophy before WWII began, but when the war started it was the ultimate affront: "it threatened to sweep away all those personal thoughts and concerns like toys from a table". However, "Sartre's existentialism implies that it is possible to be authentic and free, as long as you keep up the effort. It is exhilarating to exactly the same degree as frightening".
The chapters on phenomenology, especially on Heidegger, are both most intriguing and demanding. However, Bakewell carefully explains the philosophy in a manner that those unfamiliar with the discipline would be able to grasp its essence.
Whereas the main influence on Sartre was Heidegger, for Albert Camus it was Søren Kierkegaard. Even though Sartre and Beauvoir liked Camus as a person, they couldn't accept his vision of absurdity: "Life for them is full of real meaning." However, we need to bear in mind that Camus's upbringing was vastly different from the other existentialists: "he grew up into a world of silence and absences. His family had no electricity, no running water, no newspapers, no books, no radio." When Beauvoir wrote The Second Sex, Camus was incensed and accused her of "making the French male look ridiculous".
For me, the most interesting chapter is the one which solely focuses on Beauvoir, who is rather marginalised in the rest of the book. Nevertheless, Bakewell tells us that Beauvoir's magnum opus is a lot more complicated and radical than Sartre's. She re-evaluated human lives as well as history, emphasising how we are all gendered beings; she exposed myths of gender and "resituated men in relation to women". In The Second Sex she talked about the difference between biological sex and gender which is a social construct. "She showed how choices, influences and habits can accumulate over a lifetime to create a structure that becomes hard to break out of."
Soon after the end of WWII, Sartre, Beauvoir and Camus had become so popular that they were invited to tour America. One thing that equally horrified all three was the racial inequality in America. It is quite sad that a country like France, which gave birth to one of the most humanist philosophies in history, has become so racially intolerant in the recent past.
By the end of the 20th century existentialism was out of fashion. For the structuralists, post-structuralists, postmodernists and deconstructionists, philosophy was a clever game: "they juggled signs, symbols, and meanings; they pulled out odd words from each other's texts to make the whole edifice collapse".
Bakewell argues that philosophy today is "an abstract landscape stripped of the active, impassioned beings who occupied it in the existentialist era". However, they are as significant as ever because "they took on the two biggest questions: What are we? And what should we do?"
The philosophers we meet in At the Existentialist Cafe are not a group of remote figures buried in books, thinking up theories that are difficult to understand. In fact, we get glimpses into the lives of these very human characters who weren't born geniuses, but were products of time and circumstance. As a student I fell under the spell of postmodernism, but increasingly I find myself drawn to humanist writers. Bakewell has reminded me how "human existence is difficult and that people often behave appallingly, yet they also show how great our possibilities are".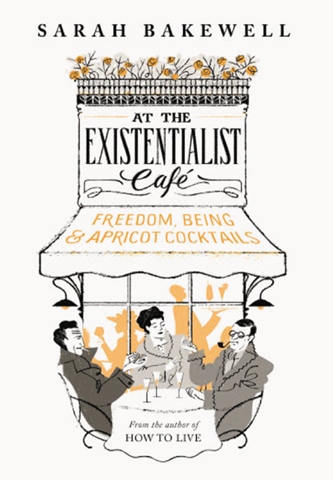 Bakewell writes well, diligently elucidating many complex ideas in a fashion that "combines the philosophical and the biographical". There's a quality of lightness in her style which, coupled with her intelligent humour and narrative method, turns At the Existentialist Cafe into an interesting as well as profound read.
The reviewer is an Ankara-based freelance writer and critic.
At the Existentialist Cafe: Freedom, Being & Apricot Cocktails
(PHILOSOPHY)
By Sarah Bakewell
Chatto & Windus, UK
ISBN: 978-0701186586
440pp.
Published in Dawn, Books & Authors, November 27th, 2016