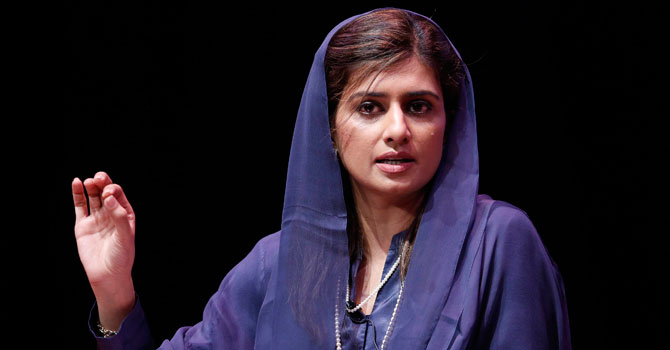 Foreign Minister Hina Rabbani Khar speaks at the Asia Society in New York on Thursday. Khar is in New York for the 67th UN General Assembly. – Photo by Reuters
NEW YORK: Foreign Minister Hina Rabbani Khar on Thursday said that the country supports US aims in its secretive drone war over Pakistani territory, but not the methods, which she said are backfiring.
The CIA program of using the remotely controlled aircraft to watch the Afghan-Pakistan border and to fire missiles at militants on Pakistan's side is bitterly opposed by most citizens of the country.
Khar, speaking at the Asia Society in New York, said she accepted the US government's reasons for the onslaught, but called the strategy short-sighted.
"What the drones are trying to achieve, we may not disagree. We do not disagree. If they're going for terrorists -- we do not disagree," she said.
"But we have to find ways which are lawful, which are legal." "The use of unilateral strikes on Pakistani territory is illegal," she said.
"It is illegal and it is unlawful." Asked during her address to the Asia Society why polls find that anti-American sentiment in Pakistan is among the world's highest, Khar answered with one word: "Drones."
According to Khar, Pakistan's government needs to build popular support for its own efforts to crush armed militant groups, but this is impossible as long as the war is viewed as US interference.
"As the drones fly over the territory of Pakistan, it becomes an American war and the whole logic of this being our fight, in our own interest, is immediately put aside and again it is a war imposed on us," she said.
Ignoring Pakistani opposition to the drones, she said, is "about choosing to win the battle at the cost of the war. These are battles. You get one terrorist, two terrorists, fine. But are you winning the war?"
She expressed optimism about resolving the long-running sore in US-Pakistani relations, saying, "We are closer to finding ways and means than we were before." But Khar rejected frequently voiced complaints from US lawmakers and commentators that Pakistan is a threat to US security and a hotbed of bombers, such as the Pakistani-American who tried and failed to ignite a car bomb in New York's Times Square in 2010.
According to Khar, religious violence has deep roots and not only Pakistan is to blame for the presence of militants on its territory.
"It is time to say that we all made mistakes," Khar said.
"When we were dealing with the Soviet Union's invasion of Afghanistan, your country, together with mine, decided to arm terrorists, and at that time we called them Mujahideen.... After that, your country moved away." She added: "We don't blame anybody."