TALKS between a three-member ulema delegation and Lal Masjid cleric Maulana Abdul Rashid Ghazi failed on Wednesday night after he refused to surrender unconditionally.
The head of the delegation, Maulana Zahoor Alvi, said Maulana Ghazi was not ready to surrender till the troops surrounding the mosque were withdrawn.
He said that during his visit to Lal Masjid he had seen bodies of five students lying in the mosque. He said he had also seen children aged five to eight there and asked Maulana Ghazi to let them go out. But Maulana Ghazi said they were his children and he could take care of them.
MAULANA Abdul Aziz, the leader of the Lal Masjid brigade, was arrested while trying to flee in a burqa.
"After all the things he has said and all the oaths he took from his students that they should embrace martyrdom with him, look at this man," Minister of State for Information Tariq Azeem said.
Maulana Aziz was caught after a group of 50 burqa-clad women from the mosque started screaming as they were taken to a nearby school for security checks after giving themselves up, saying the procedure was un-Islamic.
"Our officers spotted his (Aziz's) unusual demeanour. The rest of the girls looked like girls, but he was taller and had a pot-belly," an official said.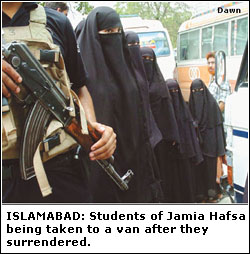 ISLAMABAD, July 4: The government's strategy of a massive display of military might, with machinegun-mounted armoured personnel carriers laying siege to the militant-infested Lal Masjid and security officials' warnings of a ruthless crackdown worked on Wednesday and more than 1,100 men and women members and supporters of the radical brigade capitulated and surrendered unconditionally.
The public spectacle of the surrender continued throughout the day, during
which everyone who came out of Lal Masjid and the adjoining Jamia Hafsa was made to walk through metal detectors and was frisked by security officials and policewomen. Most men were also asked to walk with the belly showing as the authorities wanted to be sure that none of them carried suicide bomber's explosive belt.
But perhaps the biggest blow to the heavily armed militants, who on Tuesday had vowed to continue their 'jihad' till the last drop of blood, came when their leader and chief khateeb Maulana Abdul Aziz was caught while trying to escape in disguise, wearing a burqa.
"Yes, I confirm that Maulana Abdul Aziz has been arrested along with his wife while he was trying to escape wearing burqa," Deputy Commissioner Islamabad Chaudhry Muhammad Ali said. Religious Affairs Minister Ijaz-ul-Haq later justified the arrest of the cleric's wife, saying that she was one of the key figures behind every thing that had happened there, and even on Wednesday had tried to prevent women students from leaving Jamia Hafsa.
Within minutes of his arrest, Maulana Aziz was whisked away by intelligence operatives to an undisclosed place.
Known for his firebrand speeches, calls for jihad and open threats in Friday sermons about having a brigade of suicide bombers inside Lal Masjid, Maulana Aziz tried to slip away by posing as one of the 50-odd women students who had offered to surrender.
But for an eagle-eyed woman head constable of the Special Branch, Maulana Aziz would have managed to slip away along with his wife.
A security official told Dawn that head constable Maryam was standing close to the outer gate observing all the women who were moving towards the parked buses when she got suspicious of the way two of the women were behaving. All other women were allowed to pass, but burqa-clad Maulana Aziz was stopped and Maryam surprised him by asking his name and he did not respond. It was soon revealed that behind the black burqa was the man, who for the last six months had been keeping the entire administration and the country in a state of panic.
It was ironic that a man who rarely got himself photographed was now making headlines with his image splashed on television channels showing him in an all-covering black burqa.
So embarrassing was the revelation for most radical and moderate Islamists that no one was prepared to justify the act. However, his younger brother and perhaps the more militant of the two, Maulana Abdul Rasheed Ghazi, remained defiant till the filing of this report and even expressed his annoyance over Maulana Aziz's attempt to escape. (Some private TV channels reported late in the night that he had agreed to surrender).
But for most other people in Islamabad, and in other parts of the country, the incident was used to make fun of the militant clerics. Throughout the evening, jokes were doing the rounds, with people feeling a marked reduction in tension in the city.All this went on with the residential district of G-6, where the mosque is located, being under curfew. Only a small group of journalists managed to get some access to the area, which was much in contrast to the happening of the previous day when the pitched gunbattles between security forces and madressah militants took place with journalists and other watching.
It was also a conscious decision of the authorities to keep the media at bay in case a full-fledged security operation was to be launched.
On Tuesday, the area had seen some of the worst clashes ever witnessed in the capital. The daylong battles had left 10 people dead and over 150 injured. On Wednesday, another passerby became victim of firing by security forces in the curfew zone, where shoot-at-sight orders were enforced. Bodies of a number of people killed in overnight clashes were also found and officials said the death toll since Tuesday's fighting stood at 16.
On Wednesday morning, the situation appeared different as people of G-6 area woke up to realize that the entire locality around Lal Masjid had been handed over to the army. There were APCs all over and army units in trucks fitted with machine-guns were patrolling G-6 and nearby localities.
Even though a military operation had appeared imminent after the deployment of army in the wee hours of Wednesday, it turned out that the authorities were using the policy of the carrot and stick with the help of religious leaders like Maulana Fazlur Rehman and Maulana Ghafoor Hyderi of Jamiat Ulema Islam(F), who were involved in proximity talks aimed at securing unconditional surrender of all those holed up inside the mosque.
Maulana Hyderi was at one point quoted as saying that the younger Maulana, Rasheed Ghazi, was also willing to give up provided the security forces were withdrawn from the area, but senior officials said they were not prepared to discuss any such condition.
The authorities also took advantage of President Gen Pervez Musharraf's earlier announcement of a general amnesty to all those who had surrendered and who had no criminal records. However, officials said that all the men who surrendered were being taken to Adiala jail and would be released only after their record is checked for any criminal activities. Those found innocent would be given Rs5,000 to enable them to travel back home as most of them belong to the North-West Frontier Province.
The women of Jamia Hafsa were being kept at the Haj Terminal in Rawalpindi, and the authorities were yet to decide about their fate.
Meanwhile, local police registered a fresh case against Maulana Aziz, Maulana Ghazi and their spokesman Abdul Qayyum under Anti-Terrorism Act and six other sections of the Pakistan Penal Code relating to murder, wrongful confinement, assault on public servants, rioting with deadly weapons and unlawful assembly.
The day started with the killing of an unidentified man who had entered the 'no go area' from the Melody Market side. He was reportedly hit by a sniper deployed around Lal Masjid and on the roof of houses in the adjoining areas. His body was taken to the CDA Hospital.
The overnight siege of the area by SSG Commandos, 111 Brigade personnel and Rangers intensified on Wednesday after they were reinforced by more security personnel and four helicopters started aerial surveillance.
Several students started surrendering at around 11.15am when the mosque administration was given the first deadline of 11.30am to surrender. Till the filing of this report, about 1,100 had surrendered.
The crossfire between militants and security forces continued throughout the day with brief intervals.
The curfew continued in Sector G-6 till Wednesday night. Power supply to the area remained suspended for the second day.
Interior Ministry spokesman Brig Javed Iqbal Cheema said that residents would be provided food and water through vans. — With additional reporting by Mohammad Asghar, Munawar Azeem, Sherbaz and Khawar Ghumman.