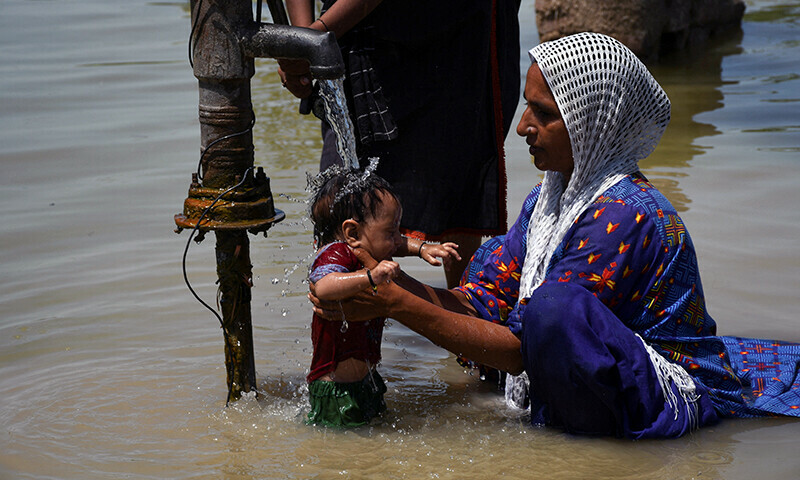 • Residents of five UCs told to evacuate immediately
• 'More thundershowers' forecast in coming days
DADU / HYDERABAD / RAWALPINDI: With water level in Sindh's Manchhar Lake rising to 'dangerous level' and the forecast of more thundershowers in the upper parts of the country during the next three to four days, residents of at least five union councils near the lake have been asked to immediately move to safer places arranged by the Jamshoro administration.
The increasing levels in Manchhar posed a serious threat to scores of surrounding villages after the deluge completely cut off Bajera and Jhangara villages in Dadu from the rest of the district. Floodwater gushing from the lake was mounting pressure on the embankments of Danister canal and its main regulator, which has been damaged.
Official in charge of the irrigation cell for Manchhar Lake Sher Mohammad Mallah said water level crossed the full capacity level of 122.8 feet RL at RD-62 point. An inflow of over 100,000 cusecs was being recorded while the discharge into the Indus River stood at 7,000 to 8,000 cusecs at Aral canal and its tail-end near Sehwan, according to irrigation engineer Mahesh Kumar.
He said truckloads of stones were being brought to strengthen the weak sections of Manchhar's bank, while floodwater had started eroding its bank at RD-100, 72, 62, 52 and 10 points on Saturday.
Meanwhile, the Met Office has forecast that upper regions of the country may receive thundershowers for the next three to four days, though Sindh, Balochistan and south Punjab are expected to experience hot and humid weather during these days.
Talking to Dawn over the phone from Manchhar, Jamshoro Deputy Commissioner Fariduddin Mustafa said 80 per cent residents from two of the five union councils had already left, while the remaining were advised to leave in view of the critical condition of the lake's dyke. They were being provided shelter in government buildings though private places might also be acquired to accommodate more people, he said.
He said soil erosion between RD-54 and RD-58 of the lake could be detrimental to the dyke. He quoted Irrigation Special Secretary Jamal Mangan as saying the critical situation was reported on Saturday evening due to the wind at the dyke.
Meanwhile, the flood rushing to other parts of Dadu continued to increase pressure on the embankment protecting Mehar Town, which had been cut off from rest of the towns for past five days due to inundation and destruction of roads.
The worst-hit town of Khairpur Nathan Shah continued to receive more floodwater, causing the 10-foot water level recorded a day earlier to rise by at least another foot. The major town of Johi also remained cut off from all other areas of the district due to heavy flooding.
Breaches at 20 sections of the Nara Valley Drain dykes had also aggravated the flood situation at Kheer Mori and adversely affected the areas up to Chhandan Mori towards Sehwan over the last 24 hours though residents of the affected areas plugged the breaches on their own.
The LS Bund near Dadu remained under immense pressure of floodwater.
Moreover, five members of a family drowned in the floodwater of the Indus near Alipur where they had gone to take photos. Jamshoro DC Mustafa and SSP Javed Baloch said all the five bodies had been recovered. Locals had tried to convince them against going further near the water, Khanote SHO Deedar Hussain said, adding that their bodies were later shifted to Liaquat University Hospital, Jamshoro branch.
According to the Met Office, weak monsoon currents from the Arabian Sea were penetrating upper and central parts of the country.
Under the influence of this weather system, rain-wind/thundershower (with isolated heavy falls) is expected in Azad Jammu and Kashmir, Gilgit-Baltistan, Islamabad/Rawalpindi, Murree, Attock, Chakwal, Jhelum, Sialkot, Narowal, Lahore, Gujranwala, Gujrat, Sheikhupura, Mianwali, Khushab, Sargodha, Hafizabad, Mandi Bahauddin, Jhang and Faisalabad from Saturday night to Tuesday.
It further said rain-wind/thundershower (with isolated heavy falls) is also expected in Dir, Swat, Kohistan, Mansehra, Abbottabad, Haripur, Malakand, Bajaur, Peshawar, Mardan, Charsadda, Swabi, Nowshera, Kurram, Kohat and Waziristan on Sunday (today) and Monday.
Published in Dawn, September 4th, 2022