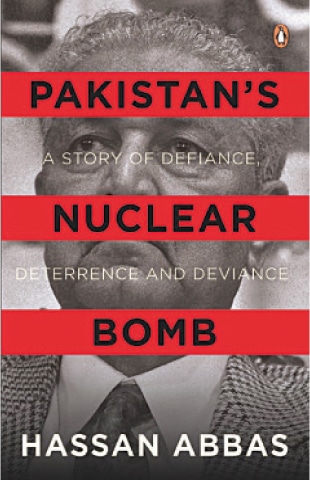 As Pakistan and India commemorate 21 years of their nuclear tests, established author Dr Hassan Abbas raises prospects of new insights and a "new story" on a curious and controversial subject that has been written about for at least two decades. Derived from the author's PhD thesis, Pakistan's Nuclear Bomb: A Story of Defiance, Deterrence and Deviance promises to critically examine Pakistan's motivations for acquiring nuclear capability and probe into whether the A.Q. Khan proliferation of nuclear weapons technology to other countries was a "rogue" or "state-sanctioned operation."
In 2000, Abbas, a former Pakistani police officer, was appointed as a deputy director investigation at Pakistan's National Accountability Bureau — an organisation established under Gen Pervez Musharraf to investigate corruption. Abbas claims he faced a "serious dilemma" when he was assigned an "official dossier" to investigate the cases of corruption against the famous celebrity and Pakistani household hero Dr Abdul Qadeer Khan. The author establishes his vantage point, excites readers with expectations of inside knowledge or new information, but then immediately drops the other shoe: "I cannot go into details of what was documented in the files, nor can I vouch for the authenticity of the charges against [A.Q. Khan]." This pattern holds throughout in the book — a roller-coaster of gradual build-up and then a sudden drop of dismissal. Often, the author takes off on a tangent on unrelated — though important — subjects such as domestic religious activities, which, while adding flavour, distracts from the central narrative.
Abbas brings down his gavel in judgement as he reviews existing literature on international relations, nuclear proliferation and the history of Pakistan's nuclear programme. He appreciates some, critiques or dismisses others and questions the credibility of many assertions by civil and military leaders, scientists and policymakers. However, he rarely explains why his research and conclusions are different. His introductory chapters re-evaluate various schools of thought in proliferation literature and strategic cultural lenses that other authors — including this reviewer — have applied to Pakistan's nuclear history. He concludes that "scholars, analysts and experts" who have published before him have "ignored the larger picture" of Pakistani politics, security and international relations and "have narrowly focused on A.Q. Khan." As readers brace themselves, he begins the story of the three "Ds": defiance, deterrence and deviation. What follows in the next 200 pages is a primer on Pakistan's political history, civil-military relations, its nuclear programme and the proliferation history of Iran, North Korea and Libya.
Hassan Abbas' latest book provides good summaries of existing knowledge, but few fresh insights into a much-addressed topic
ON DEFIANCE
South Asia's history of nuclear defiance has been well-documented for over 50 years. Readers unfamiliar with Pakistan and India as non-proliferation outliers will find this synopsis on defiance refreshing. The author paints Pakistan's defiance story as one of "immense national pride" and just "short of a miracle"; yet internationally, it is viewed as "the most important illicit exporter of nuclear technology in the history of [the] nuclear age." In the concluding chapter, Abbas cites a serving officer's anguish: "while Indian strategy ... is accepted ... Pakistan countermeasures are considered at odds ... whether it is [in] prospects of admission into [the] Nuclear Supplier's Group or gaining access to Western technology ... Pakistan feels it is treated unfairly vis-à-vis India." The lessons are clear: defiance has a political price, allies are fickle and international relations can be cruel.
ON DETERRENCE
For students of strategy and security studies seeking insights into 21st century deterrence, this book offers little to none despite what the subtitle suggests. Abbas recaps quite accurately how the asymmetric trajectory with India erodes Pakistan's conventional force deterrence and how Pakistan's disillusionment with external balancing (especially with the United States) forced Islamabad into a "desperate need for a nuclear deterrent." There is little debate on deterrence complexities, doctrinal shifts, the impact of technological maturations and the changed character of war on regional security dynamics. However, in the concluding chapters, he updates Pakistan's nuclear trajectories up to 2017. Abbas also provides a succinct brief on safety and security measures, including efforts to improve the nuclear security regime.
The author concisely compiles the history of Pakistan's nuclear programme in chapter 3. For readers pressed for time and those who have little patience for reading tedious books such as Eating Grass: The Making of the Pakistani Bomb and/or detailed ones such as Naeem Salik's The Genesis of South Asian Nuclear Deterrence and many others, this chapter offers perfect CliffsNotes on Pakistan's quest for nuclear weapons.
ON DEVIATION
The highest hopes of readers pertain to the third D: deviation. Fifteen years after the unravelling of the A.Q. Khan network, readers expect new insights or interpretations on nuclear proliferation. Instead, Abbas recaps secondary sources sprinkled with a few interviews to reinforce established knowledge. Researchers needn't burn the midnight oil by reading elaborate works such as the A.Q. Khan dossier from the Institute of Strategic Studies, or Gordon Corera's Shopping for Bombs: Nuclear Proliferation, Global Insecurity and the Rise and Fall of the A.Q. Khan Network, or David Albright's Peddling Perils: How the Secret Nuclear Trade Arms America's Enemies etc. Abbas reproduces crisp summaries of Iran, North Korea and Libya's quest for nuclear programmes, their linkage with A.Q. Khan's network and the nature of interstate relations with Pakistan in chapters 4–6 respectively.
In answering the question whether proliferation from Pakistan was by an individual rogue (A.Q. Khan) or a state enterprise, the author's ambivalence and roller-coaster style continues. He lowers his gavel in judgement again. He reproduces many questionable assertions, drawing from unauthenticated sources, loose statements and speculations by politicians and military officials and then dismisses them as implausible, speculative or unproven. Seemingly, Abbas implies that the "civil-military tussle" is responsible for the lack of oversight/control of the nuclear programme. He excuses Pakistan's involvement in the cases of Iran and Libya, holding individuals and institutions responsible. However, in the case of North Korea, he suggests partial state complicity.
Regarding the Iran-Pakistan nuclear connection, Abbas first suggests "strong evidence" against former Army Chief Gen Aslam Beg for "authorising A.Q. Khan to help Iran", but then backpedals, stating, "It seems entirely plausible that Khan acted independently." Gen Beg denied giving authorisation, but based on his then peculiar vision of "strategic defiance" and "strategic depth", speculations suggest some kind of collusion. In the North Korean case, former prime minister Benazir Bhutto — after returning to power in 1993 — signed a formal deal involving the purchase of ballistic missiles, including transfer of technologies. However, Abbas blames the military for complicity or at least ignoring A.Q. Khan's proliferation of centrifuge technologies and knowhow, including through training North Korean engineers at Khan Research Laboratories (KRL). Abbas correctly debunks disinformation reports regarding the presence of North Korean scientists during Pakistan's nuclear tests in 1998. It remains unclear, however, as to why he would include bizarre assertions and farfetched ideas only to dismiss them; it only confuses the readers and takes up precious space in his book.
Libya was a classic case of the international centrifuge enterprise as a Walmart for nuclear supplies spreading from Asia to Africa to Europe and beyond. The Libyan quest for nuclear weapons was immodest, and its components were not primarily Pakistani. The sheer audacity of the network activities resulted in the dramatic unfolding of the nuclear enterprise, leading up to its bust. A.Q. Khan was removed from KRL in March 2001, but the Libyan connection with the network continued.
Later in the book, Abbas examines A.Q. Khan's worldviews and also of religious leaders and the Pakistani elite's, implying deeper, ideological underpinnings to the motivations for the proliferation network. Abbas leaves readers to choose from a menu of factors: A.Q. Khan's personal greed; making KRL financially self-sufficient; a bomb for the Islamic Ummah; and defiance of Western arrogance. Abbas takes no position and provides no conclusive deductions, leaving readers with one plausible answer: 'all of the above.'
Abbas's central argument is on political instability and broken civil-military relations that provide new insights into Pakistani strategic culture. The impact of internal instabilities and diffusion of power has a significant impact on decision making on national security affairs. At one time, a troika of power (president, prime minister and army chief) ruled Pakistan; at other times, power and responsibility vacillated between president and prime minister and/or outright military rule. These drifts have impacted the country's command and control system; therefore, the creation of the National Command Authority and Strategic Plans Division has brought coherence and control to all aspects of nuclear management. Yet, as Abbas also notes, the perception of a lack of civilian oversight continues.
Abbas is a recognised scholar in the US; his earlier books — Pakistan's Drift into Extremism: Allah, the Army, and America's War on Terror and The Taliban Revival: Violence and Extremism on the Pakistan-Afghanistan Frontier — are more scholarly and reflective of his strong suit. Nevertheless, he deserves credit for turning his dissertation into a book, which is hard work. It is also courageous as his publication is late by over a decade. By the time the author published, several publications had already stolen his thunder. In addition, publications on the A.Q. Khan proliferation network have left audiences with Pakistan fatigue. Though the author begins with lamenting scholars for exclusively focusing on the A.Q. Khan network, in the end, Abbas's book does exactly that.
The reviewer is a professor at the US Naval Postgraduate School and author of Eating Grass: The Making of the Pakistani Bomb
Pakistan's Nuclear Bomb: A Story of Defiance,
Deterrence and Deviance
By Hassan Abbas
Penguin Allen Lane, UK
ISBN: 978-0670089680
296pp.
Published in Dawn, Books & Authors, September 8th, 2019