Removal of illegal construction has been ongoing in Karachi since the past few weeks under the directives of the Supreme Court.
The most prominent and visible exercise in this respect was carried out in Saddar. Shops, hawker stalls, extensions of commercial spaces, semi-mobile enactments along the roads and footpaths were demolished.
According to municipal officers, information related to the demolitions was extended in advance to all the prospective affectees in a bid to minimise losses.
Related: Encroach if rich
'Economic genocide'
Amjad (all names have been changed) had a kite and accessories shop along the backyard of the Empress Market. He had been paying rent to the Karachi Metropolitan Corporation (KMC) since 1988.
He told me that shopkeepers were confident they would be given enough time to pack their goods and dismantle the fixtures.
But he got no clear answer from KMC officials, the ones who used to come collect the rent. Contrary to official line, the 'clean-up' began without any prior notice, during the dead of the night.
Also read: Where's Empress Market?
Amjad's shop was bulldozed; he lost fixtures worth one million rupees and merchandise to the tune of Rs0.6 million. He hasn't been allowed to retrieve whatever remains from the rubble.
Arshad, who also used to sell kites, recounted to me how the shovel operator wouldn't even stop for 30 minutes to allow him to salvage his belongings despite repeated pleas.
Neither compensation nor any alternative location has been offered by the authorities so far.
Rajab, a tea seller, had to lay off four young men who worked at his shop. For Arshad, this is an "economic genocide" of Karachi's poor.
A tale of official incompetence
What has happened in and around the Empress Market is a tale of incompetent city management. It needs a careful review on many counts.
Around 1,800 shops that existed were, in fact, illegal since they did not operate under any valid lease. Despite that, all the previous mayors expanded the breadth of the market.
The municipal staff were charging rents (between Rs5,000 to Rs8,000 from each shop) without any legal authority.
Read more: The lament of a heritage manager in Pakistan
But since they were being charged and even provided with receipts in certain cases, the shopkeepers considered their installations as 'legal'.
There is an Empress Market precinct development plan, which will now be implemented. Not only the building shall be renovated, but there will be a new commercial complex and multi-story car park. KMC will put out a call for allotments for these commercial spaces.
Rehabilitate and revitalise
The shops lost recently constituted the collective life of Saddar. The demolitions have come at a time when employment and livelihoods for the poor and lower-middle classes are hard to come by.
KMC would do well by constituting a rehabilitation committee to examine the scale of the loss and devise solutions.
Many professionals and support groups can be invited to join the effort in order to address the grievances of the affected communities
Explore: Karachi — a case study of an unsustainable city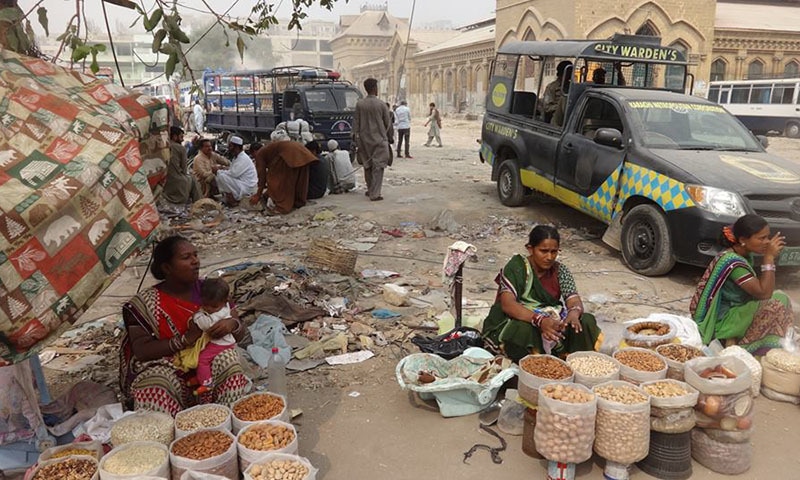 As a long-term measure, support can be extended to street hawkers and small shopkeepers, who do not possess the means to purchase or rent expensive spaces in upscale markets.
Insight can be drawn from laws such as the Street Vendors (Protection of Livelihood and Regulation of Street Vending) Act of 2014 in India which attempts to safeguard street vendors.
The Empress Market and its precincts still have an important status in the city centre as well as the overall urban space.
The area needs to be upgraded through an integrated approach. Its use should be retained as a traditional market place with all the necessary frills that made it vibrant and lively.
The structure and space of the market must be restored under the guidance of qualified restoration architects.
Revitalisation of bus terminal space along Preedy Street, parking lots in assorted locations at single/multiple levels, organisation of properly earmarked hawker zones in the front and backyard of the Empress Market should be considered.
---
Are you an urban planner? Share your insights with us at blog@dawn.com