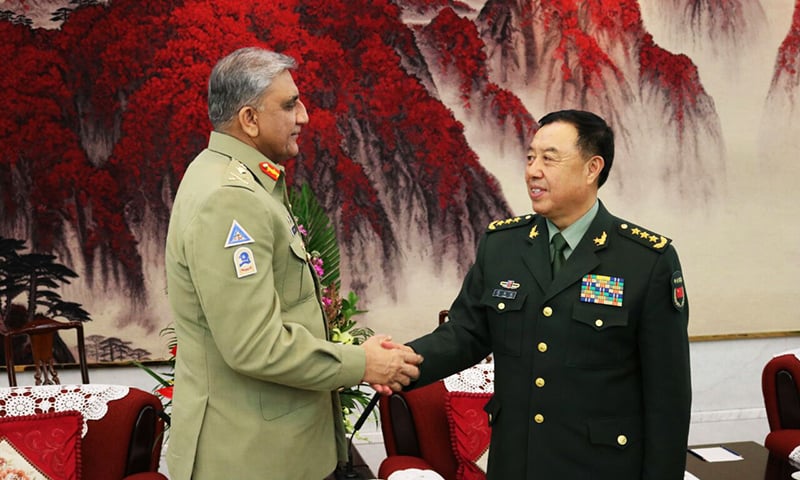 China and Pakistan on Thursday agreed to continue and further increase military cooperation between the two countries, said a statement released by the Inter-Services Public Relations (ISPR).
The development came during Chief of Army Staff Qamar Javed Bajwa's three-day trip to China.
The army chief thanked the Chinese leadership for their defence support and cooperation and termed it as a source of strength between the two countries.
General Bajwa is expected to hold meetings with China's senior political and military leadership.
He met Executive Vice Premier Zhang Gaoli, Vice Chairman Central Military Commission General Fan Changlong, Chief of Joint Services Department General Fang Funghui and General Li Zuocheng Commander People's Liberation Army (PLA).
The Chinese leadership on the occasion also expressed their complete understanding of the geo-political and security environment of the region.
China's leadership appreciated Pakistan's fight against terrorism with a special mention of eliminating Al Qaeda, Tehreek-e-Taliban Pakistan (TTP) and the East Turkmenistan Islamic Movement (ETIM), added the ISPR statement.
China blames ETIM for carrying out attacks in its far western region of Xinjiang, home to the Muslim Uighur people. China had long urged Islamabad to weed out what it says are militants from Xinjiang.
China, during the meetings held, also expressed concern over the growing threat of the militant Islamic State and ETIM in Afghanistan.
They expressed their satisfaction on the security measures taken to safeguard the China Pakistan Economic Corridor (CPEC). The Chinese vice premier also lauded the rapid development of ties between the two countries.
China's Xinhua reported that Zhang called on the two sides countries to maintain high-level contact and strengthen coordination on international and regional affairs.