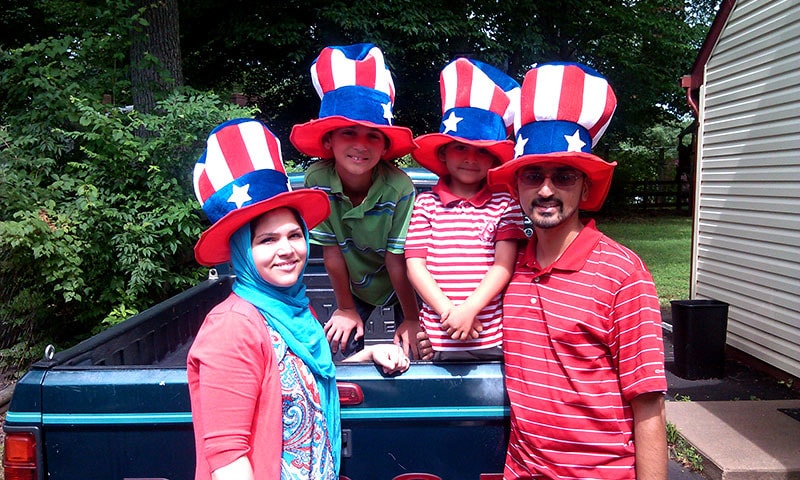 VIRGINIA: November 8, 2016 will be a historic day for America. While everyone is on the edge of their seats to find out which candidate will win the presidential election, 38-year-old Atif Qarni goes door-to-door in counties across swing-state Virginia, canvassing for Democratic nominee Hillary Clinton — the first woman in US history to achieve this status.
Qarni is unwilling to sit quietly at home, and heads out twice a month with the goal of reaching out to 500 homes. As an American Muslim of Pakistani heritage, he is fighting to preserve American values such as freedom, democracy and equality from Republican nominee Donald Trump who poses a serious threat to all that America stands for.
"It has been a crazy year with Trump running. So, I'm working hard to make sure he doesn't get elected," says Qarni, a resident of Manassas, Virginia.
Qarni isn't the only one speaking out. Khizr Khan, father of former US Army Captain Humayun Khan who was killed in Iraq in 2004, spoke at the Democratic National Convention and questioned Trump's credibility by asking if he had ever read the US constitution.
"Trump consistently smears the character of Muslims, he disrespects other minorities … he vows to build walls and ban us from this country," Khan had said.
The US election 2016 has brought Muslims at the forefront of the political debate. In the wake of several terrorist attacks on US soil, Trump called for a ban on Muslims entering the country, surveillance of mosques, and a registry questioning their loyalty.


I care about the US. I care about my Pakistani heritage. I care about my religion. I feel all of that is under attack.

Atif Qarni
Robert McCaw, government affairs manager for the Council on American-Islamic Relations, a Washington-based Muslim advocacy group, says Trump might just be bluffing. "If he becomes president it remains to be seen how some of these proposals would be publicly stomached. The majority of Americans do not want to see Muslims or any other religious minority spied on or exiled overseas."
Qarni's parents immigrated to the US from Karachi when he was 10 years old. Growing up in a multicultural society, he believes he has many identities — Muslim, Pakistani, and a proud American.
And Trump has attacked all these on the campaign trail. Like many other American Muslims, Qarni feels the heat in this election: "I care about the US. I care about my Pakistani heritage. I care about my religion. I feel all of that is under attack."
Unlike Trump, Qarni's record for public service and loyalty to his country are beyond doubt. He served in the US military for eight years before becoming a teacher at Beville Middle School in Dale City, Virginia. He inculcates a sense of historical narrative when teaching his 8th-grade students, and explores how America became a superpower in his economics, mathematics, and history classes.
As a Marine, his life remained on the line for eight years; he also served in the Iraq War despite not agreeing with it completely. Qarni fought with zeal and commitment seeing no conflict between his Muslim identity and service to the military.
"Of course, it was a challenge. But I served proudly. Because we were there to battle and get rid of the dictator Saddam Hussein."
Raza Rumi, a scholar-in-residence at Ithaca College in New York and a political analyst from Pakistan, lauds Qarni's service in the military. "There is no conflict between faith and service for the military. The US Constitution and laws safeguard religious freedoms and the state does not discriminate on the basis of religion."
As a father of two sons, Qarni realises the danger to US national security posed by terrorist groups like the militant Islamic State group (IS). But he is equally concerned about the rise of Trump and blames him for helping the terrorists' cause by alienating Muslims.
Qarni represents the sentiment of the majority of American Muslims when he says, "IS and Donald Trump are like a two-headed snake. On one hand, there are some young Muslims who are being brainwashed by IS. But you also have a minority of Americans who are hateful of others and being targeted by Trump."
Tracing Trump's rhetoric, Rumi says, "Trump's anti-Muslim discourse is linked to the post-9/11 world and the rise of Islamism and Islamophobia."
McCaw agrees. "The followers of anti-Muslim Trump are feeling more emboldened to not only speak out against Muslims but to directly provoke them. This is contributing to the recent spike in anti-Muslim hate crime."
Qarni speaks on behalf of those Muslims and Americans who embrace diversity. "For one Donald Trump there are thousands of others who are battling hateful rhetoric. For one Omar Mateen, a crazy shooter in Orlando, there are millions of good Muslims in the US who are working very hard."
His volunteering, regardless of his political preference, shows a path other American Muslims should tread on. Rumi believes that "Muslim Americans need to engage in the political process and also join hands with other minority movements to ensure that their voices are heard and stereotyping in the media is challenged."
"At present, their participation in mainstream media and public discourse is limited and driven by factionalism."
Qarni is optimistic about the future of his country. "America is a great place to live and you can accomplish whatever you want if you work hard. I want to continue to work with others to make sure America is a welcoming country for everyone."
Published in Dawn, August 5th, 2016