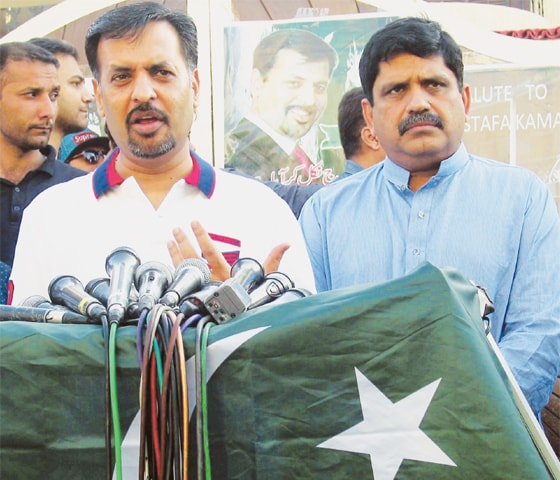 KARACHI: Three Muttahida Qaumi Movement dissidents, including former Karachi nazim Syed Mustafa Kamal, met a senior official of the Federal Investigation Agency on Sunday and sought time to consider whether they should furnish evidence with regard to their allegations against their former party that it was funded by Indian intelligence agency RAW and was involved in money laundering.
Mr Kamal, Anis Kaimkhani and former Sindh minister Dr Sagheer Ahmed in their press conferences had alleged that MQM supremo Altaf Hussain was an 'Indian agent' and they came to know about his RAW connection between 2010 and 2012.
Director of FIA-Sindh Shahid Hayat visited the DHA residence of Mr Kamal and the two other dissidents and asked them to furnish any evidence if they had that could help in the investigations of their allegations as well as those levelled by Sarfaraz Merchant — a London-based Pakistani who is facing money-laundering investigations in the UK with the MQM chief and others.
The trio was told that they would have to record a formal statement if they were willing to cooperate with the FIA investigations, a source said, adding that Mr Kamal sought time to respond to the FIA request.
Later, Mr Kamal told newsmen that FIA director Hayat had visited him and 'sought cooperation' in the investigation of money laundering and RAW.
However, he did not say anything whether he accepted to cooperate with the FIA.
Earlier, when Interior Minister Chaudhry Nisar Ali Khan refused to form a commission to investigate the allegations of MQM and Altaf Hussain's involvement with RAW, Mr Kamal told a press conference that he did not have any new evidence and the government should first take action on the basis of proofs it already had.
Later, Chaudhry Nisar tasked the FIA to investigate the allegations of money laundering levelled by Mr Merchant in a television programme as well as all other "related matters" and appealed to the people to provide information or submit evidence if they had in that regard.
Meanwhile, in his media talk, Mr Kamal said that "MQM workers had been brainwashed to make them RAW agents".
He said that there was a need to find a way to bring all misguided workers into the national mainstream.
In response to Dr Farooq Sattar's press conference, he congratulated the imprisoned workers of the MQM that for the first time their party owned them.
"Farooq Sattar bhai is very dear to us. There are very few people like him and I salute him with both hands," he said in a lighter tone.
He said that the first public meeting of his unnamed party would be held in front of the Quaid's mausoleum in the second week of April.
Published in Dawn, March 14th, 2016