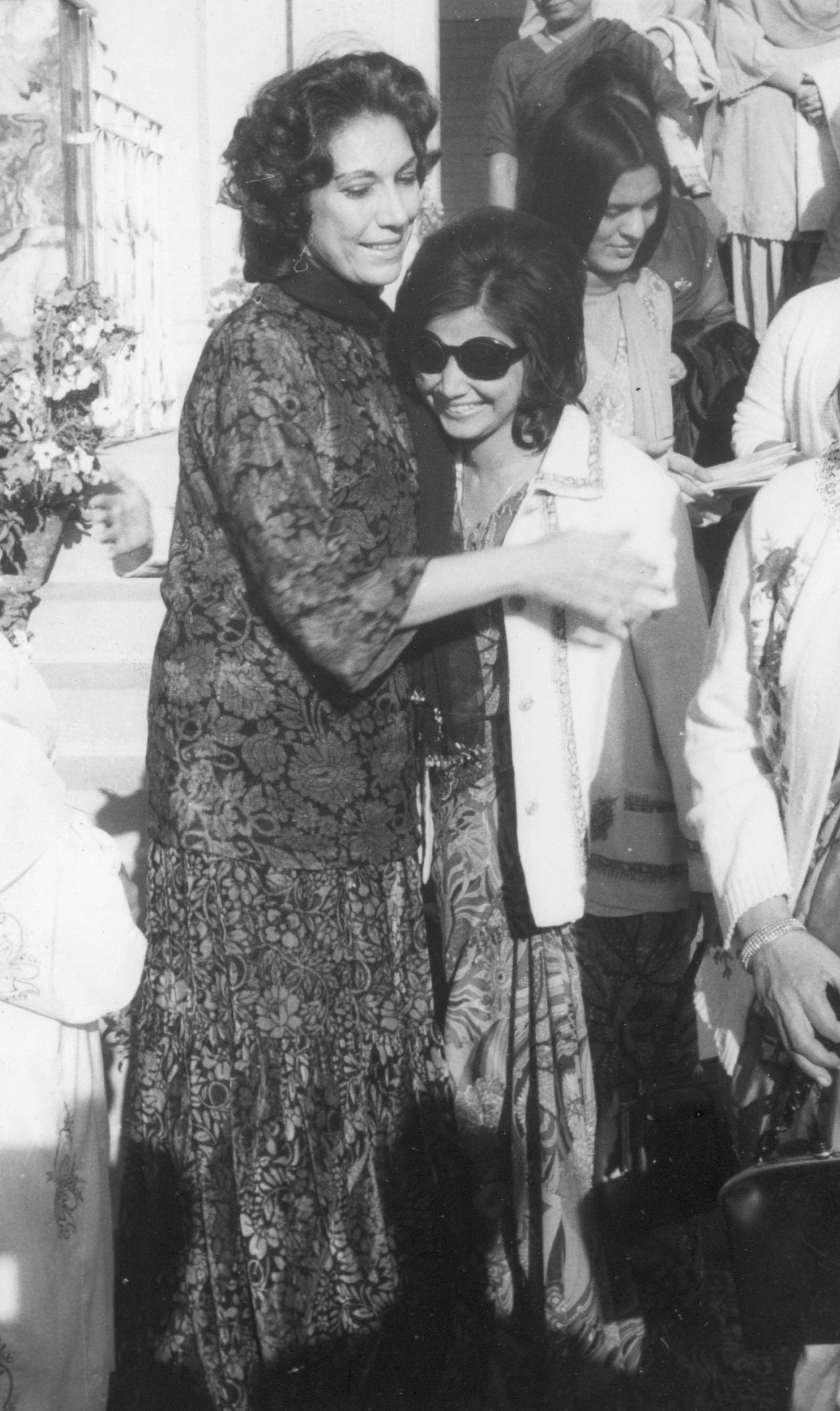 "EACH of us is a book waiting to be written, and that book, if written, results in a person explained." So writes Thomas Cirignano in his memoir The Constant Outsider. Nothing could be more aptly put. It is up to the writer to present her story in such a way that it has appeal for the reader, however mundane her life may have been. But the truth must not be distorted. Making memoirs readable can be a challenge in an age which has come to be referred to as the 'age of memoirs'. I suspect that the influx of memoirs has something to do with the phenomenon of longevity that womankind is experiencing today.
Anis Haroon also had a story to tell that was waiting to be told. It has now seen the light of day. For the readers, who are bound to be in large numbers, Kub Mehkay Gi Fasl-i-Gul has been worth the wait. For Anis not only has a story of an extraordinary life to tell, she also has the gift of the gab — a style that is racy, lucid and informal.
The gravity of the issues she has been concerned with would have made the book solemn reading but for the writer's subtle touch of humour that runs through the text. Vide her description of how she ended up in a police station when she was demonstrating against justice Abdul Hameed Dogar who was appointed by President Pervez Musharraf to replace chief justice Iftikhar Chaudhry at the time of the Lawyers' Movement. When she called up her husband, the renowned psychiatrist Dr Haroon Ahmed, to inform him of her whereabouts, his spontaneous reaction was, "You mean to say, I should not wait for you at dinner". For Anis it has been a long and distinguished journey from Hyderabad (Deccan) to Karachi; there was an interregnum of six years in Hyderabad (Sindh). Her professional life has been multidimensional and she can be described as an achiever. Her experiences have been varied and rich — from teaching and journalism to politics, diplomacy, activism and substantial work in women's development.
Kub Mehkay Gi takes the reader through this life — not strictly chronologically — but focusing on her Leftist goals of empowering the disempowered and creating a society where peace and justice prevail, especially for women.
Graphically written with great emotion and sensitivity, the book brings out the writer's message subtly without pontification or heavy dialectical analysis. If one is discerning enough the reader can understand why Anis is what she is — a fighter for different causes, notably constitutionalism, democratic values, the fundamental rights of all citizens and peace between people and nations. What is important is that Anis's activism displays a carefully planned strategy that she adopted and that she shows is workable. She wants other activists to learn from her experience.
What made Anis a fighter to the core? To explain this she cites Firaq Gorakhpuri who wrote in Nuqoosh that he had felt even as a child that he was different from his siblings. That may be true but it was her family, environment, education, her ideological beliefs, her marriage, her emotional concern for women and her large circle of friends who have shaped the author's views as she has influenced theirs.
She speaks of the time she spent with her maternal grandfather as a child, reading the newspaper to him and learning from his deep wisdom. Her own education in Hyderabad (Sindh) and friendships with poet Fahmida Riaz and other contemporaries also had a profound influence on her thinking. Being a successful debater honed her skills as a public speaker — a quality that helped her tremendously in the life she chose. After this start, her plunge into student politics at the university was quite natural.
Anis also owes her success in this out of the ordinary life of hers to her marriage to a like-minded, Left-leaning liberal. Similar ideological beliefs as well as a caring nature helped the couple adjust to the demands of a hectic lifestyle that saw plenty of activism and socialising with a huge circle of friends. The three children who followed in quick succession also fitted smoothly into Anis's lifestyle, though she had to give up her journalistic career to bring up her children.
The high point in Anis's life and activism has been her feminism. From the book one can collect much information on the status of women in Pakistan at different periods of the country's history. The cases that made headlines from time to time have been taken up and traced in great detail. Beginning with the Fehmida-Allah Bukhsh indictment under the Hudood Ordinance that gave birth to the Women's Action Forum (WAF), the author goes on to speak of the cases of Humaira Khokhar-Mahmud Butt, Shaista Almani, Samia Sarwar, Dr Shazia Khalid and others. From them the reader learns of the oppression women suffer and how the powers-that-be extend protection to the oppressor(s) if they are influential. Anis, who became fully involved in every case that she took up, spells out the strategy she used. Of course the outcome of each case determined the satisfaction or frustration she felt.
What is, however, disappointing is that despite her close involvement in many key developments that took place in the country's politics and the women's movement, the author remains discreetly silent on them. A broad and objective analysis would certainly have been enlightening as she carries great credibility. Whether it was the PPP's performance or the inception and growth of WAF, an account by the writer would have shed light on why the two 'phenomena' that started off with such promise failed to rise to popular expectations.
No book is perfect and this book also has its flaws. Apart from the typos which mar the book much to the chagrin of the reader, it also betrays a lack of meticulousness in the field of fact-checking which now takes little time thanks to the facility of Google. Two such errors: the One Unit programme was not announced by Ayub Khan in 1965, it was introduced in 1954; Samia Sarwar, the Pakhtun girl, was murdered in Hina Jilani's office in 1999 and not 1992 as the book states.
The book should hopefully go into a second print run as it is worth reading. That would give the author the opportunity to correct the errors that she herself says have crept into the book. Wrong dates easily slip into history if they appear in books by important writers.
What should appeal to readers is the author's optimism. It is welcome in these despondent times. Although the title of the book, a line from Faiz Ahmad Faiz's ghazal, has a hint of despair, Anis converts this into a promise of hope by naming the last chapter 'Mehkay Gi Fasl-i-Gul'. She writes, "I have great faith in our youth. And they will find solutions to their problems in their own way. I don't feel hopeless. When one candle goes out many more are lit. Spring comes when new flowers bloom in the garden."
The writer is a former assistant editor of Dawn who has written extensively on women's issues
Kub Mehkay Gi Fasl-i-Gul
(MEMOIRS)
By Anis Haroon
Pakistan Study Centre, Karachi
Contact info: pscuok@yahoo.com
ISBN 978-96987915213
227pp.
---
INTERVIEW
"I wanted to tell activists of the younger generation about my activism. They need to know about the struggle of my contemporaries."
— Anis Haroon
How long did it take you to write and publish your memoirs?
About a year, as there were long gaps of inactivity. I wrote by hand and after every 30-40 pages were penned I would get them typed.
Did you face any challenges?
No big challenge as far as writing was concerned. But correcting typos was a cumbersome process. There is something wrong with the technology or the Urdu compositors need more training.
You felt the urge to write your life story for your children before it was lost to the vagaries of memory. Who else did you feel should read it?
I wanted to tell activists of the younger generation about my activism. They need to know about the struggle of my contemporaries. Since Ziaul Haq's times when student unions were banned, our students have been depoliticised. My book is an attempt to make them aware of political struggle and its relevance. I also wanted to share some good memories of friends and stalwarts of those days, such as Faiz and Sibte Hasan.
Did you feel any emotional conflicts when putting your thoughts on paper for readers?
It is difficult to share your personal life with strangers, and at times painful too. It amounted to living through my life again and that is not easy. But I thought the memoirs would not be complete if I didn't go through this exercise.
Will you write another book?
I intend to write more now that I have started enjoying writing…
— Z.M.