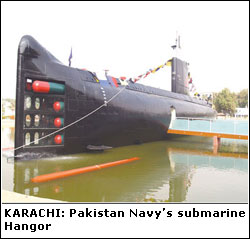 KARACHI, Dec 10: The Pakistan Navy's submarine, Hangor, which has the military distinction of destroying the Blackwood class Indian Navy ship, Kukri, near the Indian coast during the 1971 Indo-Pakistan war, has been put on display at the Pakistan Maritime Museum.
A ceremony was held in this connection at the Pakistan Maritime Museum, says an ISPR release issued here on Monday.
Speaking on the occasion, the Chief of the Naval Staff, Admiral Mohammad Afzal Tahir, said that the submarine squadron of the Pakistan Navy over the last four decades had been transformed into a fully-fledged potent arm.
"Today's occasion also reminds us of the responsibilities and the trust reposed by our nation for the maritime defence of the country in us," he said.
The naval chief said that the addition of this historical Daphne type submarine had added to the attraction of the Pakistan Maritime Museum. "It will act as an aesthetic interface between the Navy and the public and will certainly inspire and educate the younger generation," he said.
He paid tribute to the 1971 war victorious submarine's crew including Commander Ahmed Tasnim who was later elevated as vice-admiral and commanded the naval fleet of the country.
Earlier, the director-general of the Pakistan Maritime Museum, Commodore (retd) Jamal Abdullah, apprised the audience about the project of placing submarine at the museum. He also highlighted the historical significance of the submarine.PNS/M Hangor always remained a pride of the Pakistan Navy submarine squadron. During the 1971 Indo-Pakistan war, the submarine successfully undertook many operations. On the night of Dec 9, 1971, at Diuhead off the Indian west coast, PNS/M Hangor detected an anti-submarine group of the Indian Navy.
The group comprised two Blackwood class frigates INS Kirpan and INS Kukri. The Pakistani submarine attacked the enemy frigates with its torpedoes, sinking INS Kukri, while severely damaging INS Kirpan. After the Second World War, it was the first incident of destroying an enemy warship with torpedoes.—PPI