Teenager identifies every national flag in record time
A teenager from Lebanon broke a Guinness World Record by correctly identifying all national flags of the world in four minutes flat.
Hassan Dawy, 16, identified all the flags with a time six seconds faster than previous record-holder Adam Saeed of Bahrain, who achieved the feat in 2021, Guinness World Records announced.
"I spent the majority of the summer of 2021 practicing to achieve this record," Dawy told Guinness officials. "I recall giving up when the record was broken again by 18 seconds and reaching the mark of 4 minutes and 6 seconds."
"Later in the summer, I went back to practice, I couldn't just let it go," he said. "I have owned every Guinness World Records book since 2013, I am now living my dreams."
Alligator hisses at ATM users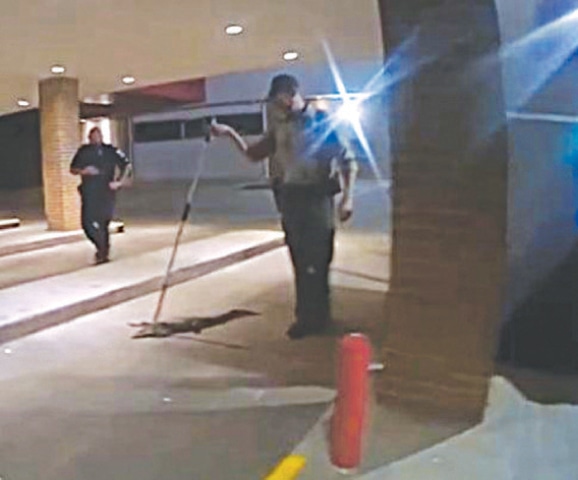 Police in Texas captured an alligator found lurking next to an ATM and hissing at customers making withdrawals.
The Lake Worth Police Department said in a Facebook post that a woman who used the ATM reported hearing a 'hissing' sound and officers arrived to find a 3 1/2-foot alligator lurking next to the machine.
A Texas Parks and Wildlife game warden was summoned to the scene and helped the officers subdue the alligator. The gator was relocated 'to an appropriate habitat nearby.'
A dessert that looks like bamboo
A video has surfaced on social media showing the making of a dessert that looks like bamboo.
The video is shared by pastry artist Amaury Guichon, the caption reads, "The Bamboo. My take on the delicious Thai dessert. Mango sticky rice. It's soooo good."
The video starts with Mr Guichon peeling and cutting a mango into incredibly tiny bits. He makes the other parts of the dessert using other fruits and ingredients, and makes the bamboo with white chocolate and then colouring it in green. He then assembles all the parts together to give his creation a great finish.
Since being shared, the video has amassed over 8.1 million views.
Man trapped aloft in hydrogen balloon for two days
Chinese state media say a man spent two days aloft in a hydrogen balloon, travelling about 320 kilometres, after it became untethered and flew away while he was using it to harvest pine nuts from a tree.
Hu and a partner were collecting pine nuts in a forest park in Heilongjiang province, in North Eastern China, when they lost control and the balloon sailed off. The other person jumped to the ground.
Rescuers were able to contact the man by cellphone the following morning and instructed him to slowly deflate the balloon to land safely. It took another day before he reached the ground about 320 kilometres to the northeast in Fangzheng region, close to the border with Russia.
Hu was in good health, apart from a pain in his lower back, possibly from standing the entire time he was in the air.
Published in Dawn, Young World, September 17th, 2022