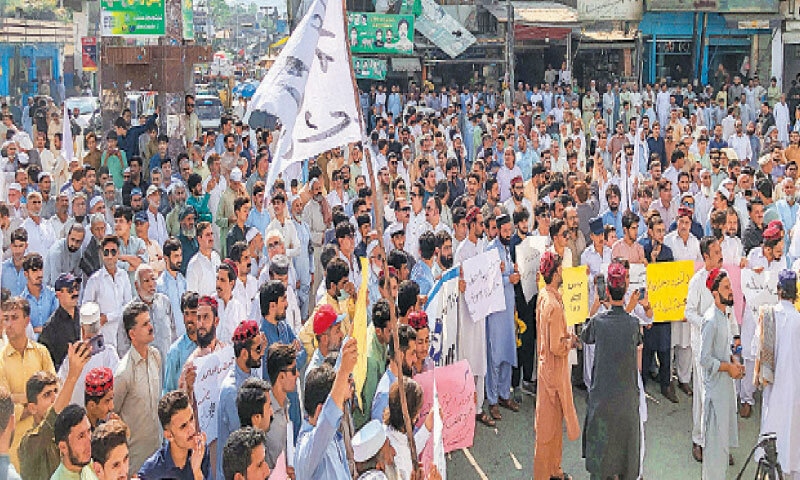 SWAT: As the law and order situation deteriorates amid reports of the presence of militants, hundreds of people, including elders and students, took to streets in Swat and Shangla to protest against the recent wave of terrorism.
Meanwhile, a case has been registered against unidentified men who gunned down a former village defence committee (VDC) member in Char­bagh tehsil late Wednesday evening.
On Thursday, residents of Swat held a rally, demanding police to move against the militants and warning that they would hold a sit-in at Grassy Ground and would not leave it until the operation is launched against them.
The protesters carried placards and banners and chanted slogans as they gathered in Kabal Chowk after Jumma prayers.
The gathering was addressed by elders and leaders of various political parties, including JUI-F, PkMAP, PTI and ANP.
Calling the recent terrorist activities in Swat "a strange phenomenon," they said police, Levies, Frontier Constabulary and the army are present in the area and terrorist activities despite their strong deployment raise questions over the role of law enforcement agencies.
Addressing the law enforcement agencies, the speakers warned that if no action is taken action against the terrorists and anti-state elements, "people of Swat will themselves stand against them and take action".
The protestors announced another sit-in at Mingora's Nishat Chowk on Sunday.
Protest in Shangla
Residents of Shangla Puran also took out a protest rally on Friday, demanding the government to ensure peace in Malakand.
Maulana Waqas, a prayer leader said that in the past, locals were 'deceived' and terrorism was brought to the region but this time they are united in opposing the militancy.
While chanting slogans for peace, the protesters passed through Aloch bazaar in Puran area.
Case registered against VDC member's killing
Charbagh police have registered a case against the killing of a former VDC member over the complaint of his son.
According to the police, Muhammad Sharin was killed by unidentified assailants on Wednesday when he was returning home after Isha prayers.
Muhammad Ayaz, the victim's son, said in a report filed at the police station that he was in his mobile phone shop when he received a call from a villager about his father's death and when he rushed to the spot, he found his father's bullet-ridden body.
The case was registered under Section 302 of the Pakistan Penal Code and launched a search operation.
Corps Commander visits Swat
Lt General Hassan Azhar Hayat, Peshawar Corps Commander, visited Swat and met tribal elders of Mala­kand, Buner, Shangla and Mardan, said ISPR. He praised local elders for their all-out support to security forces during Swat operations.
"Army will do everything to ensure that no one takes law into thier hands, disturbing the hard earned peace."
Umar Bacha in Shangla also contributed to this report
Published in Dawn, September 17th, 2022