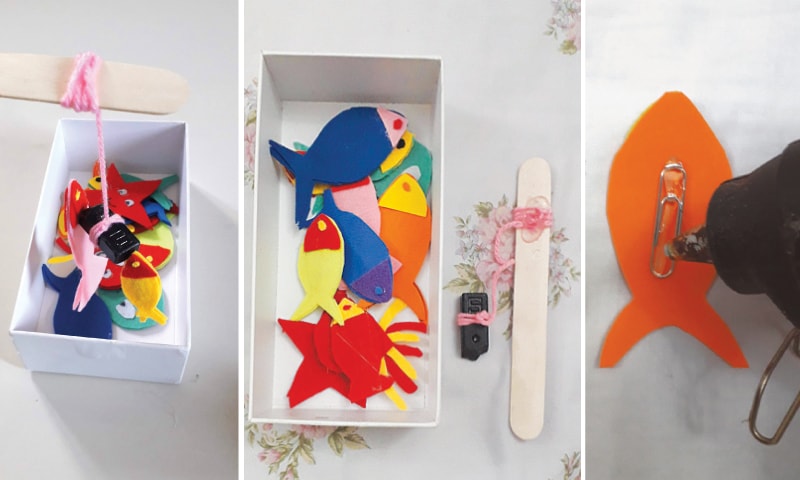 Have you ever gone for fishing? It's an activity that is thrilling and refreshing in its own way. No worries kids, you are not alone if you have never been fishing as most of us haven't experienced it too.
So today we have a craft for you that is all about fishing, an activity and a craft suited for younger kids.
Things you need:
Felt, foam or colourful paper pieces (anything available to you)

Glue tube

Hot glue

Ice cream sticks, one for each child

Scissors

An empty box

Magnet (one inch, preferably)

Paper clips

A piece of string, 6-inches long
Note: We have to draw and cut out marine animals, they can be whichever you know and like, such as fish, starfish, octopus, crab, lobster, etc. But remember to cut them all in pairs as we will be using them for two sides of the same animal. The size of each should not exceed two-inches.
Directions:
Draw and cut out the marine animal in pairs, as in pictures, 2 and 3.

Cut out a triangle (for the face, it should also be two for one fish) but with rounded edges just like the face of a fish, and paste it on the front part, picture 4. You can mark a dot with marker for eyes.

Similarly, cut out various fish in different colours, and other animals, see picture 5. (You can make as many you want).

Place paperclip in the centre and put hot glue on it, pictures 6 and 7; (ask an elder to help to do the hot glue part).

Put another similar piece of fish on top of it so that the clip remains inside, picture 8.

Tie one end of the string on magnet and the other to the ice cream stick, picture 9.

Put all the fish inside the box, you are now ready for fishing! See picture, 10.
Published in Dawn, Young World, July 27th, 2019