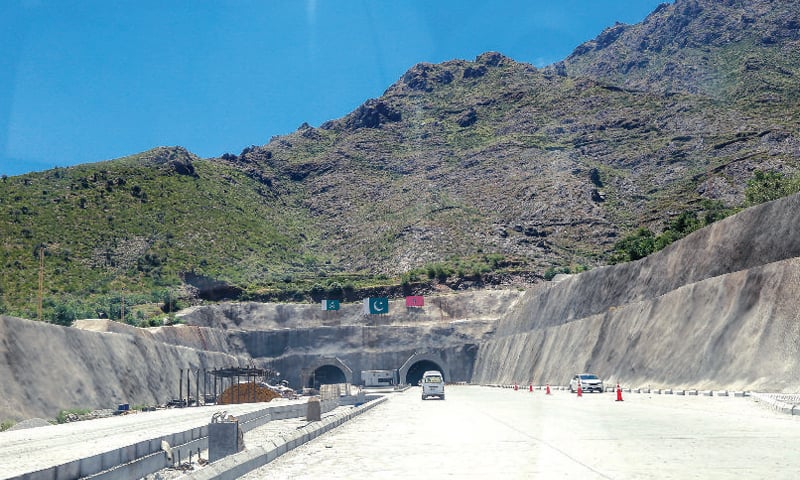 MINGORA: The tourists visiting Malakand division showed satisfaction over temporary opening of Swat Expressway during the Eidul Fitr holidays, saying it saved their time and shortened the journey between Islamabad and Swat by about two hours.
According to the district administration, more than 60,000 vehicles used the expressway to enter Swat.
"When we heard that the expressway was opened for traffic, we immediately planned to visit Swat on the second day of Eid. The expressway till Palai interchange is complete and is under construction at several locations onwards. But it is good that temporary roads have been built for light traffic," said Haris Iqbal, a tourist from Islamabad, who was travelling to Swat with his family.
He said that he reached Swat in three hours using the newly opened expressway. The tourists said that they enjoyed lush green scenes stretched along the expressway.
"It has not only shortened the distance between Islamabad and Swat but the route also offers enchanting scenes of lush green landscape and beautiful mountains. I invite people from all over the country to come and travel on the route to see the natural beauty of Pakistan," said Jamila Qureshi, a tourist from Lahore.
The expressway, which was temporarily opened for Eidul Fitr holidays, would be closed to traffic after the holidays. According to FWO officials, the motorway would be officially opened by Prime Minister Imran Khan after two months.
However, people of Malakand division requested the provincial government to keep the route open for them.
Former chief minister of Khyber Pakhtunkhwa Pervez Khattak had inaugurated work on the 81-kilometre project in August 2016 and it was claimed the road would be completed by December 2017. However, the project could not be completed within the stipulated time.
Later, the PTI government claimed to open it by December 2018 and once again it could not be opened according to the schedule.
The four-lane road costing Rs40 billion starts from Colonel Sher Khan Interchange and passes through Sawabi and Mardan to reach Chakdara.
Published in Dawn, June 9th, 2019