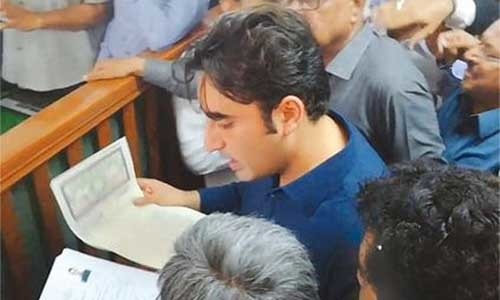 ISLAMABAD: Heads of the country's three largest parties – Pakistan Muslim League-Nawaz (PML-N), Pakistan Tehreek-i-Insaf (PTI) and Pakistan Peoples Party (PPP) – have decided to contest the elections on multiple National Assembly seats in the July 25 elections, Dawn has learnt.
PTI chairman Imran Khan will be contesting on three National Assembly seats from Punjab and one each from Khyber Pakhtunkhwa and Sindh.
A senior PPP office-bearer, who remained a part of the party's parliamentary board which finalised the tickets, said that PPP chairman Bilawal Bhutto-Zardari would contest the election from Karachi and Larkana in Sindh and Malakand in Khyber Pakhtunkhwa.
He said that former president Asif Zardari also had a plan to contest the NA seat from Nawabshah, but so far he had not made a final decision in this regard.
Imran to run for five NA seats; Shahbaz, Bilawal may file papers in three constituencies
When contacted, PML-N's acting secretary general Ahsan Iqbal said that party president Shahbaz Sharif had been advised by the party members that he should contest the elections from multiple constituencies.
Sources said that besides contesting the election on an NA seat from Lahore, Shahbaz Sharif was also considering filing the papers from NA-192 Dera Ghazi Khan.
According to PTI's information secretary Fawad Chaudhry, Imran Khan plans to contest the elections for the NA seats from Lahore, Rawalpindi and Mianwali, Bannu and Karachi.
In the 2013 elections, he had contested from Mianwali (NA-71), Lahore (NA-122), Rawalpindi (NA-56) and Peshawar (NA-1).
Mr Khan had lost the Lahore seat to former NA speaker Ayaz Sadiq whereas he had managed to win the other three seats. However, he later decided to retain his seat won from Rawalpindi and vacated the other two seats. In the by-elections, the PTI, however, lost the Peshawar seat to Ghulam Ahmed Bilour of the Awami National Party.
Mr Khan has already obtained nomination papers from NA-243 Karachi East. He had stated recently that without uplifting of Karachi, Pakistan could not be developed.
The decision of Mr Khan to contest the election from Bannu, which is generally considered a stronghold of the Jamiat Ulema-i-Islam (JUI-F), has made the contest very interesting. The JUI-F, which is contesting the July 25 elections from the platform of Muttahida Majlis-i-Amal (MMA), has not yet finalised the candidates, but it is believed that Mr Khan will either face JUI-F chief Maulana Fazlur Rehman or former KP chief minister Akram Durrani in this constituency.
The PTI's information secretary said that it didn't matter for the party whether Mr Khan faced Maulana Fazlur Rehman or Akram Durrani or any other candidate. He claimed that Mr Khan this time did not consider the option of contesting the elections from Peshawar and opted to run for the NA seat from Bannu under a "planned strategy". He claimed that the PTI was very strong in Peshawar and they were hopeful of winning all the seats from the city. He said Mr Khan had planned to contest from Bannu which was at the centre of KP so that he could lead a systematic movement in the province.
Similarly, he said that it was at the last moment that Mr Khan had decided to contest the election from Rawalpindi. This time, however, he said the PTI chairman would be contesting from a different constituency NA-61 (former NA-54) comprising cantonment areas from Golra Morr to Soan Camp. Previously this seat had been won by PML-N's Malik Abrar.
Mr Chaudhry claimed that the party had almost finalised its candidates all over the country and the final list would be uploaded on the party's official website any time.
Responding to a question, he said the party took too much time in finalising the candidates because it had scrutinised the applications very strictly.
The PTI has already finalised its candidates for 11 NA seats and 17 Sindh Assembly seats.
PTI's vice chairman Shah Mehmood Qureshi will contest the election from NA-221 Tharparkar; Liaqaut Ali Jatoi from NA-234 Dadu-I; Karim Ali Jatoi from NA-235 Dadu-II and Dr Arif Alvi from NA-247 Karachi South.
The others who have been awarded the party tickets for the NA seats are Syed Tahir Hussain Shah (NA-206 Sukkur-1); Mubeen Ahmed (NA-207 Sukkur-II); Mohammad Hakam (NA-227 Hyderabad-III); Syed Zulfiqar Ali Shah (NA-228 Tando Mohammad Khan); Malik Pahar Khan (NA-233 Jamshoro); Saifur Rehman (NA-242 Karachi East-I) and Syed Ali Hyder Zaidi (NA-244 Karachi East-III).
Shaharyar Khan Shar (PS-18); Mir Iftikhar Ahmed Khan Lound (PS-21); Ghulam Ali Abbas (PS-22); Ghulam Shah Mardan (PS-23); Asghar Ali (PS-52); Dost Mohammad (PS-53); Umaid Ali Junejo (PS-67); Mohammad Altaf Nizamani (PS-68); Syed Zulfiqar Ali Shah (PS-69); Zaib Nisa (PS-78); Ahsan Ali Jatoi (PS-83); Sadaqat Ali Jatoi (PS-84); Ashique Ali Zounr (PS-85); Bandah Ali Leghari (PS-86); Haleem Adil Shaikh (PS-99); Khurram Sher Zaman (PS-110) and Imran Ismail (PS-111) have been awarded tickets for the Sindh Assembly seats.
Published in Dawn, June 8th, 2018