KARACHI: Immigration, political resistance and digital influence are some of the themes explored in the Venice Biennale 2015 on tour exhibit which opened on Monday at Alliance Française de Karachi.
Titled Fabrik — On the Circulation of Data, Goods and People and part of the German Pavilion at the 56th Venice Biennale, the exhibit features four works on display by the artists Olaf Nicolai, Jasmina Metwaly, Philip Rizk, Tobias Zielony and Hito Steyerl. Using video installations, photos and interactive instalments, each work explores the power of images and narratives.
In the 'The Citizen', Zielony questions the European media's stereotyping of refugees as agitators. Using photos of African refugees in their everyday lives — laughing, cooking, sleeping and hanging out with their friends — the artist humanises them; the blank spaces framing the photographs a reminder of how the media often leaves out the other side of the story.
Zielony also asked African journalists and authors to comment on the photographs he had taken — the resultant articles push back against a negative Western narrative and capture the refugees' spirit of resistance and resilience.
A similar technique is used with 'GIRO (Tableaux)' where Nicolai invites the viewer to examine the iconography of rooftops: two installations play footage captured by flying boomerangs while a wall displays various images.
There are snapshots from across history and places such as the first selfie taken in 1920 on the roof of the Marceau Studio in New York; Soviet soldiers hoisting a flag at the top of the Reichstag in Berlin in 1945 and Mexican prisoners
protesting their poor conditions in Tijuana in 2008 — all images that show how the rooftop can be a symbol of freedom, resistance, creativity and punishment.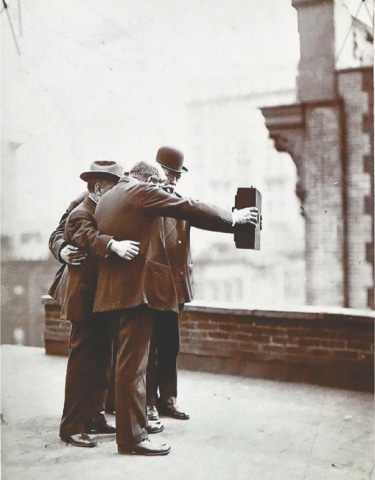 Metwaly and Rizk, on the other hand, use theatre, acted out on an apartment rooftop terrace in Cairo, to explore the impact of neo-liberalism on labourers' rights in Egypt. The artists invited workers — both employed and unemployed — to act out a play on the privatisation of a factory.
Their art installation, 'Out on the Street', includes a video that captures the challenges and complexities of protesting in the country as well as mobile phone records of a worker documenting the destruction of a former factory.
While 'Out on the Street' invites the viewer to debate about neo-liberalism, 'Factory of the Sun' by Steyerl uses the concept of sunlight to explore the impact of the digital age. Using video depicted as a computer game, the artist forces viewers to re-examine their relationship with technology.
Fabrik — On the Circulation of Data, Goods and People will be on display till Jan 14, 2018.
Published in Dawn, December 12th, 2017