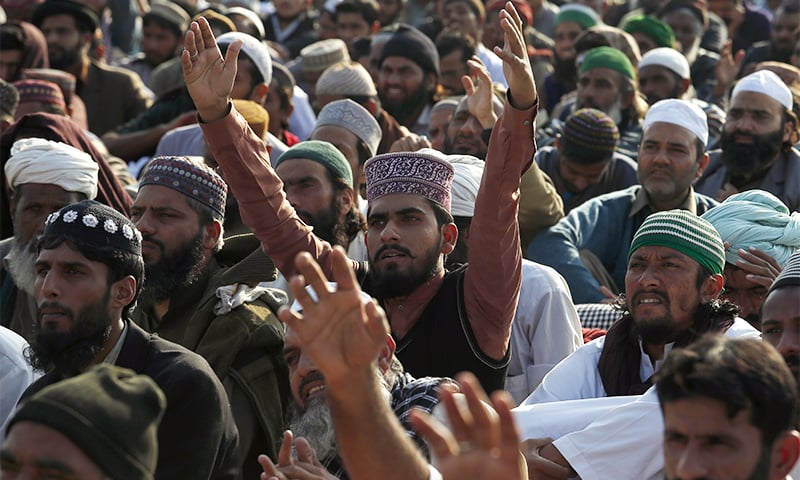 ISLAMABAD: The government on Monday scrambled to secure the support of religious leaders and ulema from across the political spectrum in a bid to negotiate a peaceful end to the sit-in that has paralysed the capital city for a fortnight.
A meeting of the clerics and scholars, which was also attended by Interior Minister Ahsan Iqbal and Religious Affairs Minister Sardar Mohammad Yousuf, resolved to end the protest in a peaceful manner.
However, a meeting between representatives of the Tehreek-i-Labbaik Ya Rasool Allah and government ministers held at Punjab House was unable to make any breakthrough, as the protesters would not budge from their demand for the law minister's resignation.
The government is under mounting pressure to end the Faizabad protest, and the Islamabad High Court on Monday initiated contempt proceedings against top officials of the Islamabad administration by issuing them show cause notices.
Committee formed to resolve deadlock amicably; ministers' meeting with protesters remains inconclusive
A committee of leading religious scholars, headed by Pir Hussainuddin, was also constituted to recommend a satisfactory solution to the lingering sit-in.
The committee was constituted after the meeting, held at the Ministry of Religious Affairs. The sitting was attended by government functionaries, religious scholars as well as members of the Council of Islamic Ideology.
The committee is supposed to begin its work immediately and will make recommendations that are acceptable to both the government and the protesters, sources said, adding that religious leaders had asked the government to avoid using force to clear the protesters.
The meeting also asked that the report of a committee led by Senator Raja Zafarul Haq over the issue of the change in election laws should be made public, and called on the Tehreek-i-Labbaik Ya Rasool Allah to resolve the issue amicably in view of the sanctity of Rabiul Awwal.
Speaking at the occasion, the interior minister claimed that this was not a war between Islam and the unbelievers, adding that any form of haste in trying to resolve the matter could prove counterproductive.
Separately, the Punjab House meeting between legislators and leaders of the protesting groups also failed to make a breakthrough.
The religious group was represented by Dr Shafiq Amin, Pir Inayatul Haq, Maulana Wahid Noor and Pir Ihaz Ashrafi, while Raja Zafarul Haq, Ahsan Iqbal, Zahid Hamid and Punjab Law Minister Rana Sanaullah represented the government side.
The meeting lasted for a couple of hours, but ended in deadlock when the religious groups refused to budge on their demand for the law minister's resignation.
Speaking to reporters after the meeting, Railways Minister Khawaja Saad Rafique said that Law Minister Zahid Hamid had given a detailed explanation and tried to satisfy the protesters' representatives that their demands had been met, but to no avail.
The government team also informed the negotiators that separate inquires were being conducted over the issue, and asked the protesters to wait for their recommendations to be finalised.
Published in Dawn, November 21st, 2017