Like many historical sites in the Salt Range, the condition of the Malot Fort, a beautiful and unique fort in the region, is deteriorating because of neglect.
Two temples on the premises of the fort have crumbled, and the ruins of the fort are covered in wild growth.
Malot Fort was built on the top of a hill in the Malot village, around 40 kilometres from Chakwal city and 12km from Kallar Kahar. It was constructed by Janjua Emperor Raja Mal Khan in the 12th century.
Some reports say Khan was a Hindu Rajput who converted to Islam after Afghan invader Mohammad of Ghor, better known as Shihabuddin Ghori, invaded India in 1178.
The Janjua rulers in the Salt Range were a target for foreign invaders, attacked by all those passing through the region on their way to attack Delhi. The Nandna Pass, near the Nandna Fort, was the only way to Delhi.
In his book The Salt Range and the Potohar Plateau, travel writer Salman Rashid wrote that the Shayha Temple in the fort was more breathtaking than the rest of the remains.
He wrote: "Built of red sandstone, the temple and its gateway are a fine example of the Greek building tradition wedded to local temple architecture. Like Nandna and the two Shivite temples of Ketas, Malot also was built at a time when the Salt Range was under Kashmirian control. And so it faithfully followed the style of the Martand temple."
According to him, there was once a "denticulate wall, interspersed with massive gate houses, overlooking the easy access from the north. Today all that remains is just a portion of this wall and two disintegrating gateways."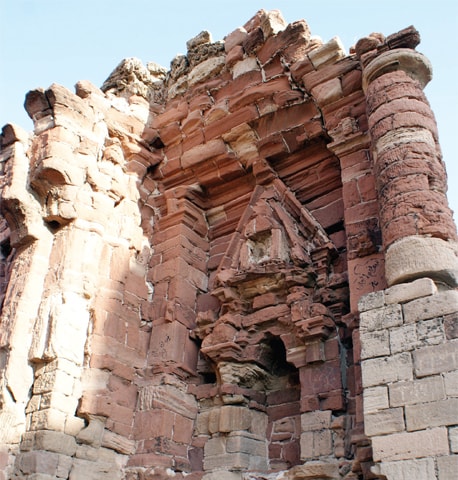 Sir Alexander Cunningham, during a survey of archaeological sites in the Salt Range in 1860, declared the facade of Malot Fort to be "strikingly bold and picturesque".
"The height of the trefoil arch and the massiveness of the square pilasters at the corners give an air of dignity to the building which is much enhanced by its richly fluted semi-circular pillars," he said.
However the fort has been neglected by the Punjab archaeology department even though, according to the mission statement on its website, "It is the mission of the Directorate General of Archaeology to preserve and protect the built heritage and archaeological sites for future generations."
The deputy director of the Directorate General of Archaeology Punjab, Maqsood Malik, said: "We have prepared a scheme to preserve historic sites in the Salt Range, which will be approved soon."
Published in Dawn, August 27th, 2017