I am on my way to Shah Alam in Lahore. The Uber driver asks me the exact spot where I want to get dropped.
"Bhai Pehlwan ka Dera, near Bansaan wala Bazaar."
He looks alarmed. "Madam, woh ladies ke janay ki jagah nahin hai, [Madam, that's no place for ladies]," he says, sounding genuinely concerned for me as he drops me at a trucking company's office, the infamous Bhai Pehlwan ka Dera.
Welcomed first by over a dozen large barking dogs (all chained thankfully) at the Azad Pakistan Goods Transport Company's premises, I am then greeted by a tall, heavyset man in his seventies with a polite demeanour. My companion introduces him as Bhai Pehlwan and when Bhai talks everyone around him listens.
Famous for his crowd-pulling lions at political jalsas, prized fighter-dogs and akhara, Khalid Mehmood, aka Bhai Pehlwan, is the 'full life' embodiment of the spirit of Lahore. He is passionate about pehlwani — the sub-continental form of wrestling.
---
Despite a glorious tradition, pehlwani is dying a slow and painful death in Pakistan
---
His akhara or arena — Muslim Health Club Akhara — provides a training space for both young and old pehlwans. "At my akhara, you will find 90-year-old pehlwans doing the same exercises that young men do, their level of dedication is commendable."
Bhai Pehlwan's family roots can be traced back to Kashmir. His grandfather Nabi Bakhsh Pehlwan was also a prominent wrestler.
"My family has been actively participating and promoting pehlwani for 300 years now. My father, uncles, maternal and paternal cousins are all pehlwans. Imam Bakhsh Pehlwan and Gama Pehlwan were also part of the family and have brought great laurels for the country."
Back in the day, wrestlers were big stars. Their dangal (wrestling matches) drew in huge crowds. "People enjoyed their rivalry, given the fact that the wrestlers were so closely related and yet during bini [wrestling] they would leave no stone unturned to beat their opponent," Bhai says.
Referring to the 1948 wrestling match in Karachi between Younus Pehlwan and Bholu Pehlwan for the title of Rustam-i-Pakistan, he says, "The match lasted two weeks. It was Bholu's first win against a big wrestler. There was no looking back for him after that."
Suddenly Bhai asks if I can guess how much the two weighed. I shake my head. "Bholu weighed four and half maund (180kg) and Younus weighed well over seven maund (280kg). Now, if a pehlwan weighs 120kg, we call him huge," he laughs.
---
"It is said that the legendary Gama Pehlwan — who remained unbeaten throughout his career — had a daily regimen of 20 litres of milk, half a kilogramme of butter, four kilos of fruit, lots of yakhni (chicken or mutton broth), 5,000 squats and 3,000 push-ups.
---
"But then what do you expect when the families who ate, breathed and slept pehlwani have moved away from it?" he asks rhetorically. "What do you do when the state offers zero patronage to this sport? It was never a money-making endeavour for the pehlwans, but rather a matter of honour and pride for us," he laments, only to add: "Pehlwani is dying a painful death in Pakistan. The akharas have been replaced by shops and plazas. You have gyms popping up, producing steroid-filled creatures but there is no pehlwani left."
Bhai Pehlwan says that it is always better to be fit and functional than showing off massive biceps and triceps, developed by taking steroid injections. "I have yet to see a pehlwan take supplements to build muscle," he says. "For us it is pure work."
It is said that the legendary Gama Pehlwan — who remained unbeaten throughout his career — had a daily regimen of 20 litres of milk, half a kilogramme of butter, four kilos of fruit, lots of yakhni (chicken or mutton broth), 5,000 squats and 3,000 push-ups.
"Pehlwani is an expensive sport," says Bhai Pehlwan. "More than good genes, you need a good diet, a good ustaad [instructor] and the discipline to work hard. If we compare Pakistan's performance with India since 1947, from the 1980s, it's been downhill for us while India has been preparing for and winning Olympic medals."
The reason for this, as Bhai Pehlwan explains, is that the Indian government ensures that their talented wrestlers land jobs. "Bacha jab achhi position lata hai tau uss ko achha inam milti hai. Pakistan mein aisa kuchh nahih hai [When a student bags a good position at school, he is aptly rewarded. There is no such thing here in Pakistan]."
"Satpal Singh is an Indian wrestler who went on to train younger wrestlers. His students include the extremely talented two-time Olympic medal-winner Sushil Kumar. The combined earnings from endorsements and other things that Kumar received in India crossed the 12 crore rupees mark. He became a national hero. Female wrestlers from India are also not that far behind. Sakhsi Malik was given 2.5 crore rupees after she won a medal at the Olympics.
"There is new found interest in India in this traditional sport after the movie Dangal. But here in Pakistan there are no sponsors or government patronage. Cities like Lahore and Gujranwala — hubs and hometowns of some of the best pehlwans of the subcontinent — are witnessing the end of pehlwani," he says.
Bhai Pehlwan says that there must be some incentive for a young pehlwan giving his prime years to the sport. "You will see sponsorships for cricket but not for the traditional sports. And yet, the sport remains resilient and continues to have a fan following in Punjab where annual championships are still held with prize money awarded to the winners. Still, more needs to be done," he says.
The famous Jhara Pehlwan's son Haroon Abid is now in training and hopes to qualify for the 2020 Olympics after being approached by Antonio Inoki, the man who was defeated by Jhara.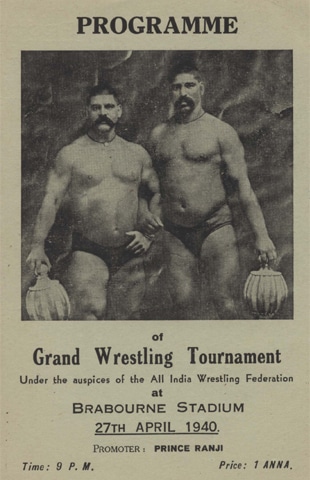 Even young girls here are now willing to give pehlwani a try, mostly due to joblessness, he says. "A girl from Sahiwal came to me, saying she wants to join the kabbadi team. Being well over six feet tall, she realised that getting selected in the kabbadi team was her only way out of poverty and could land her a job with Wapda or the Army," he says.
What makes a pehlwan?
"The simplest answer to the question is discipline and practice," says Bhai Pehlwan. He adds: "You may have good genes but if you don't have the necessary discipline to follow a healthy diet and work out regularly, you will not be able to do much. Doing thousands of baithak [squats] and dand [push-ups] is hard labour."
He points out that when boys join an akhara, they are supposed to sleep after saying their Isha prayers and wake up before Fajr. "They say their prayers, then work out for hours. They shower twice a day. It's not an easy life. And there is no protein-shake involved. You build all the muscle drinking milk and eating raw egg whites," he points out.
"Your diet can make or break your body. Many people think pehlwans eat a lot, which is not true. These boys don't eat randomly or whenever they feel like it. Milk is the main ingredient that helps build your body mass. It is used for making so many by-products such as yogurt, whey, khoya, chhaaj and cheese, which the pehlwans also consume." He adds that egg whites are also the key for anyone looking to gain muscle or lose flab.
He goes on to explain: "A baby needs milk to survive. That's how nature has made us. But we don't eat well. We are a nation deficient in milk, fruits and vegetables. The modern mothers here are themselves busy watching soap operas on television, the fathers are busy with their phones. These parents are least bothered about what the kids do. Giving them expensive toys and phones is not parenting. The generation we have coming up is fed a diet of fried chicken, burgers and chips. They are addicted to computers and smart phones. They are restless. They lack focus. Exercise is important to take pride in one's appearance, to look and feel good. Pehlwani is a way of life to better health. Our elders used to say that it also adds grace and excellence to one's physique. Still, everyone doesn't have to be a pehlwan, but one must make an effort to take care of themselves at least," he says.
The political connection
Speaking about the important role pehlwans play in Prime Minister Mian Nawaz Sharif's political career, Bhai Pehlwan says, "Mrs Kalsoom Nawaz Sharif is the granddaughter of Gama Pehlwan.
"Tell me, who knew Mian Sahib? He used to go around on his scooter. He was introduced to Lahore and Lahoris by association with the name of the Great Gama Pehlwan. When Mian Sahib came here, Bholu, Akki, all supported him. "Ay Nawaz ay, innu election tay kharra karna ay [this is Nawaz and we have to help him stand in the elections]. Mian Sahib can never thank the pehlwans enough."
It is true that when the pehlwans — all tall, well-built men — started convening for Nawaz Sharif, going door to door for him, crowds gathered. When Bholu Pehlwan spoke in Nawaz's favour, the locals listened. "Nawaz has played this card for years and won votes."
Given the shared history with the pehlwans, Bhai Pehlwan feels the Sharifs should make an effort to revive this sport.
The writer is a member of staff.
She tweets @SumairaJajja
Published in Dawn, EOS, April 2nd, 2017