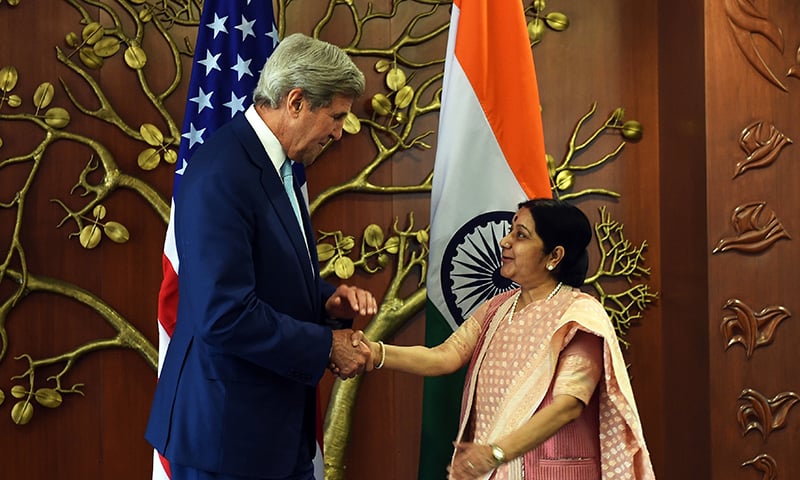 NEW DELHI: United States Secretary of State John Kerry arrived in India to start the annual US-India strategic dialogue in which tension with Pakistan over the disputed Kashmir region will be discussed.
As part of the annual strategic dialogue, US and India pledged on Tuesday to deepen security and commercial ties.
"It couldn't come at a more important moment," Kerry said in his opening remarks.
A senior US official said Kerry would urge Modi in a meeting on Wednesday to open talks with neighbouring Pakistan to resolve tension over India-held Kashmir.
Kashmir is at the centre of a decades-old rivalry between nuclear-armed Pakistan and India.
"We have a long-standing policy of encouraging and advocating for great dialogue between the two countries on addressing areas of difference, and that continues to be our position," a senior US official said before the talks.
Afghanistan would also be discussed, the official said, amid closer ties between India and Afghanistan, which is likely to aggravate fears in Pakistan of being wedged between two hostile neighbours.
In a meeting with National Security Adviser Ajit Doval earlier, Kerry discussed regional security challenges in South Asia, as well counter-terrorism efforts, said US State Department spokesman Mark Toner.
Kerry was joined by Commerce Secretary Penny Pritzker in talks with senior Indian government officials in the capital New Delhi.
Referring to the strategic dialogue, Kerry said, "In both sectors, security and economics, we have room to be able to further grow, and to expand our two-way trade and investment, but also to resolve our security problems in doing that."
Kerry cited cyber-security and energy as areas where both countries could expand cooperation.
He said the sides had reached an understanding on financing to help India meet its ambitious renewable energy targets.
"Our plate between our two nations is as full now as it has ever been," added Kerry, who was attending the second Strategic and Commercial Dialogue that will also be the last of the Barack Obama presidency.
India's Minister of External Affairs, Sushma Swaraj, said she hoped the next US president would continue the dialogue that also seeks inputs from companies, which this year included e-commerce giant Amazon and wireless technology firm Qualcomm.
India is keen to attract foreign investment to back Prime Minister Narendra Modi's "Make in India" initiative while foreign investors are keen for reassurance that Asia's third-largest economy is becoming an easier place to do business.
Finance Minister Arun Jaitley briefed US CEOs on a planned Goods and Services Tax that the government hopes to introduce next year and would transform the market of 1.3 billion people into a single market for the first time.
Dozens of people have been killed in violent protests in Kashmir since July 8, when security forces killed a popular commander of a separatist group who enjoyed widespread support in the Muslim-majority region.
Modi has said India will not bow to terrorism and accused Pakistan of glorifying it in his annual Independence Day speech on August 15, in which he also raised the rhetorical stakes by highlighting concerns about human rights in restive regions of Pakistan.
New Delhi has rejected Pakistan's invitation to hold talks on the future of Jammu and Kashmir, saying it is an integral part of the nation. It also says any talks should address cross-border terrorism in India-held Kashmir.