MURREE: Heavy rainfall has led to what the locals and elders of the area term "the worst landsliding" in the area, leaving hundreds of homes destroyed, roads blocked and people stranded under the open sky.
Almost half the village of Graan-Ghoe was destroyed when a landslide damaged 30 homes, and the residents have no other choice but to wait out the rain under the open sky.
Houses were also destroyed in Potha, Sehana, Phagwari, Aloit, Sehrbagla, Masot, Dewal and Phaphril among other villages, where roads and other infrastructure worth billions of rupees was also damaged.
Punjab Labour and Manpower Minister Raja Ishfaq Sarwar visited the affected areas along with officials from the district and the Murree Town administration. He talked to locals and promised that measures will be taken soon for their rehabilitation. The minister instructed officials from Murree administration to provide tents and food to those displaced by the landslide.
---
Affected people forced to camp in the open; committee asked to report on losses in four days
---
Committees will be formed to ascertain the losses and devise plans on how to best compensate those affected in various villages, and how to rehabilitate them. The committees will include the Murree assistant commissioner, the tehsildar, PML-N's party president and general secretary in Murree and the chairmen and vice-chairmen of union councils, and will present a report on the losses in four days, he added.
Mr Sarwar vowed that the government will do everything to help and appealed to residents of the area to help and support those displaced by the landslides.
The government will first decide which areas to declare 'calamity-effected' and will then declare that all taxes and government loans have been waived for the residents of those areas, the minister said.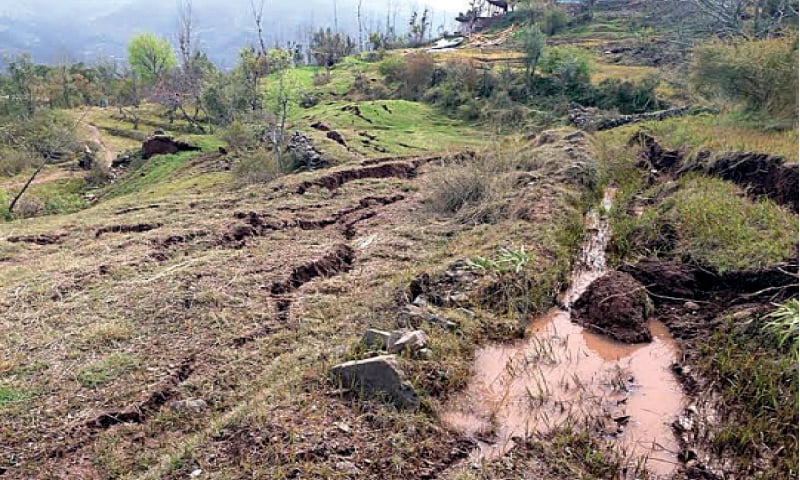 Landsliding has also damaged a large portion of the Rawalpindi-Murree-Kashmir Highway and the road was blocked at Abbasiyan, near Dewal. However, after two days of work, the highway authority constructed a temporary road for traffic to pass through.
Another landslide damaged the same highway at Ner Goli, where the road continues to slide down, despite efforts by workers of the highway authority to prevent this. The road has also been damaged at Phagwari, Dehla, Sehrbagla, Fatot, Chama and other places.
Many link roads have also been damaged, and have been closed to traffic. The Aliot-Dana Governor House Road has been damaged near Kayaati and has been cordoned off to traffic, as has the Dehla-Aubiya Road and the Lower Topa-Saen Angoori Road, which caters to traffic from the populous Katcha Belt of Murree.
Published in Dawn, March 21st, 2016