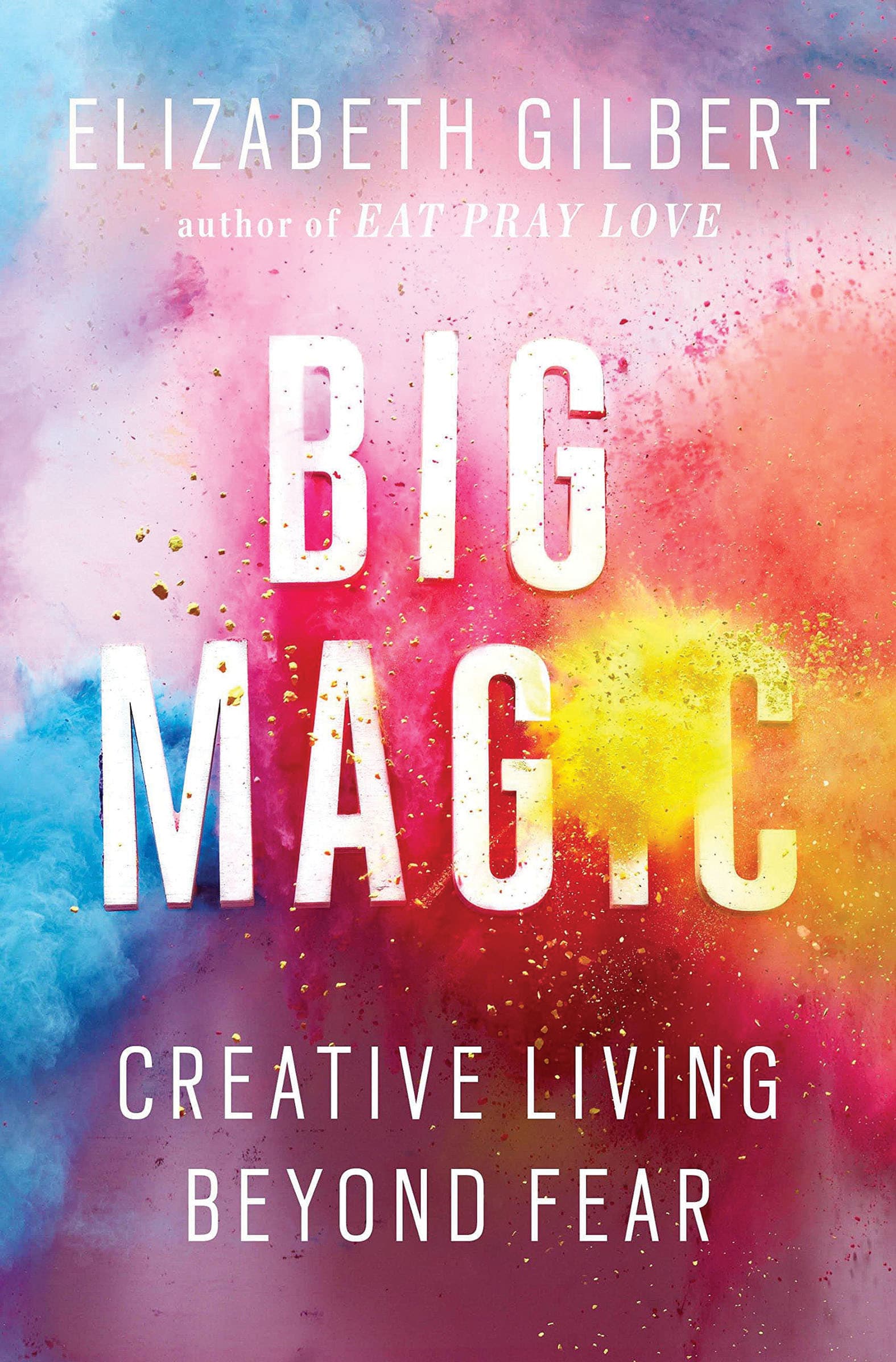 I KNOW, I know. It's Elizabeth Gilbert. Of Eat, Pray, Love. You hate the book and its devotees. I get it; you just dislike it because you're above it. You read literature, not new-age mumbo jumbo, certainly not by a privileged woman finding herself. I think I know your type. You're probably a lovable curmudgeon who hates others and is waiting for the big moment to come to you — be it the bestseller you're sitting on, the Renoir you're going to create or the blockbuster that is going to knock the new Star Wars out of the park. Guess what? No one cares what you think, least of all Gilbert whose new book, Big Magic: Creative Living Beyond Fear, could have convinced you that creativity is among us all and it's yours for the taking.
Big Magic, which I'd describe as an extended guide to her massively popular Ted talk on creativity in 2009, is schmaltzy and full of otherwise eyeball-rolling phrases that generally make the cynical lament. But then, this book isn't for them. "Are you one of those people who believe the arts are the most serious and important thing in the world?" she writes in Big Magic. "If so, my friend, then you and I must part ways right here." Because let's face it, you're not likely to believe in the notion that creativity is a one size T-shirt that fits all.
Big Magic is part-memoir and part-guide but it's no Julia Cameron's The Artist's Way, a 12-week guide to help creatives shed fears that block them from pursuing their work and dreams. Cameron's mega bestseller comes with a list of "to do things" after each chapter and right up front she promotes doing three handwritten "morning pages"— think of it as decluttering your brain as you write.
So while Cameron offers you a pathway to your creative pursuit, Gilbert shares amusing anecdotes and breaks commonly-held myths — for example geniuses aren't special i.e. there's a genius in us all, stop holding on to your melancholy because you think creatives are all manic depressives, and how the quest for perfection kills. As one of the examples to illustrate the crippling effects the quest for perfection can have, she cites Harper Lee's example saying that she wished she wasn't burdened by the brilliance associated with To Kill a Mockingbird that she had published in her lifetime. Gilbert believes it's better to keep working than not.
The book is divided into six chapters — with titles like 'Courage', 'Enchantment', 'Permission', 'Per­sistence', 'Trust' and 'Divinity' — and the enthusiasm with which she writes is infectious. The anecdotes and advice are aimed at helping you dig to find your "buried treasure" i.e. your creativity and your desires because they want to be unleashed. "What's stopping you?" she'll ask as she shares the story of her friend who took up ice skating in her 40s because she wanted to and because she finally got the courage. And we all have that kind of courage.
The good part of this is that Big Magic convinces you that there's a little Gilbert in all of us. If this convinces us to pursue the creative project that was on the backburner then yippee! Ideas come and go and sometimes they can be pursued, sometimes not; sometimes we have to talk to them, even thank them for visiting. "I'm honoured by your visit," she writes about an idea visiting. "But I'm not your girl. May I respectfully suggest you call upon, say, Barbara Kingsolver?"
Of course this is the style that makes Gilbert so adorable, so appealing, so inspiring. That she lets us pursue our dreams — irrespective of the quality of that dream — deserves to be lauded because what harm can come from people pursuing a creative endeavour? Especially when the world has let us believe that creativity is the domain of the very few. The sections in which she addresses fears and doubts are especially useful reading insofar as they can break through many of the chains that hold people back. One of them is fear of rejection and failure. "I have come to understand what part of me is suffering when I fail: it's just my ego. I know that I am not only an ego, I am also a soul."
There's a wonderful pragmatism about her approach when she writes that it's more important to do it than be frozen by fear. You don't have to care about what other people think because, guess what, they're way too busy with their own lives to care about you. And of equal import, she doesn't go off the deep end and tell readers to chuck it all in to pursue acting, writing etc. She writes "keep going" but don't quit the job. Choose what sacrifices you'll make in pursuit of your dream. Binge TV watching perhaps?
At the heart of Big Magic is Gilbert asking readers to pursue a more authentic life. Because creativity isn't just about the arts — even if this book seems as if it's aimed at artists and writers — it is about finding personal fulfilment and happiness. She shows readers the way to go down the path and allow magic to happen.
---
Big Magic: Creative Living Beyond Fear
(SELF-HELP)
By Elizabeth Gilbert
Bloomsbury Publishing, India
ISBN 978-9384898991
288pp.