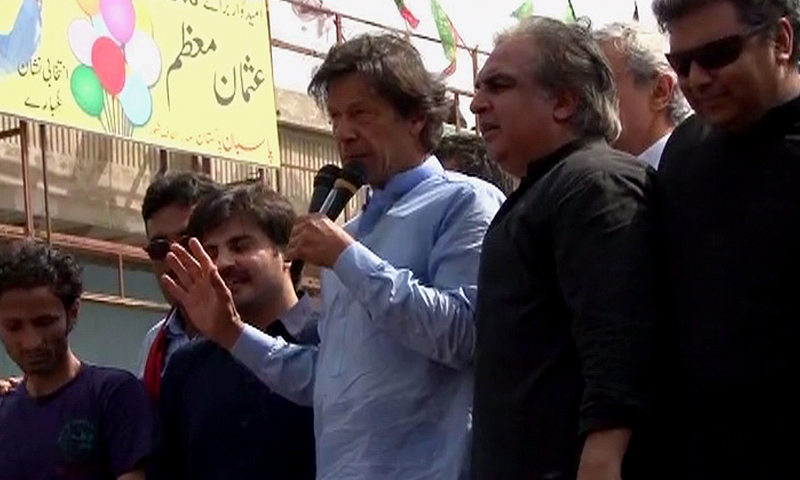 KARACHI: After a day spent visiting various parts of the city, Pakistan Tehreek-i-Insaf Chairman Imran Khan concluded his much-hyped rally in Jinnah Ground with a vow to return Karachi to its status of 'the city of lights'.
Despite a spat between his party activists with the rival Muttahida Qaumi Movement (MQM) earlier in the afternoon, the PTI leader met with little resistance as his convoy meandered through Karimabad, Mukka Chowk and Aisha Manzil areas that have strong support for the MQM.
The PTI leader said that he wants to see a peaceful Karachi, and instructed workers not to be involved in any clash or violence.
"The April 19 rally in Karachi will be historic," said Imran Khan, referring to the public gathering scheduled ahead of the NA-246 by-election.
Khan, addressing the Muttahida Qaumi Movement leader, Altaf Hussain, said "What kind of welcome did you give us? When we left the venue, your people beat ours with sticks."
He said the PTI is a peaceful party. "We protested for 126 days ... not one bulb was shattered," adding that they will not fight fire with fire.
He asked PTI supporters to exercise patience. "A judicial commission has been formed. 2015 will be a year for elections ... A 'Naya Pakistan' and a 'Naya Karachi' will be made," he said.
Imran Khan said the party help bring a new culture and way of thinking to Karachi. "Karachi will elevate Pakistan ... investment will come in from Dubai," he said.
He thanked his wife, broadcast journalist Reham Khan, for accompanying him at the rally and praised her.
"She came to show that women will also do their part to make a 'Naya Pakistan', the way the youth has done."
After his departure, PTI and MQM supporters gathered in Karimabad and shouted slogans. Policemen were deployed in the area with water canons and batons to prevent the occurrence of any untoward incident.
Imran Khan and his wife were hosted by party worker Nazia Rabbani for lunch, after which they left for the airport to catch a flight to Islamabad.
Read more: Altaf's change of heart: Gifts for Imran, Reham
Earlier a scuffle broke out between supporters of the PTI and MQM as PTI Chairman Imran Khan arrived at Jinnah Ground, the venue of his address to supporters in NA-246 constituency as part of the PTI's pre-election campaign.
While it is not clear what triggered the clash, leaders of both parties attempted to diffuse the situation with PTI Sindh president Nadir Leghari denying that the rally was retreating.
MQM's Farooq Sattar and Khalid Maqbool Siddiqui spoke to reporters and said that no untoward incident had taken place. Sattar added that MQM supporters would uphold the precedence set by Altaf Hussain and Imran Khan.
The rally set out at 11am was largely been peaceful and without any violent incident.
Reham Khan arrives in Karachi - DawnNews screengrab
According to PTI's social media cell, the rally was scheduled to start from Civic Centre at 10am today, and move through Ghareebabad, Hussainabad, Jinnah ground, Mukka Chowk and Aisha Manzil with the final stop being Karimabad where the party's NA-246 campaign office is located.
Khan was meeting with a board of directors at the National University of Modern Languages (Numl) University therefore he left for his NA-246 tour an hour later from Karsaz.
Speaking to media representatives, Khan said he welcomes Muttahida Qaumi Movement (MQM) Chief Altaf Hussain's statements which enabled a peaceful atmosphere in the city.
"If you create a peaceful atmosphere, it will be for Karachi's own good because people are sick of this environment of fear," said Khan.
The PTI chief is also scheduled to meet PTI's Women's Wing leader Nazia Rabbani, who resides near Water Pump Chowrangi.
His wife Reham is also due to arrive there after which the duo will visit Jinnah Ground.
Roads and shops from Karimabad to Aisha Manzil have been shut down in the event of PTI's rally.
Security measures for the rally - DawnNews screengrab
PTI MNA Dr Arif Alvi said on Twitter last night that he will be unable to be a part of the rally and "will miss the excitement".
The PTI is campaigning in Karachi to gain support for its candidate Imran Ismail who is set to contest elections on April 23 from MQM stronghold Azizabad.
In what appears to be an attempt to lower the political temperature in the city, Altaf Hussain had said his party will welcome Imran in Karachi after bitter exchanges between the two in recent weeks.
He also congratulated, in advance, the PTI chairman for his party's public meeting to be held in Azizabad on April 19 in connection with the April 23 by-election.
Upon Imran Khan's arrival at Hyderabad on Wednesday, PTI workers welcomed their leader with a scuffle forcing him to alter his exit route. As activists became rowdy, the PTI chairman was forced to depart from another exit of the airport.
PTI workers chanted "Go, Nadir Leghari Go" slogans against the PTI's Sindh chapter President Nadir Leghari before Imran's arrival and had planned to register their protest against Leghari.
Know more: Imran Khan's trip to Sindh marred by scuffles and protests
Imran had donned the traditional mirrored Sindhi topi as he addressed a press conference in Hyderabad.
Later in the day, while trying to address a press conference in Karachi, Imran had to stop his speech halfway after journalists protested against the biased behaviour of PTI office bearers, who barred certain media persons from entering the residence of Imran Ismail — where the press conference was to be held.