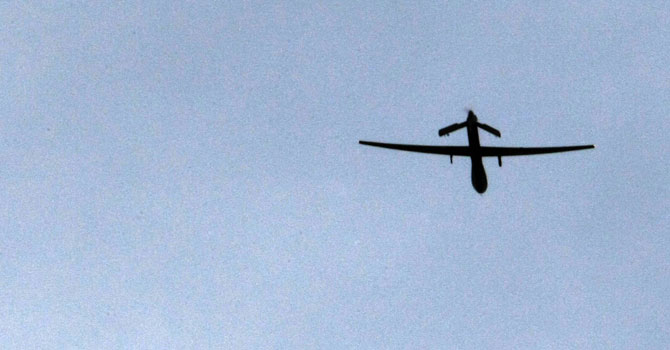 A US drone flying overhead at a forward operating base near Kandahar. — Photo by AFP/File
MIRAMSHAH: A US drone attack Saturday killed at least six militants in the North Waziristan tribal region as local people celebrated Eidul Fitr, security officials said.
The drone fired two missiles on a compound in Shuwedar village in Shawal district of the troubled North Waziristan region, considered a stronghold of Taliban and Al Qaeda linked militants.
"US drones fired two missiles into a militant compound. Six bodies have been recovered from the compound so far," a security official told AFP.
Residents and local intelligence officials confirmed the attack and the casualties. The missiles also destroyed a car parked at the compound, they said.
The attack came as people were celebrating the festival of Eidul Fitr, they said.
It was not immediately clear if the missiles targeted any senior militant leader.
Attacks by unmanned American aircraft are deeply unpopular in Pakistan, which says they violate its sovereignty and fan anti-US sentiment, but US officials are said to believe the attacks are too important to give up.
Washington regards Pakistan's northwestern tribal belt as the main hub of Taliban and Al Qaeda militants plotting attacks on the West and in Afghanistan.