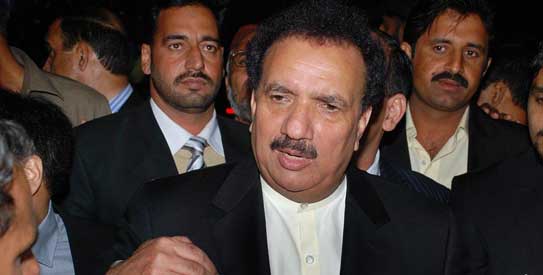 ISLAMABAD: Interior Minister Rehman Malik on Friday said the government was prepared to provide fool-proof security to American businessman Mansoor Ijaz on his arrival to Pakistan, DawnNews reported.
Speaking to media representatives outside the parliament, Malik said Ijaz, the central character of the memogate scandal, would also have to answer for his role in toppling Benazir Bhutto's government.
Moreover, the interior minister said Islamabad had not been sealed on Thursday — the day Prime Minister Yousuf Raza Gilani appeared before the Supreme Court — and the government was only ensuring security for the occasion.
He said the government had information pertaining to the possibly of disruption at the court due to which security was enhanced.
Malik said few individuals even tried to create some disturbance, but due to tight security within a kilometre's radius of the court no untoward incident occurred.
The minister said Pakistan Muslim League - Nawaz (PML-N) chief Nawaz Sharif has been calling for elections since the setting up of the government, however, the government would complete its term.
Malik assured that no foreigners could be allowed to spy in or against Pakistan and said spying was not done with the government's approval.