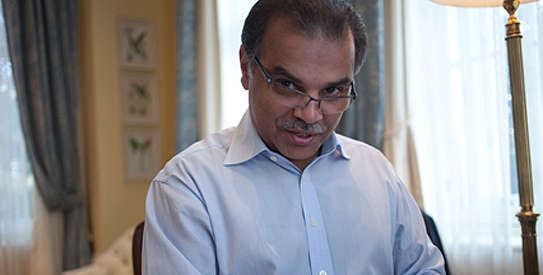 LONDON: Mansoor Ijaz, one of the main characters in the memo controversy, was issued a visa by the Pakistani High Commission in London on Thursday, DawnNews reported.
Ijaz , accompanied by his lawyer, personally visited the High Commission on Thursday where he was issued a one-year multiple visa to Pakistan.
Ijaz is to appear before a judicial commission investigating the memo scandal on Jan 24, and before the Parliamentary Commission on National Security (PCNS) on Jan 26.
According to sources, Mansoor Ijaz was earlier reported to have said that he was unable to reach the Pakistani High Commission in London due to security concerns. Ijaz also voiced concern over the presence of the media outside the building, after which the Pakistani High Commissioner Wajid Shamsul Hasan offered Ijaz to visit to the commission after office hours.
Moreover, Wajid assured Ijaz over a telephone conversation that he would be issued a visa as soon as his passport was received.