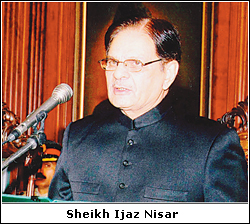 LAHORE, Nov 19: Justice (retd) Sheikh Ijaz Nisar was sworn in as caretaker Chief Minister of Punjab here on Monday. Governor Khalid Maqbool administered the oath. Of the 20 members of the caretaker provincial cabinet unveiled on Monday, 17 took oath at a ceremony at the Governor's House.
According to a notification, Mumtaz Khan Minhais will be the minister for livestock; Khurshid Zaman Qureshi for agriculture; Khawaja Mohammad Jalaluddin Roomi, industries; Dr Mira Phailbus, education and minorities; Mubashar Luqman, information technology, communications and works; Mian Mohammad Shafique, commerce and investment; Barrister Mehmood Ahmed Sheikh, law and parliamentary affairs; Maqbool Elahi Malik, human rights; A. Karim Malik, prosecution; Sohail Afzal, special education; Saad Ahsanuddin, forests and fisheries; Justice (retd) Asif Jan, local government and community development; Shahzad Azam Khan, labour and manpower; Mian Shafqat Ali, housing and physical planning; Senator Syed Dilawar Abbas, irrigation and power; Walid Tariq Saigol, excise and taxation and Makhdoom Afkarul Hassan, mines and minerals.
Three caretaker ministers — Aslam Khan Humayun, Faqir Syed Ijazuddin and Dr Arifa Syeda — are out of the country.