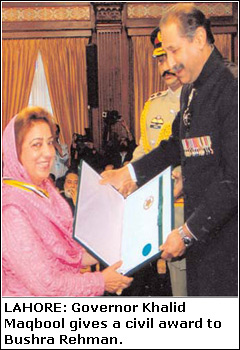 LAHORE, March 23: Governor Khalid Maqbool conferred civil awards on 46 distinguished personalities from Punjab on behalf of the president at a ceremony held at the Governor's House on Friday.
The ceremony was attended, among others, by the members of the Punjab cabinet and senior officials.
Chief Secretary Salman Siddique read the citations of the recipients of the awards, including Sitara-i-Imtiaz, President's Pride of Performance and Tamgha-i-Imtiaz.
The recipients of the awards are:
SITARA-I-IMTIAZ: Prof Dr Muhammad Ashraf (Science, Biology), Abdul Razzaq Kemal (Economics), Late Prof Dr Iftikhar Ali Raja (Medicine), Uxi Mufti (Art/Folklorist), Intizar Husain (Literature/Critic), Mrs Bushra Rehman (Literature), Zia Shahid (Literature/ Journalism/ Mass Communication), Late Dr Shahid Khurshid Hak (Public Service), Khalid Abbas Dar (Art/Drama Artiste), Brig Hafeez Ahmad (Public Service), Tariq Ikram (Public Service), Brig Muhammad Sarfraz (Public Service), Shaukat Tareen (Public Service/Banking), Mrs Souriya Anwar (Public Service).
PRIDE OF PERFORMANCE: Dr Shaheen N Khan (Molecular Biology/Genetic Diseases), Dr Saima Riazuddin (Science/Molecular Genetics), Prof Dr Mohammad Khalid Mahmood (Fine Arts/Painting), Abdul Sattar Tari Khan (Tabla Player), Raees Ahmad (Violin Player), Asad Amanat Ali Khan (Art/Singing), Mohammad Shaan Shahid (Art/Acting), Muhammad Akhlaq alias Bundu Khan (Art/Harmonium maker), Ziauddin (Art/Sitar making), Mrs Naheed Akhtar (Art/Singing), Mohammad Shafi Shakir Shujaabadi (Seraiki Poetry), Dr Rashid Amjad (Critic/Research Scholar), Munir Ahmad Qureshi, Munnoo Bhai (Poetry/ Journalism), Mrs Nisab Akhtar (Nursing), Riaz Mahmood (Art/Broadcasting).
TAMGHA-I-IMTIAZ: Hakeem Rizwan Hafeez Malik (Herbal Medicine), Ms Samina Qureshi (Art/Painting), Bashir Moojid (Art/Calligraphy), Prof (retired) Abdul Aleem Siddiqi (Literature/Persian), Rana Tahir Mahmood (Literature/Journalism), Javed Siddiq (Literature/Journalism), Mumtaz Muhammad Khan Manais (Public Service/Farming), Mrs Ghufran Qureshi (Public Service/Orphanage), Fr Francis Nadeem (Public Service), Col (retired) Masood Akhtar Shaikh (Public Service), Akhtar Umar Hayat Lalyka (Public Service), Rana Shahid Pervaiz (Public Service), Sardar Muhammad Maqsood Khan (Public Service), Raja Basharat Mahmood (Public Service), Lt-Col (retired) Syed Ahmad Nadeem Qadri (Public Service), Muhammad Khizar (Public Service), Syed Israr Ali (Public Service).—APP