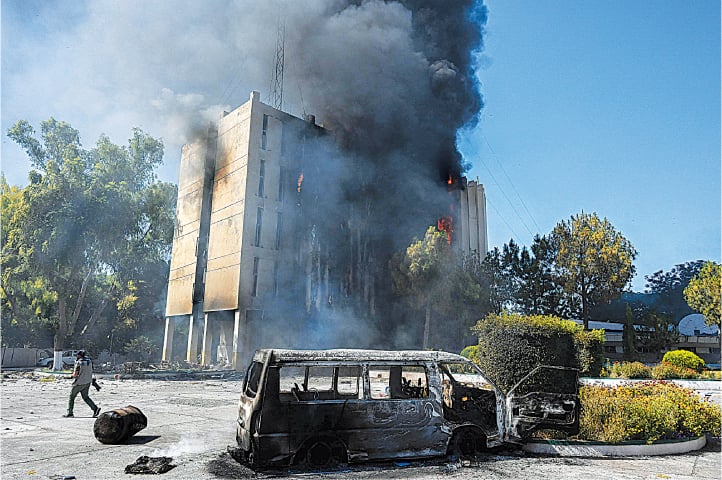 ISLAMABAD: The military has described the events unfolded after PTI chief Imran Khan's arrest on Tuesday as a "dark chapter", referring to instances when enraged protesters targeted army property and installations.
"We will not allow anyone to take the law into their hands," the military's media wing, Inter-Services Public Relations (ISPR), said on Wednes­day in a statement headlined: "May 9 will be remembered as a dark chapter."
Mr Khan was arrested from the Islamabad High Court "in line with the NAB statement and law", the military said, referring to the anti-graft body, the National Account­ability Bureau. It said that immediately after Mr Khan's arrest, the military's properties and installations were attacked and slogans against the army were raised in an organised manner.
It said that on the one hand these "miscreants" evoked public emotions to achieve their "limited and selfish objectives", on the other they deceived people while continuing to highlight the army's importance for the country. This behaviour, the military said, "is an example of hypocrisy".
In the lust for power, "this group wearing a political cloak" had done what enemies could not do in 75 years, it said.
The ISPR was apparently referring to the incidents of violence in the aftermath of former prime minister's arrest, especially the way a large number of PTI supporters barged into the residence of Lahore corps commander, and after ransacking it, set the furniture on fire. At the same time, in Rawalpindi another group of PTI supporters barged into the GHQ through the front gate and vandalised the place.
The military said that in the country's "larger interest", it showed patience and restraint and exercised extreme tolerance without even caring about its reputation.
"With this situation created under nefarious planning, a heinous attempt was made to make the army give an immediate reaction, which could be used for nefarious political purposes," it said.
However, a "mature response" by the military "thwarted this conspiracy", it said, adding: "We are well aware that behind it were orders, directives and complete pre-planning by some sinister party leadership."
The facilitators, planners and political activists involved in the protests had been identified, it said, asserting that strict action would be taken against them "as per the law and all these evil elements will now be responsible for the consequences".
"Any further attack on the army, including all law enforcement agencies, military and state installations and properties, will be severely retaliated, the responsibility of which will be on this very group that wants to push Pakistan into a civil war and has expressed it multiple times," it said.
The military added, "No one can be allowed to incite people and take the law into their hands."
The ISPR statement came a day after the PTI chief was whisked away by paramilitary forces from the court premises in a case pertaining to the Al Qadir Trust, leading to violent nationwide protests.
Published in Dawn, May 11th, 2023