ISLAMABAD: The country's agriculture sector recorded a remarkable growth of 4.4 per cent during the outgoing fiscal year, surpassing the target of 3.5pc and last year's growth of 3.48pc, while during July-March 2021-22, large-scale manufacturing (LSM) also recorded a staggering growth of 10.4pc against 4.24pc in the corresponding period last year, according to the Pakistan Economic Survey released on Thursday.
Growth in the agri sector, the document says, was mainly driven by high yields, attractive output prices and supportive government policies, better availability of certified seeds, pesticides and agricultural credit.
The five important crops contributed 19.44pc to value addition of the sector and 4.41pc to the gross domestic product (GDP), while other crops accounted for 13.86pc in value addition and 3.14pc GDP.
WHEAT: The grain production declined during the outgoing fiscal year by 3.9pc to 26.394 million tonnes, compared to 27.464MT last year. This was due to a reduction in the cultivated area, shortfall in irrigation water and drought conditions at sowing, less fertiliser offtake and the heatwave in March and April, though the government-increased minimum support price was aligned to the cost of production.
The survey emphasised that the potential of the agri sector needed to be exploited to boost economic growth, job creation and encourage exports.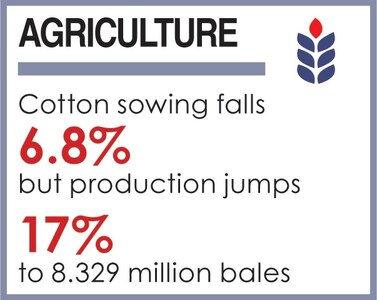 COTTON: The cultivated area declined by 6.8pc, however production increased by 17pc to 8.329 million bales against last year's 7.064m. This improvement was attributed to conducive weather conditions, smooth input, better crop management and favourable prices in the international and domestic markets.
RICE: For the last couple of years, the area cultivated was rising, and during 2021-22 a record high output of rice stood at 9.323MT, higher by 10.7pc than last year's 8.420MT. The area sown showed an increase of 6.1pc.
SUGARCANE: This crop recorded bumper production of 88.651MT, up by 9.4pc over last year's 81.009MT. Higher domestic sugar price and better cane procurement rates incentivised growers to dedicate more area to the crop, besides favourable weather conditions, better management and timely availability of quality inputs.
MAIZE: The crop output was recorded at 10.635MT in 2021-22, witnessing a significant growth of 19pc over 8.94MT last year. Maize contributes 3.2pc value addition to agriculture and 0.7pc to GDP.
OTHER CROPS: During the outgoing fiscal year, the production of chilli, potato and moong daal increased by 36.6pc, 35.1pc and 29pc, respectively. However, that of daal maash and onion declined by 11.6pc and 8.5pc, respectively.
OILSEEDS: During the first 10 months of 2021-22, 2.754MT of edible oil/oil from oilseed for crushing worth Rs662.657 billion was imported. Local production of edible oil during this period was provisionally estimated at 0.460MT and its total availability at 3.214MT.
LIVESTOCK/POULTRY: The survey estimated that the livestock population increased during 2021-22 — cattle population 53.4m as compared to 51.5m last year; buffalo 43.7m; sheep 31.9m; and goat 82.5m.
Moreover, with an investment of Rs750bn, the poultry industry was growing at an impressive rate of about 7.5pc per annum over the last decade, making Pakistan the 11th largest poultry producer of the world.
Industry estimates
While LSM grew by 10.4pc, Pakistan now faced the daunting tasks of controlling stimulus-induced fiscal deficit, curtailing the widening current account deficit, managing pressure on the exchange rate along with achieving a sustainable post-pandemic recovery.
Manufacturing dominated the industrial sector with a share of 12.4pc in the GDP. It is categorised as LSM, small-scale manufacturing and slaughtering. The expansion of LSM appeared broad-based, as 17 of its 22 sectors witnessed a positive growth, including furniture, wood products, automobiles, footballs, tobacco, iron and steel products, machinery and equipment, and chemical products.
Coke and petroleum products marginally grew by 2pc from July-March against 12.3pc last year.
The high global energy prices depressed the overall growth momentum, however, after a pick-up in economic activities, especially automobile, and an increase in transportation, oil sales also showed an increase of 14.9pc during July-March 2021-22.
The textile sector weighed the highest in the LSM, growing by 3.2pc during the July-March period, as compared to 8pc over the same period last year. Production of yarn and cloth showed a marginal growth of 0.7pc and 0.3pc, respectively. Congruent production units, invariant capacity and elevated cotton prices owing to the disruption in demand-and-supply gap moderated the growth momentum of the cotton sector.
However, a surge in textile machinery imports, rising demand for concessionary financing from textile firms and high exports of this sector showed a sizable improvement in this field. The export of garments grew 33.9pc.
Moreover, the food group with the second highest share in LSM witnessed a growth of 11.7pc, with the bumper cane crop and better international prices pushing up sugar production. The production of cooking oil increased by 10.8pc, while that of vegetable ghee slid by 2.5pc due to high palm oil and soybean prices in international markets along with a depreciating rupee.
Published in Dawn, June 10th, 2022
Now you can follow Dawn Business on Twitter, LinkedIn, Instagram and Facebook for insights on business, finance and tech from Pakistan and across the world.