Wall Paintings of Sindh: From the 18th to 20th Century
By Zulfiqar Ali Kalhoro
Silk Road Centre, Islamabad
ISBN: 978-9698100599
222pp.
Anthropologist Zulfiqar Ali Kalhoro is working in overdrive. Taking time off from his teaching assignment at Quaid-i-Azam University, Islamabad, this young and gifted researcher seems to be forever on the move in the wild regions of Pakistan.
His work is genuine, without shortcuts in his fieldwork and research methods, and the result — whether in his frequent newspaper articles or his books — is primary material for the reader interested in anthropological works. Kalhoro reminds one of the tireless and brilliant Adam Nayyar, executive director of the Pakistan National Council of the Arts who, sadly, left us too soon.
Kalhoro's recent work, Wall Paintings of Sindh: From the 18th to 20th Century, is a treatise on the funerary art of the province. Interestingly, it is only in Sindh that we find on tombs depictions of the interred with their likeness clearly shown. It is as if, even in death, the life of the protagonist, lived well and to the fullest, is worthy of celebration. There are hunting scenes, battle scenes, peeks into domestic life and representations of the many love tales so fancied by any Sindhi.
Of the last, the tales of Sassui-Punnu, Sohni-Mehar (Mahiwal in Punjab), Momal-Rano and Umar-Marvi are the most favoured adornments on 18th century Baloch tombs. This was when the Kalhoros ruled over Sindh, and the Talpurs and other Baloch tribes looked up to them as spiritual masters. The Talpurs rose to high positions in the government and army and could afford to build their decorated tombs during their lifetimes.
An anthropologist's treatise on the funerary art of Sindh is essential reading for informed laypersons and a priceless record
Among these depictions, the rarest is a rendering on the tomb of Sobdar Jamali — who served in the army of the Kalhoros — near Shahdadkot of the fishergirl Noori, whose radiant beauty smote the 14th century Samma king Jam Tamachi. In this rare rendition, the lovers are shown in a boat. Since Jam Tamachi ruled from Thatta, the lake would be Keenjhar Jheel, where the lovers lie buried on an island.
Kalhoro notes that there were two other shrines with similar depictions. Sadly, all three tombs collapsed in the devastating monsoon storms of 2010. This rare depiction now only survives in this book. The floods that will pass into future folklore also seriously damaged several other monuments and we are fortunate that this tireless anthropologist has preserved them in this book.
According to Kalhoro, Sindhi art received heavy input from Rajasthani masters during the Kalhoro rule (1701-1784) which is discernible in the Drigh Bala tombs of Dadu. Elsewhere, we see the clear hand of local artists so well acquainted with the style and colour of the attire favoured by Sindhis.
One cannot but marvel at the detail these artists included in their work: for instance, the shepherd who casts his demonic eye on the distraught Sassui — as she wanders the desert after Punnu is kidnapped by his brothers to be taken back to Kech — is shown with a spindle, weaving goat hair into yarn. This is a common enough scene even in contemporary Sindh.
There is a clear evolution of the art from the early 18th century, when human and animal figures and historical events and love tales appeared as a matter of course. In a personal communication, author Kalhoro said this was the Sufi tradition of looking upon this life as a temporary phase. It was the afterlife where the late hero enjoyed everlasting glory, and the depictions in the tomb were a way of celebrating that life.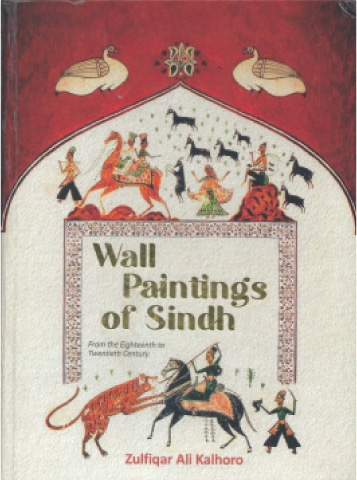 During the Talpur period (1784-1843), we see a shift to floral designs and depictions of mosques and other holy sites. Now, men are not so much in battle or in the hunting grounds, but seated cross-legged in front of the wooden rehl [book stand], with the holy book upon it.
As if to record a societal change, there are now depictions of women being killed. Kalhoro views this as a record of honour killing. As well as that, we see a robber having murdered a caravaner, levelling his rifle at the others, presumably to rob them. Most interesting is a pair of British soldiers, booted and helmeted, following Sassui as she pursues the caravan taking her Punnu back to Kech. While all these are from the 19th century, after the British takeover, care was taken to not deface earlier art, notes Kalhoro.
Clearly, patrons had declined with the end of the Talpur dynasty and, with them, the art. Writes Kalhoro: "The painters … were not skilled in executing figural painting in colonial and post-colonial Sindh, but they displayed great skill in geometric and floral designs."
The funerary art of Sindh is unique for Pakistan. No other province has anything even remotely comparable. And Zulfiqar Ali Kalhoro has rendered a priceless service to history by putting on record what is fast eroding. Like all his previous works, this book, too, is essential reading and an important travel companion for any informed laypersons as they explore the hundreds of tombs sprinkled across Sindh.
The reviewer is a Fellow of the Royal Geographical Society and author of several books on travel. He tweets @odysseuslahori
Published in Dawn, Books & Authors, January 9th, 2022