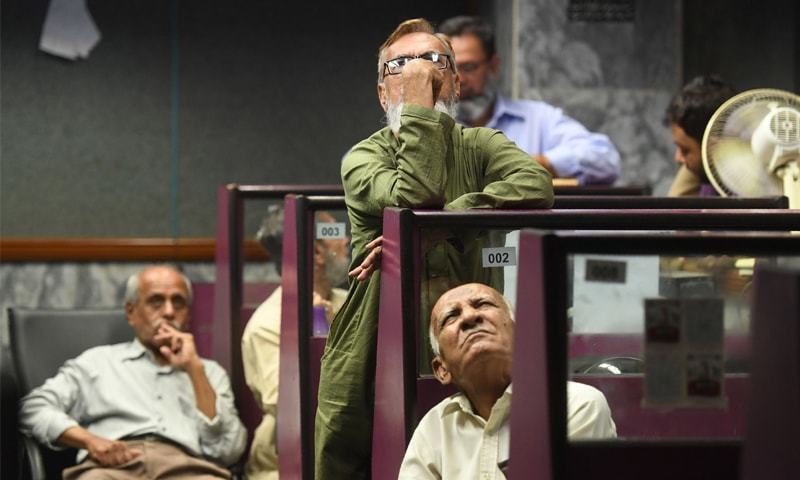 KARACHI: The outgoing week turned out to be the second worst week in 2021 as the KSE-100 index fell by aggregate 1,563 points, or 3.4 per cent, in five-day losing streak to close at 45,074 points.
The daily trading took place in a strikingly similar pattern: the index making it to intraday high in early trade and giving up all the gains to sink deep in red by the end of trading. The high CPI readings, followed by the 25bps interest rate hike, the widening current account deficit with higher commodity prices and imports at an all-time high, the depreciation of the rupee were the factors mentioned for the bloodbath.
Moreover, the ADB has maintained Pakistan's growth rate at 4pc for FY22. Geopolitical situation did force investors to keep one eye on the developing situation but some innocent analysts and traders also reckoned that the decision by the New Zealand cricket team to cancel their tour on security concerns also put pressure on the market. To curb imports the government is adopting measures to curtail demand such as reversing the earlier ease in regulatory and consumer financing policies for automobile consumers.
Foreign investors bought shares valued at $6.7m which was encouraging against sell-off amounting to $10.9m the preceding week. Major inflow was witnessed in other sectors $6.1m, technology and communication $3m and Oil and Gas Marketing Companies $1.8m. On the local front, individuals were the major sellers of equity worth $7.5m followed by companies $3.5m.
Sector-wise negative contributions to the index came from technology (275 points), cement (196 points), commercial banks (148 points), fertiliser (137 points), and E&P (134 points). Whereas, sectors which contributed positively were miscellaneous (41 points) and chemical (3 points).
Going forward, the market has set its sights on the IMF review possibly on Oct 4 and resumption of the programme. With no major triggers in sight, the market could continue to remain volatile with deep pocket investors making profit by playing out the volatility. For other individual investors, it would be best to stay on the sidelines.
Analysts say that reversing certain incentives such as in the case of automobile assemblers should be viewed as material positive particularly from a macro lens, easing pressure on external account. Further interest rates hikes could bring banking sector into the limelight while the technology and textiles could be seen to record earnings growth on account of rupee depreciation. Yet the uncertainties on the macroeconomic level would keep investors on their toes.
Hike in gas and electricity tariff to meet IMF prerequisites for the release of next tranche could keep investors in a darkened mood.
Published in Dawn, September 26th, 2021
Follow Dawn Business on Twitter, LinkedIn, Instagram and Facebook for insights on business, finance and tech from Pakistan and across the world.