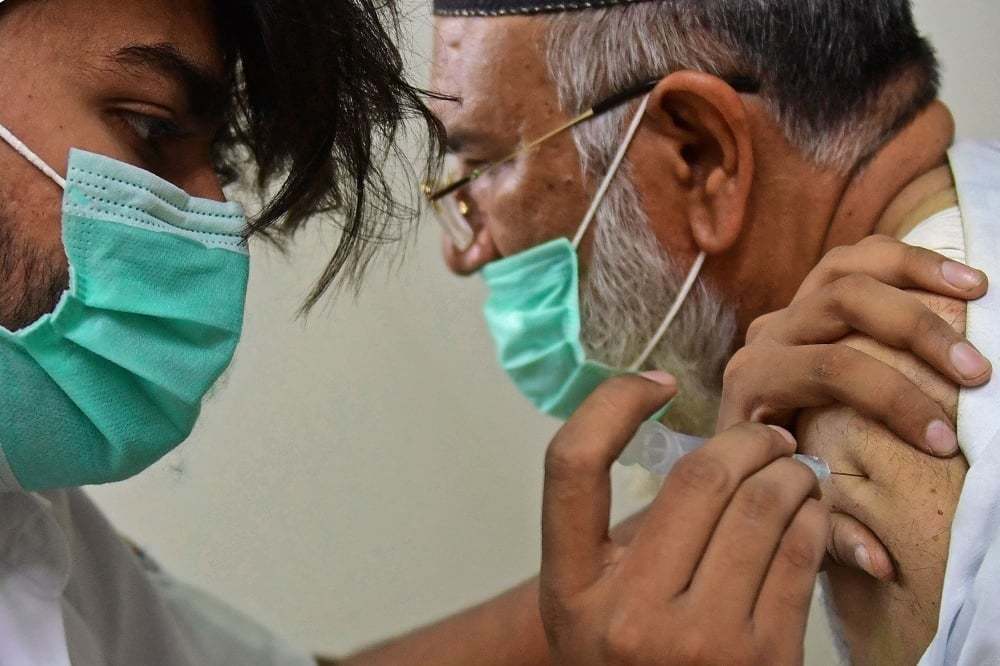 LAHORE: The Punjab government on Monday kicked off a door-to-door vaccination campaign in five major high-risk districts of the province -- Lahore, Rawalpindi, Faisalabad, Multan and Gujranwala.
Health teams and the volunteers have been assigned the task to convince and vaccinate 40 per cent population of four districts, including Lahore, Faisalabad, Multan and Gujanwala, and 70 per cent of Rawalpindi.
In Lahore, Punjab Health Minister Prof Yasmin Rashid launched the door-to-door vaccination drive by inaugurating a first centre at Shah Jamal where Deputy Commissioner Mudasar Riaz Malik was also present.
As many as 450 social mobilisers will help the health teams convince and vaccinate people during the door-to-door campaign.
Addressing on the occasion, the health minister said Punjab was at the top among other provinces where most of the positive cases of the virus were reported.
She said the above-mentioned five districts were reporting a large number of deaths and positive cases. Resultantly, the Punjab government decided to launch a door-to-door drive in these districts to vaccinate the maximum population to stop further spread of the infection.
During the campaign, the health teams would achieve the target till Aug 14 by vaccinating 70pc of the population of Rawalpindi and 40pc of other four districts.
"So far 13 million people in Punjab have been vaccinated," she said adding nearly 350,000 people were getting vaccine daily.
Buzdar: Chief Minister Usman Buzdar on Monday chaired a meeting at the Civil Secretariat and reviewed steps for dealing with the fourth coronavirus wave.
The chief minister was briefed about the special vaccination drive in five cities. As much as five million population of Lahore, Rawalpindi, Multan, Gujranwala and Faisalabad will be vaccinated by Aug 14.
The chief minister ordered expediting the vaccination drive adding the health department and the administration concerned should actively perform to make this campaign a success. He said it was a matter of satisfaction that around 20 per cent of the population had been vaccinated across Punjab.
He appealed to the citizens to get themselves vaccinated to protect their lives.
He said the Punjab government had made effective measures to overcome the virus as the ratio of positive cases was less than three per cent.
He said the citizens should follow standard operating procedures (SOPs) to stay safe from the fourth wave as 11 people had died due to coronavirus during the last 24 hours.
The health secretaries briefed the meeting about the vaccination drive and treatment measures in hospitals. Health Minister Dr Yasmin Rashid also attended the meeting.
Published in Dawn, July 27th, 2021