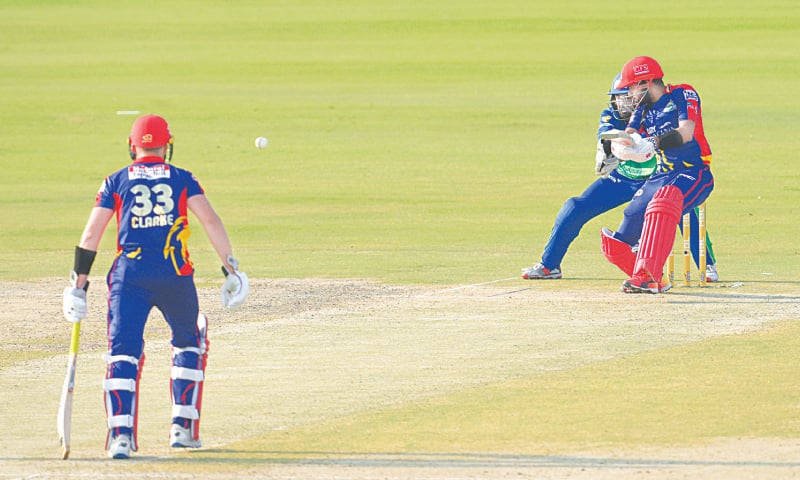 KARACHI: Babar Azam starred with a sublime unbeaten 90 as holders Karachi Kings catapulted to a rousing seven-wicket victory over Multan Sultans in their HBL Pakistan Super League 6 fixture at the National Stadium here on Saturday.
As per the norm in this tournament so far, total of 195-6 in 20 overs seemed inadequate to defend as Multan Sultans found out once their fate was decided by the toss — which again became decisive for the ninth straight encounter as the side luck on that count emerging winners — with Babar reaching a notable milestone by registering his highest score in the HBL PSL as Karachi Kings scythed through to their 196-run chase in 18.5 overs.
And although the all-format Pakistan captain missed out on a fifth T20 hundred but incisively his innings was the cornerstone of Karachi Kings' second win in three games, which lifted to the top of the standings for the time being (before Islamabad United, who have won both their matches, were playing Peshawar Zalmi later on Saturday).
Man-of-the-match Babar — who had struggled to find consistency he is renowned for following the thumb injury that kept him out of the entire New Zealand series — played to the gallery since the Karachi fans, who had turned up in big numbers, had been extremely vocal in their support for the champions and kept chanting 'Karachi, Karachi, Karachi' throughout the chase.
While Babar surely had the crowd on their feet, the fans left no one in doubt who they wanted to succeed more. However, Mohammad Amir still had fruitless outing despite being egged on with vociferous chants of 'Amir, Amir, Amir, Amir' every time he charged into bowl.
But Babar was not going to miss out and eased to a 16th HBL PSL half century from just 32 balls with the aid of nine boundaries. Already the most prolific batsman in this league, the elegant run-machine crunched four more fours and a six in the 60-ball innings that fetched him the man-of-the-match award.
Joe Clarke also played a major role as the wicket-keeper/batsman raced to a 26-ball 54 during the terrific partnership of 97 in only 57 balls with Babar after Sharjeel Khan (27 off 14 balls, four fours and one six) had gone in the fifth over, edging Shahnawaz Dhani to the wicket-keeper.
Clarke — predicted by experts for a bright future in England colours — bludgeoned four sixes and three fours to firmly shut the doors on Multan Sultans. However, Multan Sultans had themselves to blame after being on course of a far bigger total after the project score pointed to a 220-plus figure on the board after an eventful over from Amir as Karachi Kings, incredibly enough, lost both their reviews as early as the second over after Imad Wasim had won the toss. Their anxiety was understandable because they wanted to see Mohammad Rizwan back in the Multan dugout without inflicting much damage.
But the third delivery from Amir kissed the off stump without dislodging the bail and the sound of Rizwan's bat grazing the pitch but Imad still sought to seek a referral. And then Amir pleaded with his Imad to seek a second review when he darted the fifth ball on the leg-stump line and the TV replays confirmed the ball pitching outside the pitch map.
Chris Lynn made a welcome return to form — following scores of 1, 1 and 0 in the earlier matches — with a feisty 14-ball cameo of 32 (six boundaries and one six) during the first-wicket stand of 53 in 26 balls with his captain.
But then came a real twist in the fortunes of the two teams when it came to the mysterious 'Strategic Timeout'. After the three-minute break, Karachi Kings were all over Multan Sultans, who lost five wickets in the final 10-over slot for 88 runs — including the wicket of Shahid Afridi, who made just three on his 50th HBL PSL appearance.
Otherwise, it was only Rizwan (43 off 32 balls, five boundaries) and James Vince (45 off 29, five fours and one six) who kept the Multan innings afloat while adding 70 from 42 deliveries for the second wicket before both fell to young paceman Arshad Iqbal, who finished with 2-36.
Scoreboard
MULTAN SULTANS:
Batsmen & mode of dismissals R B 4s 6s SR
Mohammad Rizwan c Nabi b Arshad 43 32 5 0 134.37
C.A. Lynn c Babar b Imad 32 14 6 1 228.57
J.M. Vince c Ingram b Arshad 45 29 5 1 155.17
Sohaib Maqsood not out 34 27 2 1 125.92
R.R. Rossouw b Christian 7 4 0 1 175.00
Khushdil Shah b Waqas 6 7 0 0 85.71
Shahid Afridi c Nabi b Amir 3 5 0 0 60.00
C.R. Brathwaite not out 3 3 0 0 100.00
EXTRAS (B-4, LB-9, W-8, NB-1) 22
TOTAL(for six wkts, 20 overs) 195
FALL OF WKTS: 1-53 (Lynn), 2-123 (Rizwan), 3-133 (Vince), 4-148 (Rossouw), 5-173 (Khushdil), 6-182 (Afridi).
DID NOT BAT:Sohail Khan, Usman Qadir, Shahnawaz Dhani.
BOWLING: Imad Wasim 4-0-22-1; Mohammad Amir 4-1-34-1 (7w); Waqas Maqsood 4-0-47-1; Christian3-0-28-1; Arshad Iqbal 4-0-36-2 (1nb, 1w); Mohammad Nabi 1-0-15-0.
KARACHI KINGS:
Batsmen & mode of dismissals R B 4s 6s SR
Sharjeel Khan c Rizwan b Shahnawaz 27 14 4 1 192.85
Babar Azam not out 90 60 13 1 150.00
J.M. Clarke c Lynn b Shahnawaz 54 26 3 4 207.69
C.A. Ingram c Shahnawaz b Sohail 6 5 1 0 120.00
Mohammad Nabi not out 13 8 2 0 162.50
EXTRAS (LB-4, W-4) 8
TOTAL(for three wkts, 18.5 overs) 198
FALL OF WKTS: 1-56 (Sharjeel), 2-153 (Clarke), 3-162 (Ingram).
DID NOT BAT:Imad Wasim, D.T. Christian, Aamir Yamin, Mohammad Amir, Waqas Maqsood, Arshad Iqbal.
BOWLING: Sohail Khan 3.5-0-48-1 (2w); Shahnawaz Dhani 3-0-28-2; Brathwaite 4-0-32-0 (2w); Usman Qadir 3-0-26-0; Shahid Afridi 3-0-32-0; Khushdil Shah 2-0-28-0.
RESULT: Karachi Kings won by seven wickets.
UMPIRES: R.K. Illingworth (England) and Rashid Riaz (Pakistan).
TV UMPIRE: Ahsan Raza (Pakistan).
MATCH REFEREE: R.S. Mahanama (Sri Lanka).
MAN-OF-THE-MATCH: Babar Azam (Karachi Kings).
Published in Dawn, February 28th, 2021