Before the late 1950s, Sindh was not known to be rich in hydrocarbons. The government of India began exploratory activity in Sindh in 1893 by drilling a well in Sukkur, which did not result in any yield. The next attempt for the search of oil and gas in Sindh began after an interval of more than three decades by the Burmah Oil Company, a Scottish oil business based in Khairpur. Like its predecessor, the project did not result in discovery of oil. Until 1947, exploration was underway mainly in Punjab, where four oil discoveries were made since the initiation of the process in 1868.
After the creation of Pakistan, the nascent country strove to meet its energy requirements independently. Pakistan Petroleum Limited (PPL) was founded in 1950. Its first project comprised of drilling near the town of Sui, Balochistan, leading to the discovery of the largest gas field of the country.
Several players were involved in oil and gas exploration in Punjab, Balochistan, and Sindh. Table 1 shows, however, that no gas was discovered in Sindh until 1956 and no oil was found until 1981.
In 1957, Pakistan Petroleum discovered natural gas in Khairpur. In the same year, gas reserves were found both in Mari (of 6.3 trillion cubic feet, the second largest gas reserves in Pakistan) and Talhar by Pak-Stanvoc Petroleum Project (a joint venture of the Government of Pakistan and Esso Eastern Incorporated). The next year, Burmah Oil Company drilled and discovered some gas in Lakhra, Badro, and Phulji Dadu. And in 1959 Pak-Stanvoc Petroleum Project discovered a small gas reserve in Bathoro and some gas and oil in Nabisar. The project also attempted to drill oil in Badin, but did not discover any reserves. In the same year, PPL discovered a meagre amount of gas in Kandhkot and Mazarni.
To contextualise the present, one must look back and understand the past. Eos presents selected passages from the recently-published book The Economy of Modern Sindh by Ishrat Husain, Aijaz A. Qureshi and Nadeem Hussain
However, during 1960-70 gas exploration shrunk and the focus shifted to oil exploration across Pakistan. The companies that were involved in exploration during this period were Sun Oil Company (SOC), ESSO Eastern Inc. (ESSO), and the Oil and Gas Development Corporation (OGDC, established in 1961). Sun Oil Co. focused mainly on coastal areas; it drilled wells in Patiani Creek and Dabbo Creek in 1964, and Korangi Creek in the following year. The oil exploration proved fruitless all over the country. 453 exploratory wells were drilled out of which 60 were located in Sindh and, as a result of these efforts, only one small gas field was discovered at Sari, Sindh, by OGDC in 1966.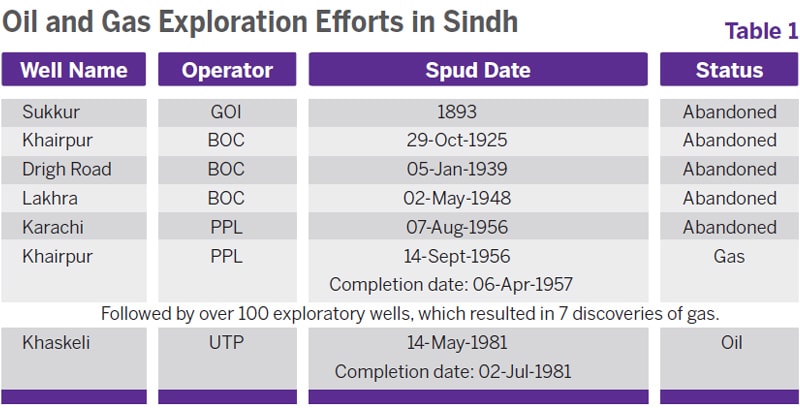 In the decade 1970-80, 417 exploratory wells were drilled out of which 127 were in Sindh. Only five significant gas fields were discovered, out of which two were located in Sindh. The two fields where oil was discovered were both in Punjab. Companies that were most active during this period in Sindh were PPL, ESSO, OGDC, and Union Texas Pakistan (UTP). Off-shore drilling was carried out by the first time in Sindh by Wintershall, a German company. The company drilled Indus Marine A-1 and Indus Marine B-1 in 1972, and Indus Marine C-1 in 1975. OGDC drilled and found gas in substantial amounts in Kothar in 1973 and Hundi in 1977. Husky Refining Company, an American company, drilled a well in Karachi South A-1 in 1978 and also located gas. However, no major discovery was registered.
During 1980-1990, widespread exploration for hydrocarbons was carried out in Pakistan. Some 5,775 wells were drilled, out of which 1,724 were located in Sindh and resulted in the discovery of large oil reserves. The companies leading the drilling expeditions were UTP, ESSO, PPL, and OGDC. Khaskheli Oil field was a breakthrough discovery in the coastal district of Badin by UTP in 1981. In 1984, Tando Adam oil field was also drilled and completed. This was followed by more significant oil discoveries in the Laghari and Mazari fields.
In the 1990s, a total of 31 oil fields were discovered in Pakistan, out of which 23 were in Sindh (the rest being in Punjab). Meanwhile, the contribution of Sindh in gas production exceeded Balochistan's for the first time. In 1990, the third largest gas field in Pakistan was discovered in Qadirpur by OGDC. In the same year, Kadnwari was discovered by LASMO (now Eni). This discovery was followed by Miano by OMV in 1993, Bhit by LASMO in 1997, Sawan by OMV in 1998, Zamzama by BHP in 1998, and Mari Deep by MGCL in 1997-98.
RECENT DEVELOPMENTS
While Pakistan has shown a subpar success rate of oil and gas discovery of 1:3 (compared to the world's 1994 rate of 1:1.3), the country has yielded significant amounts in recent years. In the span of three years since 2013, 83 oil and gas discoveries have been made. These have added 631 million cubic feet per day (mmcfd) gas and 27,359 barrels per day (bpd) crude oil to the total reserves of Pakistan.
In 2015, 1,095 bpd crude oil supply was found at Tando Allahyar by the OGDC. In June 2016, a total number of six discoveries were made across Pakistan, adding 50.1 mmcfd of gas and 2,359 bpd of crude oil to the existing production levels. Out of these six discoveries, four were made in Sindh. This included one discovery each by the PEL and the UEP and two by the OGDC. These discoveries comprised of more than 63 percent of the gas, but only 14 percent bpd of crude oil. The other two discoveries were made in KP by MOL Pakistan.
The focus of oil and gas exploration has now shifted from Sindh to the other provinces. Fifty new exploration blocks were created in January 2014, of them only 12 percent lie in Sindh.
PRODUCTION AND CONSUMPTION OF OIL
From almost no production in 1980, Sindh started providing 47 percent of the total oil production of the country in 1985-86. This rate went up gradually to reach 65 percent in 2000. This has been dwindling and reached an all-time low of 38 percent by 2014. The absolute volume came down to 1.75 million Tonne of Oil Equivalent (TOE) in 2014 from 1.78 million TOE in 2005. The country as a whole has witnessed an increase of 43 percent in quantitative terms in the same period. Most of the new oil discoveries in the recent years have taken place in Khyber Pakhtunkhwa (KP), which has now replaced Sindh as the top domestic producer of oil.
KP has shown a steady rise in oil production since 2005, while Punjab's yield has declined and has been constant from 2010 to 2014. Punjab's trend in oil production over the years follows a set pattern showing a period of steady rise followed by a gradual decline. The resource-rich province of Balochistan, meanwhile, displays a dismal trend — its production has been constant and significantly less than the production of all other provinces.
As the industrial and commercial hub of Pakistan, the consumption of petroleum products in Sindh was at its peak during 1950s. But as economic growth slowed down for a variety of reasons, there has been a gradual decline and the share of petroleum consumption is down to 23 percent compared to 42 percent in 1980-1981.
In absolute terms, oil consumption has risen 2.8 times during this period. For the last two years, the precipitous decline in international oil prices has boosted the domestic demand and furnace oil (FO) has once again became an acceptably priced fuel for power generation. Substitution of FO by RLNG for power generation plants currently under way would, however, reduce the demand for imported FO. Domestic refineries could produce the required quantities.
As income per capita and therefore purchasing power rises, the demand — direct and indirect — for petroleum products also rises. But price elasticity does play a key role in consumption. Oil consumption in Pakistan is related to oil prices: more consumption happens as prices drop. The trend line of GDP also moves in the same direction showing positive income elasticity of demand.
Published in Dawn, EOS, May 5th, 2019