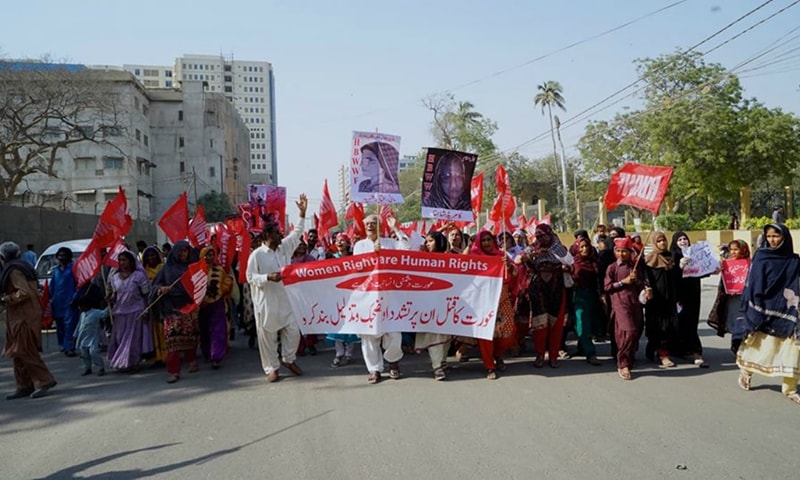 LAHORE: The second 'Aurat March' will be held on Friday (tomorrow) to mark the International Women's Day on March 8.
A press conference was held at the Lahore Press Club on Wednesday where the organisers read out a manifesto and announced the programme of the march.
According to the programme, participants will walk to celebrate the Pakistani women's struggle and movement. Similar marches will be held across Pakistan to celebrate the women's day, including Hyderabad, Karachi and Islamabad, under the banner of 'Hum Aurtain'.
In Lahore, the marchers will gather at the press club and walk to Alhamra on The Mall where people will address and perform to highlight the issues faced by women.
The march is aimed at expressing solidarity with women from across Pakistan and push for accountability and restorative justice against violence, standing with women who experience violence and harassment at the workplace, at home, in public spaces and at the hands of security forces.
Leena Ghani, one of the organisers, said that while last year's theme was 'Equality', the focus this year would be 'Sisterhood and Solidarity'. "That is what this work has taught us -- that we'd not be here without the efforts of so many," she said.
The manifesto read out at the press conference demands economic justice, including implementation of labour rights, the Sexual Harassment Against Women in the Workplace Act 2010, recognition of women's input to the 'care economy' as unpaid labour, and provision of maternity leaves and day care centres to ensure women's inclusion in the labour force.
Among other things, it also demands access to safe drinking water and air, protection of animals and wildlife, recognition of women's participation in production of food and cash crops, access to a fair justice system, inclusion of women with disabilities as well as the transgender community, reproductive justice, access to public spaces inclusion in educational institutions, rights of religious minorities, promotion of an anti-war agenda, end to police brutality and enforced disappearances.
Published in Dawn, March 7th, 2019