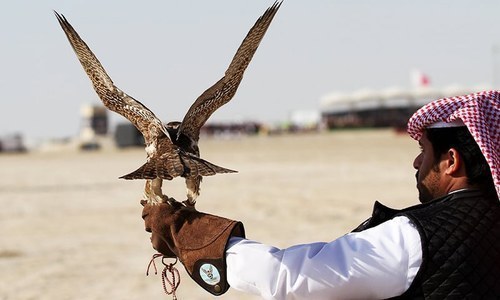 KARACHI: The federal government has issued at least 13 special permits to members of the royal families of Gulf states to hunt internationally protected bird houbara bustard in Sindh during the 2018-19 hunting season, according to sources.
Those given the permits include a king and a president, besides crown princes, their uncles and cousins, and armed forces chiefs belonging to the ruling families of Saudi Arabia, the United Arab Emirates, Bahrain and Qatar.
At least one member of the elite group has a dubious distinction, as he is being pursued by a Pakistani investigation agency for his alleged role in a money laundering scam being investigated in the country.
The great game: The politics of houbara hunting in Pakistan
The ruling Pakistan Tehreek-i-Insaf had criticised the-then federal government when it had issued hunting permits to members of the Arab royal families last year and announced that it would not allow them to hunt in Khyber Pakhtunkhwa, where the PTI had its own government.
A king and a president among the elite group
So, although the hunting permits were issued for Khyber Pakhtunkhwa as well, hunting could not be carried out in the province owing to its government's tough stance on animal conservation. But this year the federal government, which is led by the PTI, has issued hunting permits for Sindh, according to the sources.
The sources said that Malik Amin Aslam — the president for South East Asia of the International Union for Conservation of Nature, who is also adviser to the federal government on climate change — looked the other way when the permits for hunting houbara bustard were being issued to members of the Gulf royal families.
An inhabitant of the colder Central Asian regions, the houbara bustard migrates southwards in winter to avoid the harsh weather conditions in its habitat.
Earlier, the bird used to migrate right up to the Arabian peninsula, but owing to ruthless hunting there over the years by Arab hunters, who considered it to be an aphrodisiac, it has stopped going there and rests in Pakistan instead during winter.
Owing to the bird's special status and its dwindling population, the houbara bustard is protected globally. But the Pakistan government, keeping in view the royal hunters' interest in it, issues special permits to hunt the bird, which is also protected under Pakistani laws. (Pakistanis are not allowed to hunt it.)
However, this is not the first time that such permits have been issued as previous governments have also issued these permits.
As per the permits signed by M. Adeel Pervaiz, the foreign ministry's deputy chief of protocol, the names of the permit holders and the areas allocated to them are as follows:
King of Bahrain Sheikh Hamad bin Issa bin Salman Al-Khalifa has been allocated Jamshoro district, including Thano Bula Khan, Kotri, Manjhand and Sehwan tehsils. President of the United Arab Emirates and Ruler of Abu Dhabi Sheikh Khalifa bin Zayed Al-Nahyan and Crown Prince of Abu Dhabi and Deputy Supreme Commander of the UAE Armed Forces Gen Sheikh Mohammad bin Zayed Al-Nahyan have been allocated Sukkur and Nawabshah districts. Prince Mansour bin Mohammad S. Abdul Rahman Al-Saud of Saudi Arabia has been given Kashmore district.
Uncle of Bahrain's king Sheikh Ebrahim bin Hamad bin Abdullah Al-Khalifa has been allocated Shah Bunder tehsil in Sujawal district. The king's defence adviser Sheikh Abdullah bin Salman Al-Khalifa has been granted Jati tehsil in Sujawal district. The king's first cousin and Bahrain's Interior Minister Lt Gen Sheikh Rashid bin Abdullah Al-Khalifa has been given Naushahro Feroz district.
Hyderabad and Malir districts, excluding Malir Cantonment and Dhabeji, have been reserved for Sheikh Ahmed bin Ali Al-Khalifa, who is a first cousin of Bahrain's king. The deputy prime minister of the UAE, Sheikh Sultan bin Zayed Al-Nahyan, has been given Khairpur district, excluding Kotdiji and not across Nara canal. A representative of Abu Dhabi's rulers, Sheikh Hamdan bin Zayed Al-Nahyan, has been allocated Khairpur Nathan Shah tehsil, Juhi tehsil and union council Fareedabad in Dadu district, Gaibi Dero in Larkana district, Shahdadkot district and Khairpur district (across Nara canal).
Deputy chief for police and general security of Dubai and a member of the ruling family Lt Gen Sheikh Ahmed bin Rashid Al-Maktoum has been allocated Tharparkar district, including Mithi and Nagarparkar (minus protected area), and Umerkot district. A member of the ruling family of Dubai, Shaikh Rashid bin Khalifa Al-Maktoum, has been allocated Badin district, Jungshahi in Thatta district and Dhabeji in Malir district. Mirpurkhas district has been reserved for a member of the Qatar's ruling family, Sheikh Abdul Rehman bin Hamad Al-Thani.
Nasir Abdullah Lootah, a UAE citizen and chief of the Summit Bank, has been given Thatta district, excluding Shah Bunder and Jungshahi. He is being pursued by the Federal Investigation Agency for his alleged role in a money laundering scam.
Published in Dawn, February 4th , 2019