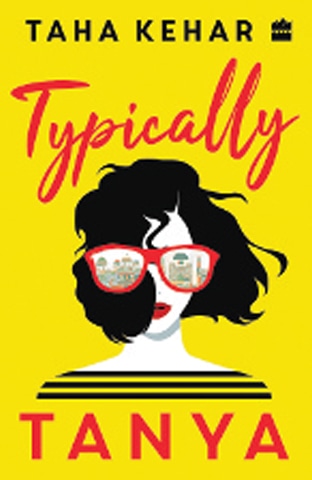 The attractive cover draws you in with its prominent pop of yellow and the mysterious Tanya with striking sunglasses and windblown hair shielding her face. But who is Tanya?
Tanya Shaukat is a young journalist working at Daily Image in that dreaded job devoid of glamour which keeps your nose to the grindstone: namely, a subeditor who reporters love to hate and know-it-all city editors exploit to the max. She is a journalist with sass, dealing with not only workplace shenanigans and colleagues' misadventures, but also family tensions in a complicated city. In other words, the life of almost any other working woman in Karachi.
Written by Taha Kehar, author of a poetry collection titled Writing Words With Fire, Typically Tanya may remind some of Saba Imtiaz's novel Karachi, You're Killing Me!, since the format and heroine have much in common. However, it would be a mistake to regard Kehar's fiction debut as being chick-lit, as the book is peppered with social and political commentary — a nod to the author's own journalistic credentials.
It's a risky undertaking for a man to write in the female first-person, but one that the debut novelist pulls off with aplomb
When Tanya is sent to cover an event discussing ways to prevent violence against women, a heated debate ensues about the merits of the anti-honour killing bill: "As the clamour turns into a bitter war of words, I place my pen behind my earlobe and watch the argument unfold before me with indifference. I begin pondering over the ways in which journalism has killed the activist within me."
As the author puts it, he was living the stories as he was writing the novel, hence Typically Tanya is topical, with sarcastic political commentary on subjects ranging from the Cyril Almeida imbroglio to Brahamdagh Bugti, Kulbhushan Jadhav, Panama Papers, Pak-Turk schools' closure, pellet guns in Kashmir, Mehbooba Mufti, Gen Pervez Musharraf, the Indus Waters Treaty, MQM's notorious 'borees' [gunny bags], the clipping of Altaf Bhai's wings, Imran Khan, the Pakistan Tehreek-i-Insaf and the promised tabdeeli [change]. This not only gives the book a contemporary vibe, but also enables the reader to identify with the characters and their trials and tribulations.
Tanya hails from the elite class with a sprawling house on E Street close to the fashionable haunts of the "rich, famous and the pointless." Living with a drama queen mother in a single-parent household, it is but natural perhaps that Mummy's foibles are dwelt on at length, but that does not deter Tanya from taking money from her mother when she runs short of essentials on her meagre subeditor's salary. Once Tanya gets a thousand grand from Mummy, she ponders her options. Getting "the roast beef burger from Hanifia on Boat Basin and drinking kahwa from Dera. It's always the small needs that matter the most when your salary has been delayed and there isn't even a paisa that you can call your own." Being a member of the privileged class allows Tanya to scoff at it and simultaneously benefit from it.
Kehar's writing style is crisp and mercifully free of the heavy jargon favoured by many Pakistani English fiction writers. It is different from the usual fiction which many feel panders to the Western stereotyping of Pakistan as a nation wracked by violence and bombs, and one can argue it is so because it portrays a class cocooned from Karachi's grim underbelly. Be that as it may, it is refreshing to read witticisms which make you laugh out loud: "Although she is a PTI enthusiast, Mummy has always had an aversion to radical movements. Every five years she prays for the man on the hot seat — she never liked Benazir because Daddy had a crush on her — as if he is the sole provider of roti, kapda and (in Mummy's case) kapde ki dukaan (she already has a makaan, you see)."
Following the dear diary format with time slots, Typically Tanya is written from the perspective of the central female character. It is a risky undertaking for a man to write in the female first-person, but Kehar pulls it off with aplomb:
"'Let's go get some chai,' Khirad says as we look for a Careem. 'Chai Wala, maybe?'
Kehar's writing style is crisp and mercifully free of the heavy jargon favoured by many Pakistani English fiction writers.
'Sure, let's go to a dhaaba with our Fendi bags and throw out the chai-wallah and the original dhaaba wallahs while we're at it,' I respond wryly.
Khirad eyes me quizzically. She doesn't know I'm completely against the new trend of roadside tea establishments for the upper middle class."
Tanya's friends are a motley lot who can be entertaining, caring and cruel. There is Hafeez who Tanya likes looking at, but whose shoddy clothes she hates. The city editor, Hassan, is pretentious, unscrupulous and corrupt like many media mandarins. Adam is gay and complains about being hit upon by guys who want to marry and have kids, yet carry on with him on the side. Khirad evolves from being a victim to a feisty woman unafraid of calling the shots. Sonia is a bimbo who turns on the waterworks when needed and the Indian journalist Inder, who Tanya tries to avoid when he comes on too strong, turns out to have more perception than her friends.
The book is an engaging read which hops from black magic to extramarital affairs to begum-maid conflicts to broken marriages to Botox injections to security fears over ride-sharing apps to electricity breakdowns to sexual harassment at work. It illustrates how Pakistani women navigate public spaces in a situation which is fraught with insecurities and volatility, while all the male characters are shown to be weak with narcissistic tendencies.
When Tanya encounters sexual harassment at work, she tackles it by quitting her job. The novel's timeline precedes the #MeToo movement, so Tanya leaving her workplace is a choice familiar to many women who have faced such harassment. Tanya's rationale is crystal clear for her sudden departure: "I know I have taken this decision on a whim. But a conceited man [such as] Hassan shouldn't be allowed to bully me into an awkward position like this. I'd rather walk out of this ugly marriage of convenience on my own terms."
The central question in the book is this: why did Sonia's groom ditch her for another woman on the eve of their wedding? Tanya wants to resolve the situation, because the groom happens to be the same chap she had a fling with while he was Sonia's fiancé. It is here that the book is on a sticky wicket. Tanya's character does not seem to gel with the way she betrays Sonia earlier in the story and her reasons for doing so are not dwelled upon. Sonia's character is weakly drawn and veers into being more of a caricature than even Tanya's Mummy. Halfway into the book, the plot dissolves for a while as the storylines veer away before picking up again.
Kehar is a good observer of human frailties and paradoxes. Puzzled by the mixed signals from her colleague Hafeez, Tanya is spot on in her assessment. "Like most men, Hafeez enjoys making women speculate about things he is indecisive about. Even if he's buying time until his latent feelings evolve into strong emotions, he's wasting my time till he decides what he really wants."
There is no stereotypical happy ending here, because real life is way more complicated and relationships need to be nurtured to bear fruit. Indeed, what a relief it is to see a female character who can be snide, abrasive and unpopular and makes no bones about it. Tanya is comfortable in herself and unapologetic about the choices she has made in life. She is not black or white and her shades of grey make her seem all the more real.
The reviewer is a freelance writer and columnist
Typically Tanya
By Taha Kehar
HarperCollins, India
ISBN: 978-9353023454
252pp.
Published in Dawn, Books & Authors, December 2nd, 2018