No matter how much Googling and researching you do before a vacation, the real experience is full of surprises. I hadn't done any research for my trip to Indonesia but armed with just what I had heard about it and a printout of the itinerary, I joined 11 others to explore a country rapidly rising on the world tourism map. It was like walking into a dark alley, but I found myself in a wonderland, full of amazing experiences, pleasant surprises and smiling locals.
After a short stopover at Bangkok, I arrived in Bali without any weariness. Long flights simply take away the excitement of a holiday and major time difference is a headache you can't escape from. But Indonesia lies at just the right distance from Pakistan to appeal even to the reluctant traveller.
The beach is synonymous with Bali and a huge billboard featuring the line "Love you to the beach and back", at Denpasar International Airport, welcomed the visitors to this island of sea and surf. Below the sign, and all around, was a sea of people. I was expecting Bali to be crowded, but this crowded? No. However, it turned out that the crowd wasn't overpowering enough to make you wish for an escape to the wilderness and forests that are as much the hallmark of Bali as its beaches.
Aside from its beautiful beaches, spectacular volcanoes and preserved architecture, Indonesia's diversity is its greatest strength
Our hotel at Kuta Beach was in the heart of the tourist hotspot, with a narrow one-way street separating the hotel from a beach overflowing with life. We arrived there as the sun was dipping low on the horizon and the waves lapping on the beach shimmered in its orange light. The beach and water was crammed with surfers, swimmers and wave watchers, but the crowd couldn't dim the beauty that only nature possesses.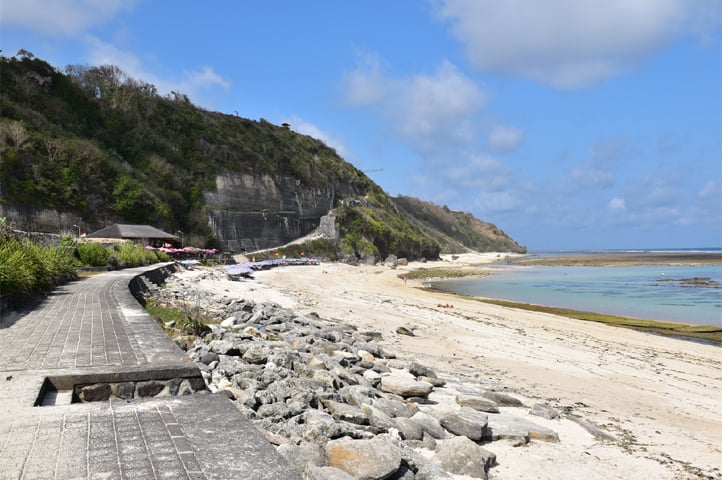 Bali beaches are a breathtaking sight at sunset. Tanah Lot Beach, with an ancient Hindu temple perched on a sea stack, is popular with both tourists and local pilgrims. An evening prayer had devotees lined up in reverence alongside selfie-addicts capturing the setting sun framing the shrine sitting pretty atop an outcrop, with waves crashing below. Climbing back up the stairs to a fenced garden, I faced an inner battle — do I just watch the magic of the setting sun or get busy focusing and capturing it in my camera? I hurriedly wrapped up the latter and then soaked in the beauty of the last of the golden rays.
Having a predominantly Hindu population, Bali has countless temples, both individual complexes and small ones set up by the side of a pillar or an old tree, next to a busy road. It almost makes you forget that you are in a nation that has the largest Muslim population. And this is what makes Indonesia unique — it proudly owns its diverse cultural, religious and geographical heritage. It nurtures the differences to merge into a unified national identity.
Indonesia is a very comfortable place to travel for many reasons. All the three vastly different places I visited were very safe for a female traveller to walk on the streets close to midnight.
I got an excellent introduction to Indonesia's cultural heritage through a spellbinding musical show — the Devdan Show, Treasure of the Archipelago — in Bali. A dazzling mix of traditional and modern dance, world-class aerial acrobatics, illusions and sound and light effects celebrated the unique heritage of the numerous islands of Indonesia.
Our next stop was Malang, on the neighbouring island of Java, where a totally different atmosphere greeted us with cooler temperatures, hills and few tourists to spoil the rustic setting. Malang is a comparatively low-key tourist destination, often chosen by the adventurous hikers looking to scale the nearby Mount Bromo volcano. An overnight trip to watch the sunrise from viewpoints on Mount Penanjakan, then down the valley to the base of Mount Bromo and up the steep steps to see the massive crater is a spine-tingling story for another day.
Our final stop was the capital Jakarta. For a Karachiite, coming to a place pulsating with life and traffic jams was like coming home. And it was a real homecoming for our host Mohammad Arifin who had accompanied us from Karachi, for that was where his family was based. And this made the shopping so much easier as his sweet wife took us to all the right shops and helped us bargain.
Jakarta is a blend of high-rises, world-class hotels and restaurants in the central business district of Thamrin, picturesque suburbs and its colonial Dutch heritage proudly preserved in the old town of Batavia.
A visit to Batavia, which was the capital under Dutch rule, was like taking a step back in time. Heritage government buildings, now turned into museums, surrounded a charming town square next to a rustic canal. There were colourful bicycles with matching wide-brim hats lined up for anyone to rent and ride round the square and get clicked. This seemed a favourite pastime even with the locals.
A not-to-be-missed experience is dining at Cafe Batavia, an early 19th-century colonial landmark, offering the finest dining experience of the trip. Its old-worldly charm was complemented by countless classic Hollywood movie scenes and stars' portraits adorning the walls, including that of the restroom.
Indonesia is a very comfortable place to travel for many reasons. For one, I didn't have to worry about the food being halal and there was no need to carry a water bottle when using the restroom. All the three vastly different places I visited were very safe for a female traveller to walk on the streets close to midnight without getting a stare or a catcall.
And Indonesia really offers its women independence — you can see it in the large number of women of all ages riding motorbikes, with or without hijabs, but always with helmets. How I envy their freedom on this count ... and the fact that they had a prayer section at every mosque or prayer room alongside the men.
When will the Pakistani 'men-tality' understand that women need to move around as well as say their prayers just like everyone else?
The writer is a member of staff
Published in Dawn, EOS, November 11th, 2018