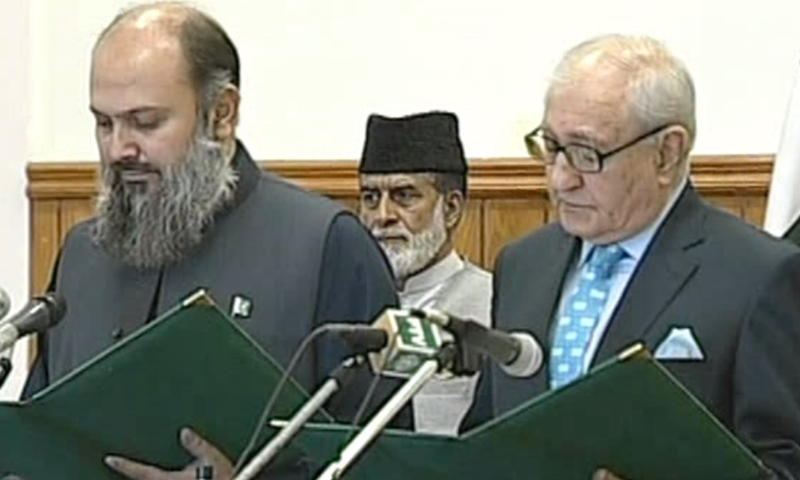 Jam Kamal Khan was sworn in as the Balochistan chief minister (CM) on Sunday in a ceremony held at the Governor House in Quetta, making him the 16th leader of the Balochistan Assembly.
Muhammad Khan Achakzai administered the oath as Balochistan governor in a ceremony attended by the provincial assembly speaker, Mir Abdul Qudoos Biznjo; deputy speaker, Sardar Babar Mushakhel; and other elected members of the provincial assembly.
Also in attendance were ministers from the caretaker cabinet, tribal elders and high-ranking officials.
"An educated Balochistan" is the vision of the newly-elected chief minister, who has in the past served as minister for state as well as district nazim of Lasbela.
In the 2013 general elections, Jam Kamal was elected Member of the National Assembly (MNA) from NA-270 Lasbela-cum-Awaran. He also served as minister for state till 2018.
In 2018, Jam Kamal helped form the Balochistan Awami Party (BAP) and was elected its first president.
He hails from a well-regarded tribe of Balochistan. His maternal grandfather is Khan Mir Ahmad Yar Khan, the last Khan of Kalat, when it was still a semi-autonomous state in British India.
His paternal grandfather is Jam Ghulam Qadir, the last Jam of Lasbela — the title given to rulers when Lasbela was a princely state. As the ruler of a princely state, Jam Qadir was the first to declare his decision to join Pakistan.