THE WEEK THAT WAS
Pyar Lafzon Mein Kahan | Filmazia, Fri-Sat 9.10pm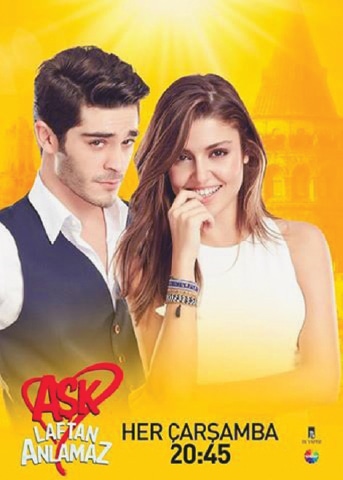 Twenty-nine episodes down, Turkish play Aşk Laftan Anlamaz (Love Doesn't Understand Words), dubbed in Urdu as Pyaar Lafzon Mein Kahan, is trending on Twitter and creating a sensation among younger audiences. 
The 2016 romantic comedy serial set in Istanbul follows a workplace romance between Hayat Uzun (Hande Ercel) and Murat Sarsılmaz (Burak Deniz) at a multinational company.
The rich, gentle, hardworking and successful Murat falls for his stunning employee Hayat who is full of secrets that can ruin her career and their relationship. Murat's ex-girlfriend Didem, the lead model of his multinational textile company, adds to all the intrigue by getting jealous.
Ghar Titli ka Par | Geo TV, Thursday 8.00pm
Shafaq (Aiman Khan) and Anji (Sanam Chaudhary) are college besties. While Shafaq is a loyal friend, Anji is an opportunist who uses their friendship as the door to a better life.
Since Shafaq has a better lifestyle, Anji wants it all — even the man who likes Shafaq. Sanam Chaudhary is fabulous as the relentless and reckless Anji, a 360-degree turn from the weepy Hania in Bedardi Saiyan. 
Written by Samra Bukhari (Mann Mayal) and directed by Mohsin Talat (Thori Si Bewafai), Anji's dangerous antics go to the next level when Ali Abbas and Shehzad Sheikh appear.
De Ijazat | Hum TV, TV Mon-Tue 9.10pm
De Ijazat started off with a lot of hype and anticipation as viewers couldn't wait to see the Sun Yaara girl Zarnish Khan opposite the freshly-styled Mikaal Zulfiqar. 
Zarnish plays Dua, a woman of substance and Shahwaiz (Mikaal) likes her for candour, but his mother (Ayesha Sana at her 'bright karain' best) would rather have him marry someone from within her 'posh' circle. 
Written by Sadia Akhtar (Sila, Sangdil) and directed by Asim Ali (Mere Qatil Mere Dildar), the serial picks up pace as Dua walks out of the nikah ceremony after her brother runs away to the US with all the money and jewellery, giving dad (Irfan Khoosat) a heart attack and leaving the middle-class family in the midst of turmoil.
WHAT TO WATCH OUT FOR
Umme-Haniya | Geo TV, Wed-Thurs 8.00pm
Finally, a storyline different from the usual — Geo's upcoming drama serial has Neelam Munir playing Roomi, a female cricketer in a conservative setting going through trials and tribulations including proposals and marriage shenanigans while her priorities in life centre round cricket. Life takes an unprecedented turn when she finds a baby on a rubbish pile.
After futile attempts to scare us as the gold-eyed jinnzadi in Dilnawaz and an unimpressive movie stint, all eyes are on Neelam in this challenging role.
Published in Dawn, ICON, January 28th, 2018